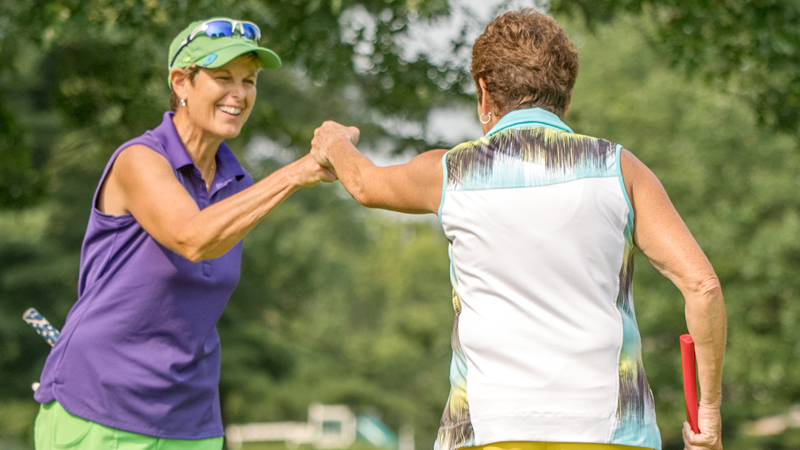 ---
By Greg Gulas | sports@vindy.com
Jacinta Pikunas of Boardman and Gayle George of Youngstown practiced together all summer yet were reluctant to enter Wednesday's inaugural Board Certified Gastroenterologists Greatest Ladies 2-player Best Ball championship.
But George and Pikunas carded an eight-under-par 65 at Trumbull Country Club in Warren to capture low gross honors.
The team of Lauren Martauz and Felicia Ciotola-Drevna posted 58 to earn low net laurels.
"It was fantastic and absolutely great to play with Jacinta," George said. "On a lark, we entered the event and were lucky enough to win it all.
"This is a beautiful, old classic course and I absolutely enjoyed being a part of the inaugural competition," George said. "I wasn't in a fringe or bunker all day. Jacinta ended up in just one and somehow the bunker gods shined down on both of us."
Pikunas starred scholastically at Boardman High School and as a freshman this past year at the University of Akron. She was the Mid-American Conference women's freshman golfer of the year.
"Gayle and I are practice buddies at The Lake Club and we were both very consistent all day. That was the key," Pikunas said. "The course was a challenge and after playing in the Greatest Junior championship, it was nice to come back and play this event once again. I had a lot of fun."
Ciotola-Drevna, a Canfield High School graduate, outdistanced Martauz by 10 yards for top honors in last year's longest drive competition, and they have been friends ever since.
"We both left a lot of putts out there today, yet complemented one another really well when we needed to," said Ciotola-Drevna, who is a stay-at-home mother. "The only trouble we had today was on No. 16 where the water came out to the right and I hooked my ball.
"Lauren was worried about the trees on that hole, but that was the only time we were presented with a problem like that.
"I'll do the longest drive competition on Thursday but won't be able to golf the rest of the week due to a prior commitment."
Martauz is a former Ursuline High standout who played at Point Park University. She is an accountant with Schroedel, Scullin and Bestic, LLC in Canfield.
"The course was beautiful and as a team, we played really well. I loved the format," Martauz said. "If I had a bad hole, then Felicia picked me up, and if Felicia struggled on a hole, then I was able to pick her up.
"This is the first time that either of us have ever played Trumbull Country Club and it was a real challenge."
Canfield's Jill Harmon and Toni Notaro posted two-under 71 for their gross and nine under 64 for their net. Harmon is a former Youngstown State athlete who owns Instacopy in Salem while Notaro is a compliance and evaluation director for the Mahoning County Mental Health and Recovery Board.
"An event like this is great for the entire Mahoning Valley," Harmon said. "I loved the format, it's great for the camaraderie and The Vindicator does an absolutely great job because they care about the golfers.
"I believe in community involvement and customer service and today's event was every bit of both of those."
Notaro has played in seven of the nine Greatest events since its inception in 2010.
"This was a great team event and I applaud both Todd Franko and Ted Suffolk for their efforts," Notaro said. "I hope that the women's participation grows now over the next few years."
Golf professional Mike Shulas is pleased that Trumbull Country Club is taking part of the inaugural event.
"It's nice to be a part of everything that is related to the Greatest Golfer," Shulas said. "This is the first ever ladies team event and it's just nice to be the staple club of the rotation."
Franko said the week has gone smoothly thus far.
"We're off and running, and today you witnessed a great collection of the area's leading women's golfers," he said. "There were young golfers, veteran golfers and a good mixture of players with some excellent shooting. We're anxious to see where this 2-player event goes from here."
Greatest week continues today with the Panera long-drive competition at 6 p.m. at Tippecanoe Country Club in Canfield.
More like this from vindy.com