Northside closing major blow to local economy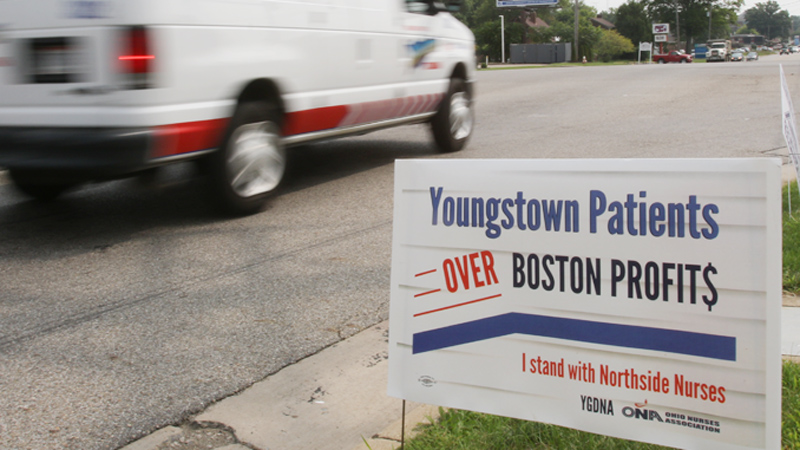 ---
YOUNGSTOWN
YGDNA Learns of Closing Stewart Health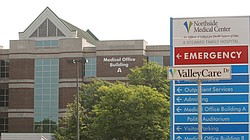 Video
City officials are shocked by the news today that Steward Health Care will close Northside Regional Medical Center as of Sept. 20.
Steward Health Care's announcement that it's closing Northside Regional Medical Center as of Sept. 20 is a major blow to the local economy.
The closure will result in the loss of 388 jobs.
It means a loss of about $900,000 annually in income taxes to Youngstown, city officials say. The city is already facing significant problems with its general fund.
Northside Medical Center

Gallery
Historical photos of Nothside Medical Center from The Vindicator's archives
A financial analysis projects a $2.22 million deficit by the end of 2019 if city officials don't make cuts. The $900,000 would be on top of it.
"It's quite a significant impact," said city Law Director Jeff Limbian about the projected income tax loss.
Those who work and/or live in Youngstown pay a 2.75 percent income tax to the city.
Kyle Miasek, interim finance director, said the city has been working to eliminate its projected 2019 deficit including meeting with union leaders on ways to reduce its health-insurance expenses.
"We're starting to chop into that budget gap, but [Steward's announcement] is only going to raise the stakes because that income-tax revenue won't be there in 2019. It's another hurdle we have to overcome to put together a balanced budget."
Wednesday's announcement was "out of the blue," Limbian said. "This is difficult news. Every time we think we're turning it around, we get kicked in the stomach."
Although located in the city, the hospital is part of Trumbull County, where the hospital pays nearly $430,000 in annual property taxes, according to the Trumbull County Auditor's office. Most of those funds go to the Liberty School District. Unless the building is demolished or is neglected to the point of losing value, the county and school district likely would not lose any tax revenue from the site, according to the auditor's office.
The Youngstown General Duty Nurses Association plans a news conference this morning in front of Northside. The nurses are calling the decision to close the doors a devastating decision – one that eliminates healthcare services, limits access to quality patient care and affects the livelihood of hundreds of healthcare workers.
In a statement, Steward wrote: "After a careful analysis of the hospital needs of the region, Steward Health Care is confident that the Youngstown community will continue to have access to high-quality hospital alternatives at Trumbull Regional Medical Center, Sharon Regional Medical Center, St. Elizabeth Youngstown Hospital, St. Elizabeth Boardman, St. Joseph Health Center, Akron Children's Hospital, and the Surgical Hospital at Southwoods."
"This is a difficult decision, but Northside Regional Medical Center remains chronically under-utilized as patients in the community choose other hospitals," said Daniel Knell, Central Region president of Steward Health Care. "Every night, four out of five beds at the hospital are empty. It's simply unsustainable."
Laurie Hornberger, president of the Youngstown General Duty Nurses Association, said there are 188 union nurses who are affected, along with the SEIU union and other hospital staff.
Hornberger said there has been no official word of whether nurses can transfer to other branches, but an email to employees Wednesday morning said there will be job fairs.
Hornberger added there is concern for how the community will be affected because the center is the only place for labor and delivery services in Youngstown.
Tuesday night, incoming ER patients were diverted to the Trumbull Memorial Hospital, she said.
Some functions that are not part of the hospital, but are located on its property, will continue to operate, according to a letter from Patrick Lombardo, Steward's executive vice president of human resources, to Youngstown Mayor Jamael Tito Brown and Mahoning County Commissioner Anthony Traficanti. The letter didn't disclose those functions.
For employees and former employees, the hospital also holds personal meaning.
"We both started our careers here," said Jody McDonald, clinical director of behavioral health programs at Family and Community Services, with her colleague Linda Ariza. "It's so sad. I have so many fond memories of starting to build my career there. It's a sad day for the Valley."
"Those jobs were springboards for both of us," Ariza added.
Leaders in the mental health community note that the loss of Northside Hospital will limit options for individuals in crisis who seek care at the emergency room.
Duane J. Piccirilli, executive director of the Mahoning County Mental Health and Recovery Board, added, "A lot of our clients use the ER. This is a resource loss for the community."
Leaders of other local hospital systems said they are prepared to serve Northside's patients and possibly hire some of its employees.
Don Kline, president and CEO of Mercy Health Youngstown, said Mercy has had a contingency plan ready since Forum Health filed for bankruptcy nearly a decade ago.
"It's really not unexpected to us," he said. "The decline there has occurred over many years."
Over that same time period, Kline said Mercy Health has seen growth in its own operations and services. St. Elizabeth Youngstown, for example, has a daily inpatient census of about 300, about four times the number provided by Northside.
The health-care industry now ranks as the Mahoning Valley's largest employer, according to the Youngstown-Warren Regional Chamber, with Mercy being the largest Valley employer.
Chamber President James Dignan said the chamber is hopeful someone can find another medical use for the building. "Obviously, we don't want to see another empty hospital in the Valley."
While there is some overlap in the services offered at Northside and St. Elizabeth Youngstown, Kline said the overlap has decreased over the years, as, for example, Northside lost its trauma designation and its cardiovascular services, making St. Elizabeth Youngstown the only Level 1 trauma center in the area.
St. Elizabeth Youngstown and Boardman hospitals have plenty of capacity to take on Northside's patients, Kline said, with limited capacity at St. Joseph Warren Hospital. Based on Mercy Health's growth, he said he also believes there will be job opportunities available there.
Mercy Health has agreed to participate in a Steward-run job fair next week, Kline said.
"I do think, as difficult as this is, we'll make sure services are there for the community," he said.
Ed Muransky, CEO of the Surgical Hospital at Southwoods, also is prepared to serve additional patients.
"From our standpoint, we'll continue to try to fill the needs of the community," he said.
Muransky expressed sadness at the closure. "It's obviously a historic place where a lot of us were born," he said. But, "Times change. We have to continue to do that, and as the leader of Southwoods, I'll make sure that our troops continue to focus on that."
Muransky said Southwoods also could provide opportunities to Northside employees.
Asked if he would consider purchasing the hospital, Muransky said he had looked it years ago, but decided against it and has no plans to do so at this time, saying Southwoods will remain focused on its location in southern Mahoning County.
Steward Health Care completed the purchase of Northside along with eight other hospitals – including Trumbull Regional Medical Center in Warren and Sharon Region Medical Center – May 1, 2017, from Community Health Systems. CHS purchased ValleyCare, formerly Forum Health, out of bankruptcy in 2010.
According to the Ohio Hospital Association, which represents 237 hospitals and 13 health systems in the state, this marks the third hospital closure in Ohio this year, with previous closures in Massillon and Dayton.
" ... this announcement is an affirmation that the economics facing hospitals are serious, requiring constant management and evaluation," said OHA spokesman John Palmer. "In Ohio, we have seen hospitals make serious changes in recent years including consolidation, mergers, reductions and closures. We will continue advocating this issue with state and federal policymakers."
U.S. Rep. Tim Ryan of Howland, D-13th, said he was "deeply disappointed" by Steward's announcement. "I will be working day in and day out to ensure that they get the resources and assistance they need. I have been in direct contact with officials at Northside, Mercy Health, and other area hospitals and medical centers to ensure that there is no lapse in coverage for our community."
State Sen. Joe Schiavoni of Boardman, D-33rd, said he stands "ready to assist all the employees in any way I can. I have already reached out to Steward's management team and will be discussing this issue with them."
There have been ominous signs in recent months, as The Vindicator has reported.
On June 22, several Northside nurses showed up at a Mahoning County commissioners' meeting to voice their displeasure with Steward Health Care.
Anne Mueller, a labor representative with the Ohio Nurses Association, told commissioners the Youngstown General Duty Nurses Association, which represents the Northside nurses, has a 51-year history of overcoming obstacles to serve the Youngstown community.
She warned Steward Health Care's idea of "better than ever" means eliminating nurses' voices from patient-care and staffing discussions and running a skeleton crew.
Contributors: Jessica Hardin, Samantha Phillips
Northside Closure
Steward Health Care announced Wednesday it will close Northside Regional Medical Center, effective Sept. 20. Here is a timeline of the hospital's history:
1929: Youngstown Hospital Association opened Northside Hospital.
1985: Health system named Western Reserve Health Care (Western Reserve Care System, which included Northside and Southside Medical Centers).
1997: System names changes to Forum Health, when Northside and Tod Children's Hospital merged with Trumbull Memorial Hospital.
2009: Forum Health filed for bankruptcy.
2010: Community Health Services purchased Forum Health for $120 million, changing Forum's name to ValleyCare Health System of Ohio.
May 2017: Boston-based Steward purchased eight Community Health System hospitals including ValleyCare Health System of Ohio's Northside, Trumbull Regional, Hillside and Sharon Regional.
October 2017: Steward rebrands local hospitals, changing the names to Sharon Regional Medical Center, Trumbull Regional Medical Center and Northside Regional Medical Center.
August 2018: Steward announces plans to close Northside.
Source: Vindicator files.
NORTHSIDE REGIONAL MEDICAL CENTER
Important dates
Northside Regional Medical Center on Gypsy Lane in Youngstown has about 355 beds.
Sept. 17: At 6 a.m., the hospital intends to stop taking ambulances and admissions in the emergency room.
Sept. 19: The hospital will transfer or discharge any inpatients remaining at the facility.
Sept. 20: The hospital will close.
Oct. 14: Northside employees will be paid through this date and be compensated for accrued benefits.
Source: Steward Health Care
More like this from vindy.com