Greatest Week in the Valley by Covelli Enterprises wraps w/ Football, Songfest, Panerathon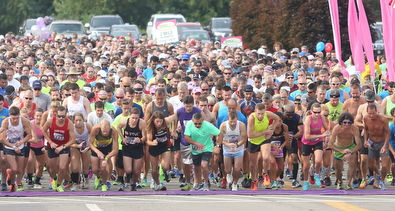 ---
Summer's end is right around the corner, but that doesn't mean the fun around here has to stop.
We're wrapping up the "Greatest Week in the Valley presented by Covelli Enterprises."
Here are a few highlights:
— High school football starts Thursday.
Watch for The Vindicator's season preview section in Thursday's paper. Watch for Blitz Live to debut Friday at 6:30 p.m. on vindy.com.
— Great live music downtown Youngstown Saturday.
JD Eicher Songfest with Ken & Drew of Sister Hazel Saturday in downtown Yo., and including The Vindys, Labra Brothers and Steve Everett.
Ken and Drew are the guys behind this 90s gem, "All for You."
The Vindys are just killing it right now around Ohio. The Labra Brothers are amazing.
And Everett might own "the best song waiting to make it big" with "Boats."
— The Panerathon on Sunday.
It is a morning full running and walking celebrating cherished life stories battling cancer. Read this tale.
— Greatest Golfer launched the week. Here are your champions. Read all about that here.
More like this from vindy.com