400 cyclists escort Vietnam memorial wall to Warren park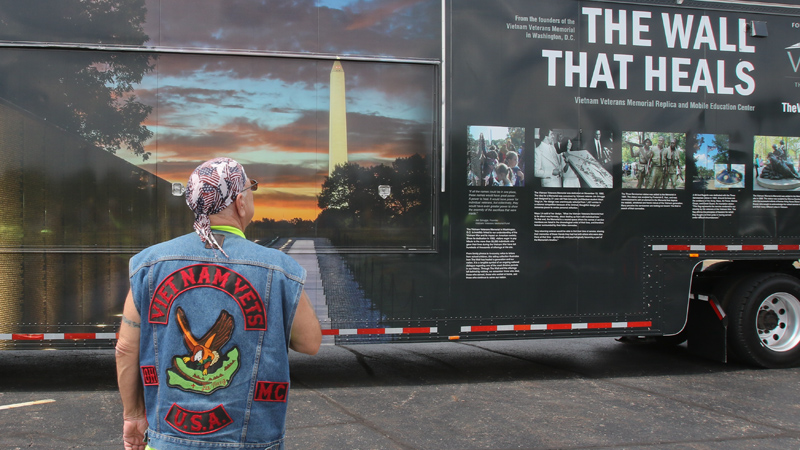 ---
By AMANDA TONOLI
atonoli@vindy.com
AUSTINTOWN
Austintown Quaker Steak and Lube saw one of its largest crowds Tuesday in recognition of Vietnam veterans.
More than 400 escorts on motorcycles met at the restaurant to escort The Wall That Heals, a scaled replica of the Vietnam Veterans Memorial in Washington, D.C., to Packard Park in Warren.
"It's truly one of the best turnouts I've seen," said Dean Murphy of the Vietnam Veterans Memorial Fund about the number of motorcycles.
The motorcycle brigade escorted the memorial to Warren where it will be set up and displayed Thursday through Sunday.
Ohio State Highway Patrol troopers shut down the Austintown entrance to Interstate 80 for the trip.
Julianna Blaylock, Vietnam Veterans Memorial Fund site manager, said the replica is traveling to honor the 58,318 soldiers who died in Vietnam and to better connect with people who may not be able to travel to visit the memorial in Washington, D.C.
"They can have their healing moment," she said.
U.S. Rep. Tim Ryan of Howland, D-13th, called it "an amazing event."
"The only town in state of Ohio to get a wall is Warren, Ohio," Ryan said, thanking veterans for their service.
"We're proud of you and we love you and we'll always be here for you," he said.
Veterans who aren't able to see The Wall That Heals were well represented, Ryan added, by those "making it such a big spectacle to bring The Wall to Warren."
Former Sgt. Victor "Rock" Scurry of Warren said the event means a lot to him.
"Americans are finally realizing who we are and what we've done and where we go from here," he said.
Matt Patrick of Cortland, Warren Harley Owners' Group assistant director, said being around so many patriotic folk is overwhelming.
"My wife is a veteran and we do a lot to support the veterans," he said. "It's very humbling. There's not a lot of people who give our veterans the recognition they need for everything we have in this country, so we try to do as much as we can."
A sense of camaraderie passed between men and women in leather vests as they greeted one another and shared stories of their time in Vietnam.
Ken Jakubec of Austintown, veteran and Quaker Steak and Lube owner, said being able to organize the send-off from his business hit close to home.
"We have people that drove all the way on their bikes from Texas and Kansas just to honor their loved ones," he said. "Everybody here probably knows someone who didn't come home and today we honor them."
More like this from vindy.com