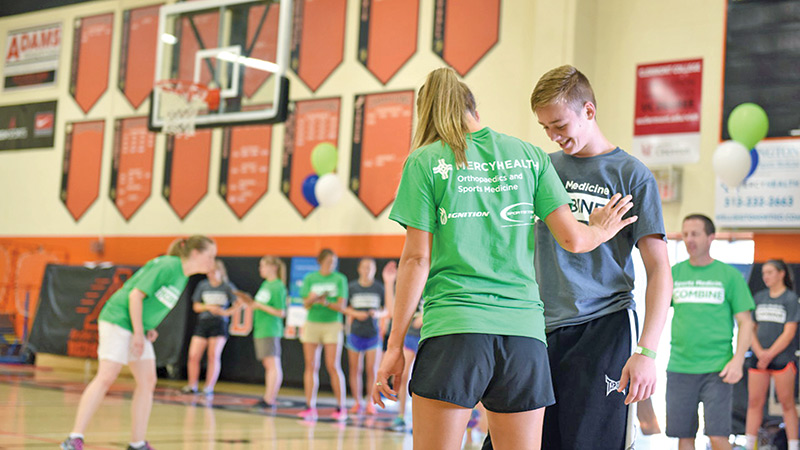 ---
Mission of Mercy
The mission of Mercy Health has remained steadfast since the Sisters of the Humility of Mary began providing health care services more than 100 years ago. Mercy Health's core values of compassion, excellence, human dignity, justice, sacredness of life and service are upheld at all of our care locations, blending pioneering technology and innovative equipment to provide the best care possible.
Visit mercy.com for more information or to find a doctor, location or specialty.
Fall is right around the corner, which means another season of high-school sports is upon us. Unfortunately, with sports come the possibility of injury. Whether you are a weekend warrior, or a young athlete that gets injured during play, Saturday Sports Clinics provide an option for immediate access to Sports Medicine Specialists.
Health systems across the country have become increasingly focused on access for patients. Here locally, that means that expert care can be found not only close to home, but available when you need it most. Saturday Sports Clinics provide access to Sports Medicine Specialists who can see and diagnose your injury, so you don't have to wait until Monday. "Whether you've sustained a mild injury such as a sprain or strain, or think you may have a more serious injury such as a fracture, we aim to provide access to specialists so you don't have to wait," said Dr. Jeffrey Johnston, orthopedic sports medicine surgeon at Mercy Health – Youngstown. "Like most injury or illness, with sports injuries, the quicker we can see and diagnose, the sooner we can treat and get athletes on the path to recovery." Johnston said.
From diagnosis and treatment to rehabilitation services, physicians, physical therapists, athletic trainers, and specialists work together to get you back on your feet and in the game. "The phrase it takes a Village really does ring true when it comes to treating sports injuries." Said Ryan Foertch, director of orthopaedics and sports medicine at Mercy Health – Youngstown.
"Sports injuries can range from mild to severe and receiving the right treatment at the right time can get you back on the field safer and sooner," he added.
As student athletes begin fall sports activity, Mercy Health re-opens their Saturday Sports Clinics at two convenient locations – one in Howland and the other in Boardman. Beginning Aug. 25 and running through Nov. 3, these clinics are designed for walk-in patients who have suffered sports injuries, with no appointments needed. "Our goal is to make sure patients have access to see an Orthopedic surgeon soon after the injury occurs," Foertch added. To learn more about the Saturday Sports Clinics visit www.mercy.com or call 330-480-2986.
More like this from vindy.com