Summer food program provides 600 bags of free groceries to local families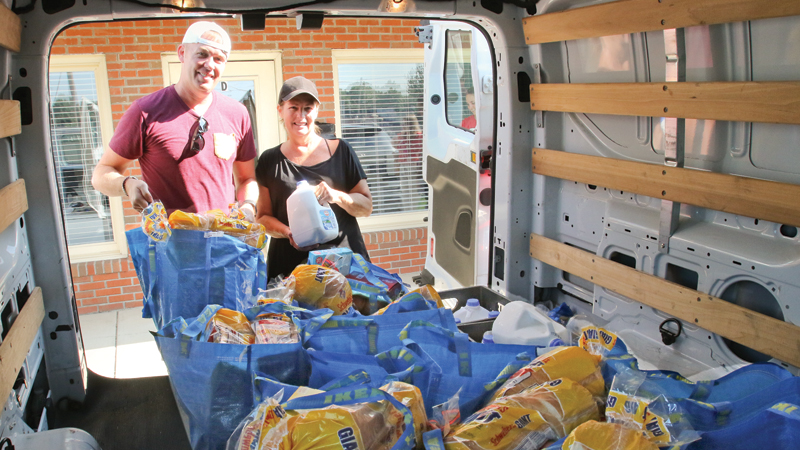 ---
By JORDYN GRZELEWSKI
jgrzelewski@vindy.com
BOARDMAN
Volunteers heaved large blue bags overflowing with loaves of bread and other groceries into vehicles, filling backseats and trunks.
Monday's delivery of free groceries wrapped up a summer-long program that provided a total of 600 bags of food to area families.
The program, run by local non-profit Making Kids Count, has grown considerably since it started in 2013. That year, the organization provided free groceries to nine families. The program now serves 50 families per year.
The summer food program aims to fill a gap during the months when school is not in session. Making Kids Count works with school counselors to identify families in which children receive free and reduced lunches and which might be in need of food during the summer.
"Some say no, that they're OK. Most people are thrilled to be able to get it," said Jenny Kennedy, who founded Making Kids Count in 2010 and runs it with three other women. "The kids are always happy when the food comes."
Making Kids Count operates a number of programs that serve children and families in the area, including a diaper bank, a program that provides winter boots and warm socks to area students, and one that gives personalized "hope totes" to children undergoing chemotherapy at Akron Children's Hospital of the Mahoning Valley.
The summer food program is operated with the help of donations and volunteers. Schwebel's Bakery, for example, donated 600 loaves of bread this year.
Making Kids Count gets many of the groceries from Rulli Bros. grocery store, which delivers the items to the organization's West Boulevard headquarters.
Rulli Bros. employee Pete Repec made the delivery Monday, and said the store tries to help out by providing deals on the grocery items whenever possible.
Volunteers help assemble and deliver the bags, which go out every other week for 12 weeks.
In addition to items such as bread, bagels and cereal, each bag contains ingredients to make recipes.
"They all get a Crock-pot at the beginning of the year if they don't already have one, and each of the two-week periods they get recipes and all of the food they get is geared toward those recipes," said Kennedy.
Monday's bags included onions, squash, pineapples, peppers and peaches, among other items.
Kennedy said some families that receive groceries are so appreciative of the program that they end up donating or volunteering themselves.
Some of the costs of the program are covered by Making Kids Count's fundraising efforts.
To learn more about donation and volunteer opportunities, visit makingkidscount.org.
More like this from vindy.com