Some Boardman homeowners suffer flood losses insurance won't cover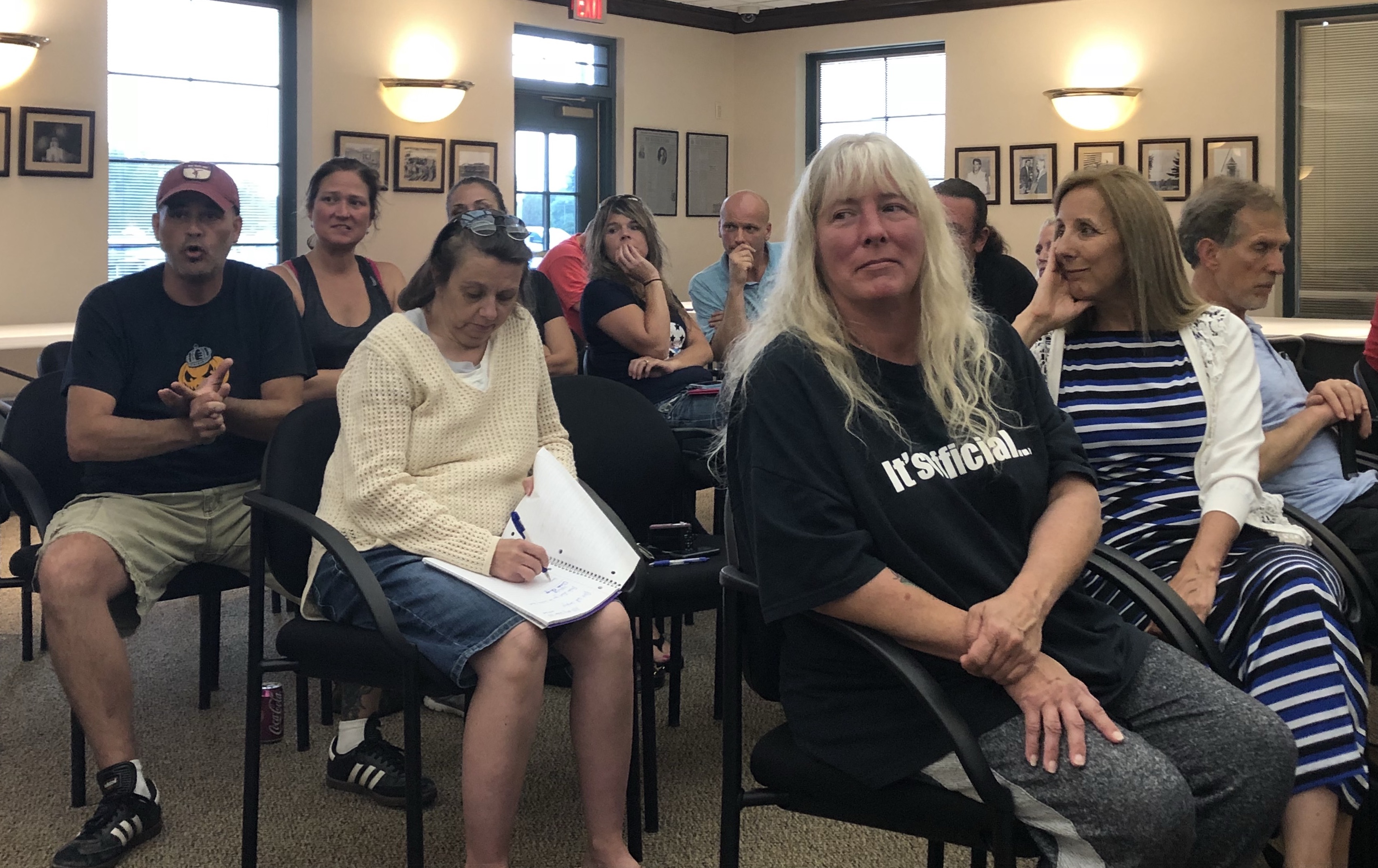 ---
By JORDYN GRZELEWSKI
jgrzelewski@vindy.com
BOARDMAN
Township residents whose homes flooded during Friday's storm did what they could.
They insured their homes. They added protections after previous flooding damaged their houses. Some had lived through major flooding in 2003, and prepared their homes as best they could.
Still, the water poured in.
Now, they want solutions and help. 
More than a dozen people spoke about flooding at Monday night's township trustee meeting, which drew a few dozen attendees and spent more than two hours on public comments.
Among those asking township officials for answers was Julie Romeo of Ridgefield Avenue, who purchased her house seven years ago.
Romeo said that when the rain hit Friday, three to four feet of water quickly seeped into her finished basement.
The water ruined appliances and destroyed everything in her teenage daughter's bedroom down there, ultimately totaling about $20,000 in damage that her insurance won't cover.
"I'm a single mom, working, and I can't afford to replace all that stuff," the mom of three said. "It's causing me a lot of money and a lot of grief. ... Something has to be done."
At this point, Romeo said, she hopes to fix what she can afford and then sell her house.
It was a similar experience for David Joyce of Arlene Avenue, who said he used a valve officials had recommended to him after previous incidents.
Still, "Within two hours we had 51 inches," he said.
He estimates his house incurred $30,000 to $40,000 in damage, none of which his insurance will cover.
"We lost everything," he said, including the contents of a downstairs master bedroom suite, washer, dryer, furnace, hot water tank, computer, and electrical outlets.
His neighbor, Joe Bertin, pleaded with township officials to do something, saying he loves the community where he, his wife and son live, but is considering moving after dealing with water and sewage pouring in their house on more than one occasion in the 15 years they've lived there.
Bertin said his damages are in the thousands, including appliances and items he had hoped to save such as his son's antique train collection and photos from his military career.
"I love this place. I don't want to go anywhere. But I am in the position of trying to figure out if we need to get out of here," said Bertin, a Youngstown city school teacher. "We need our community leaders to help us."
Township officials promised to do just that, but also asked for patience as they try to fix stormwater issues that long predate them. Those issues go back decades to when Boardman developed in an era in which stormwater issues were not taken into consideration. While new businesses are now required to install stormwater systems, much of Boardman's development occurred before these types of requirements, officials said.
Combined with other factors such as heavier rainfall and more frequent 100-year storms in recent years, areas across the township are affected whenever too much rain falls too quickly. 
In the short term, officials urged residents whose homes were damaged to contact the Red Cross and the township. 
Dennis O'Hara, director of the Mahoning County Emergency Management Agency, said it will be difficult to meet the requirements to receive assistance from the Federal Emergency Management Agency, but said to make its case, his agency needs data from homeowners. 
O'Hara also said he is working to identify resources that other organizations might be able to provide.
He and township officials plan to release additional information, including information about a phone bank, today.
Township Fire Chief Mark Pitzer also urged residents to contact him at mpitzer@boardmantwp.com or at 330-726-4199, promising to help with data collection and to assist residents in any way he can.
In the longer term, township officials have plans in the works to address the issues brought up Monday.
Trustees said many of the issues are due to laws and policies at the state and federal levels, and promised to lobby legislators and organize a postcard-writing campaign to get the attention of those elected officials. 
"We're asking for money from the Rainy Day Fund because our people need help – because of a rainy day," said Trustee Tom Costello, referring to the nearly $3 billion Gov. John Kasich's administration has in a state savings account.
Trustees called out the area's elected officials, saying none but state Sen. Joe Schiavoni of Boardman, D-33rd, has done much to help the township.
"Our state representatives need to start actually representing us in Columbus, and that hasn't been happening for some time," Costello said.
"We will do our part," he promised. "We'll bombard the folks."
In the longer term, township officials explained that they have been working for years to establish a stormwater utility district that would be able to address many of these issues.
Boardman has joined with Austintown and Canfield townships to form the ABC Water District, a separate government entity that will have the ability to collect utility fees and use the revenue only on stormwater projects. State law does not allow the township to spend taxpayer dollars on private property, but this entity would be able to do that, officials said.
The district has been in the works for years and recently moved forward after the Ohio Supreme Court ruled that such districts can collect fees. 
"We're really close to putting the district in place. The problem was we had to figure out a [fee-]collection mechanism," said township Administrator Jason Loree. Loree said he discussed possible mechanisms with the Mahoning County Auditor's office Monday.
Township officials said they hope the district will begin its first projects in the spring of 2019. 
"It's devastating. And we understand," Trustee Brad Calhoun said of the flooding.
In the meantime, "Email us. Call us. Talk to us," he said. "We want as much as we can to help solve this problem."
More like this from vindy.com