Melillo's Tavern chef brings New York recipes to Lowellville palates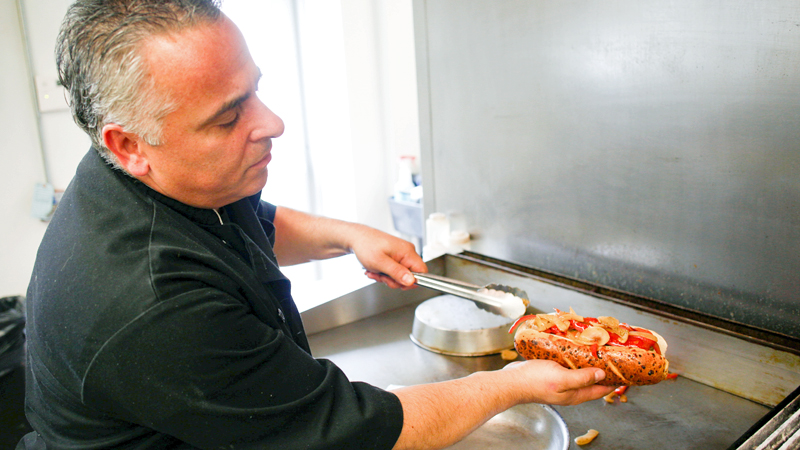 ---
LOWELLVILLE
For chef John Torrento, there is no way but the old way.
Torrento is the chef at the 104-year-old Melillo's Tavern in central Lowellville, and like the restaurant's authentic tin ceilings and century-old Italian wood paneling, his methods and recipes are a throwback to the days when the phrase "hand-made" was an assumption rather than a selling point.
Born in Long Island, N.Y., Torrento grew up in and around his family's butcher shop in a neighborhood heavily influenced by the Italian heritage of many of its residents.
Working at the shop, Torrento learned how to use meat grinders and hand-case sausages made with his family's blend of spices.
Torrento also learned how to filet fish and make butcher cuts, but his skills weren't limited to meats — he also trained to bake his own bread and create desserts such as cheesecakes and bread pudding.
When he decided in late 2013 that he wanted to move closer to family members he has in New Castle, Pa., he began searching for work that would allow him to put his methods and recipes to use and eventually was hired at Melillo's Tavern.
Going from Long Island, N.Y., with a metro population of 7.5 million to Lowellville, with a population of less than 2,000, was a bit of an adjustment for Torrento.
"Yeah, it was a little bit of a culture shock," Torrento said. "But not as much as I'd thought. A lot of people here are of an Italian heritage and that's very similar to my old neighborhood growing up."
When he arrived in Lowellville, he presented his sausage recipe to the restaurant's owner, Ralph DelSignore, and found their recipes were almost identical.
"They were really close, so we didn't need to change anything. I just used my family recipe here," Torrento said.
"I knew then that this place would be a good fit for what I do, and I use all my old New York recipes here."
Not only does Torrento hand-ground and case the Boston pork butt sausages himself, he also prepares and bakes the rolls they're served on from fresh dough.
Torrento cuts his own steaks, filets his own fish, bakes his own bread, molds his own ravioli and creates his own cheesecakes – with variants such as orange Creamsicle, toasted chocolate almond and cannoli – from scratch.
His insistence on being hands-on with every aspect of the kitchen doesn't stop at his ingredient list – Torrento doesn't even rely on a prep cook to ready the kitchen.
"Yeah I do my own prep," Torrento said. "It takes a lot of time, but it's worth it for the quality."
More like this from vindy.com