Scramble, long-drive event will get Greatest going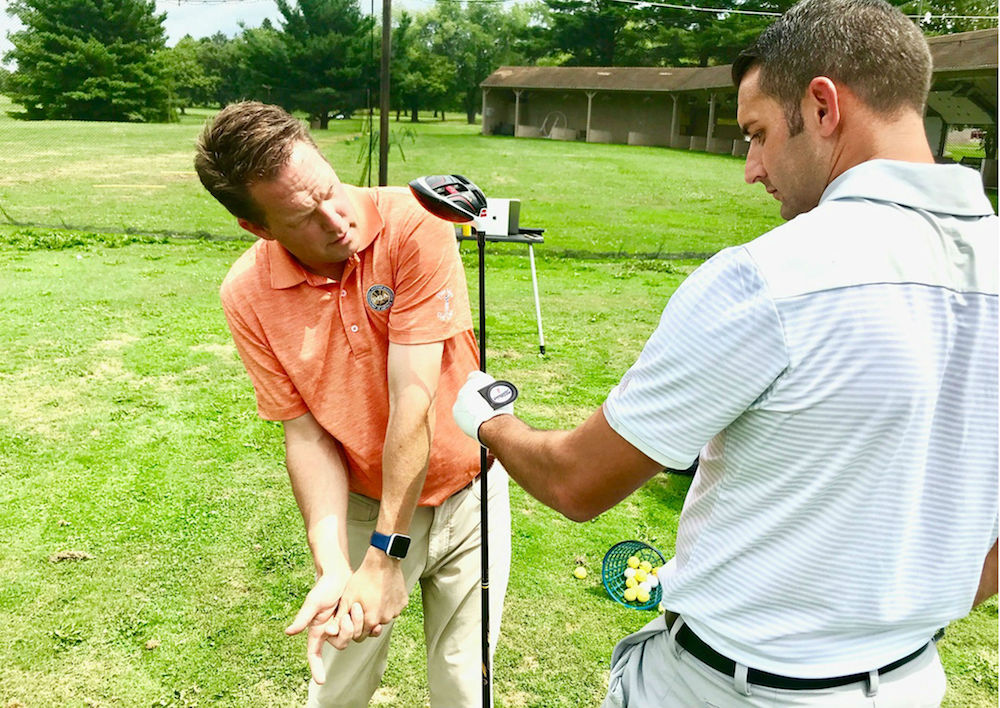 ---
By Greg Gulas
CANFIELD
The ninth annual Greatest Golfer of the Valley week-long menu of competition starts Monday with 27 teams competing in the Coors Light Scramble Championship. It leads the way for three more championship events comprising a total of 400 golfers.
The long-drive event, sponsored by Covelli Enterprises, has become a fun social bash. It takes place Thursday at Tippecanoe Country Club, and is a favorite event for long-baller George Rohan III.
New this year at the event for Rohan and his long-ball pals is Trackman — cool new technology that statistically dissects a player's swing and also displays the player and the shot in red-tracer display — just like pro golf on television.
Rohan — one of the area's longer hitters having finished runner-up to champion Patsy Daltorio in 2016 — took the Trackman technology for a test ride last week with Chris Carfangia, PGA director of golf for Pine Lakes Golf Club.
"It was pretty eye-opening for me," Rohan said. "You might feel one thing, but then you look at the Trackman numbers and it's a totally different gauge. It was really informative to see how the club works and what the ball flight is."
Carfangia has been working with Trackman for eight years.
"Trackman just quantifies what I am seeing," Carfangia said. "I know now that my eyes are on path with what I can measure. So when I have to work with club path changes and face angle changes, it's easier to measure something than it is just to guess it."
It was Rohan's athleticism that drew Carfangia's attention at the outset. Rohan, vice president of Home Carpet in Boardman, is a former baseball player at South Range High School and the University of Findlay.
"I noticed George's speed through his athleticism. One of the things that I tried to peel away was putting him in positions where he didn't have to be athletic, where he could just let his club work and turn his body," Carfangia said. "We worked on his driver a lot as I wanted to tighten up some of the misses and dispersion.
"Once someone very athletic starts playing golf, athletically it becomes a timing issue and that equates to big dispersion, big misses and not always solid contact."
That can be Rohan.
He can go long off the tee — 340 yards or more off club-head speed of 120 mph — but he's also prone to going wide. On his home course, The Lake Club and its stretch of five holes on the back nine that run long and straight, he laughed at how common it is for him to miss those fairways.
"The numbers we were looking at with George were the angle of attack, a little bit with the club path, club face and also the low point, trying to get those things all tighter and a little bit easier to repeat over and over."
For Rohan, understanding why things happen was his greatest takeaway.
"Knowing why things happen and what is causing those things to happen definitely helped me most," Rohan said. "If you're missing the ball a certain way with the angle of attack, the spins, club speed and certain other things, the time that I spent with Chris definitely put everything into perspective and gave me a clearer understanding as to the reason why it is happening."
Carfangia said that Trackman is expensive — $12,000 and up. But it takes the guessing out of teaching.
"I have all the faith in the world in my doctor, but if he's going to check my blood pressure, he better put a blood pressure cuff on me and not just go 'You look like you have low blood pressure.'
"Most of us that play golf want to enjoy it. If we can understand what the ball does when the club hits the ball, then we can become better just by knowledge. George picked up on that aspect very quickly. It's all physics and mathematics and that's how I am geared."
Last year, Jason Pridon won the longest drive championship with a 329-yard effort on his third attempt, upstaging 2014 inaugural champion Jim Armeni by a yard.
On the ladies side of the ledger, former Canfield Cardinals and YSU Penguins standout Felicia Ciotola-Drevna (250 yards) earned top honors over Lauren Martauz (240 yards).
Rohan said his strength is his driving, adding that he is looking forward to this year's long drive competition.
Registration is $25 with a Seniors Division added this year.
Competition begins at 6 p.m., and further information can be obtained by going to www.vindy.com/golf.
More like this from vindy.com