Share with others at Saturday's plant swap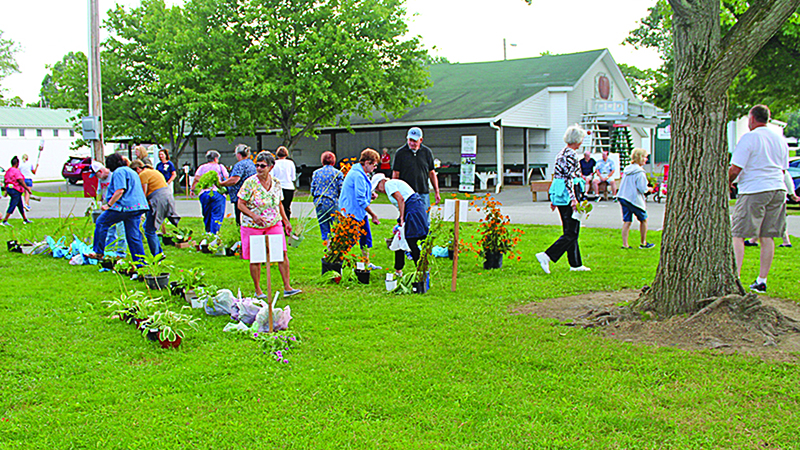 ---
By Lil Quaranta
OSU Ext. master gardener volunteer
I don't know how many of you, like me, checked the skies in May and June for any sign of a sunny day. I was so focused on a lawn dry enough to mow, that I paid little attention to my flowers. When I did, I was shocked.
Heavy rains for prolonged periods can really revitalize a perennial garden.
My hostas, usually healthy and 18 inches wide, were now 3 feet wide.
IF YOU GO
What: The Bring One Take One (Established Perennial Plant Swap)
Where: Canfield Fairgrounds next to the Pumpkin Barn
When: Saturday, with check in beginning at 9:30 a.m. The exchange starts at 11 a.m.
Bring plants in by 10 a.m. for identification and to view selection.
Bring plants, seeds or bulbs to share.
Label each plant so the new owner will know the name, planting instructions, color, bloom, seasons, etc. Houseplants are welcome.
If you have extra shovels, gardening tools, aprons, unopened soil/fertilizer or garden decorations, bring them along and see what you can exchange them for.
And the irises had bloomed with 4-inch flowerheads and were still trying to spread more green shoots.
And then, no rain for a couple of weeks.
That lushness is fading. It's time to tidy up, dig up and thin out my crowded iris beds.
This is just one of the many spring perennials you can divide this time of year.
July is the beginning of my "Iris review"– does it need an overhaul? Yep, it's time to divide and conquer.
Here's how to do it:
Cut the leaves back to 4-5 inches (about 1/3 of their original height).
Dig the iris plant out with a spade or garden fork – making sure you include a good clump of bedding soil.
Using a very sharp knife, make a clean cut through the rhizome (horizontal stem), keeping a fan of leaves with every part.
Clean the knife after every cut with one part bleach, nine parts water solution.
Now your old iris bed has room to "breathe." Find a new spot with plenty of sun to replant the cuttings.
Unlike planting other perennials, irises do not need a deep hole; they prefer a shallow ditch. In fact, they like part of their rhizome to show.
Add a small amount of soil in the ditch and pat the rhizome into it.
Cover the roots with soil; make sure the top of the rhizome is exposed.
Water it well.
Now, when you divide, you may have extra to share.
You're in perfect sync with our annual plant exchange – The Bring One Take One (EPPS- Established Perennial Plant Swap) – coming up Saturday, at 9:30 a.m.
Bring your extra plants, garden tools, art, containers, books/magazines to the Pumpkin Building at the Canfield Fairgrounds.
We're asking that all plants are clean of insects and weeds; that you ID your plant (if you cannot, MGVs will do it for you); that you place your plants in a clean pot or double bag with some original soil left on the roots. (Invasive plants cannot be accepted).
We can all share our established perennials with each other and take home more beauties.
Learn more about dividing perennials at http://go.osu.edu/divide.
Learn more about the plant swap at http://go.osu.edu/boto.
More like this from vindy.com