YSU looking for receivers to catch on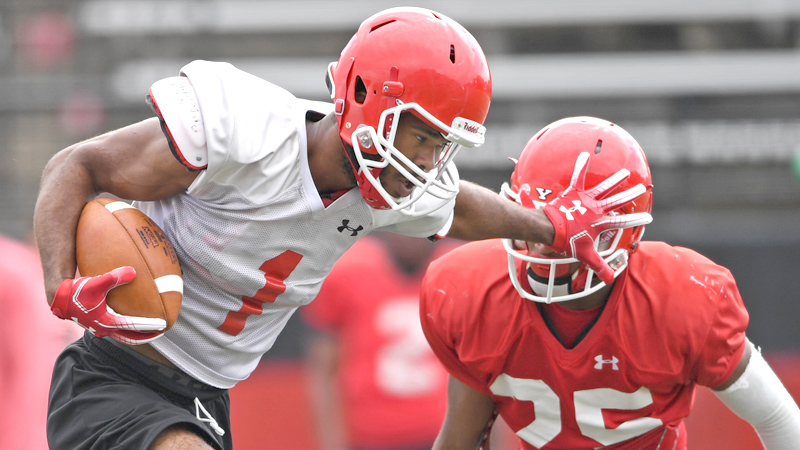 ---
By Dan Hiner
dhiner@vindy.com
youngstown
Other than the quarterback battle, the biggest question for the Youngstown State football team will be their receiving corps heading into Week 1.
With three starters gone from last season, the Penguins lost a combined 85 catches and 1,173 yards to graduation.
YSU has just three receivers with playing experience heading into the season.
Samuel St. Surin, Jermiah Braswell and Darius Shackleford all played last season but there wasn't much production out of the returning players. Braswell leads the trio with seven career catches for 146 yards and Shackleford didn't catch a pass last year.
YSU wide receivers coach Tim Marlowe said the trio of returners have take over as leaders and trusts they'll produce moving forward.
"It's definitely different from sitting back and listening to [Damoun Patterson], Alvin [Bailey] and Stefan [Derrick]," Shackleford said. "It's definitely different but it's a role we're gonna embrace."
Three veteran players will lead the group while Zach Farrar, Kendric Mallory and Ryan Emans work with the second team.
Farrar caught 11 passes for 266 yards and four touchdowns in seven games last season for Mississippi Gulf Coast.
The 6-foot-4 sophomore began his career at Oklahoma, but transferred to Mississippi Gulf Coast after his redshirt season.
"We're trying to get him mentally right with the playbook," Marlowe said. "He's got the potential to make some big-time plays. He got recruited to Oklahoma for a reason."
Mallory is a junior college transfer from Ventura College. He had 70 receptions for 703 yards and eight touchdowns last season.
Marlowe said the Penguins will rely on players who had previous experience instead of physical talent early in the season.
"[Shackleford] and Braswell definitely have the most experience — just practice experience — that's experience in itself," Marlowe said.
"I say that gave them a foot in the door to start spring ball and just like LeBron [James] said, 'Nothing is given. Everything is earned.'"
Early Injury Bug
The Penguins are four days into fall practice, and the receivers are already dealing with injuries.
St. Surin has been held out recently after a toe injury and Farrar is dealing with a heel contusion.
Marlowe said St. Surin should be ready to return in the near future and Farrar is still practicing, but not at full speed.
"All these nicks and bruises happen throughout fall camp — gotta get into the ice tub and all that and take care of our bodies," Marlowe said. "It's a long month."
Locals Emerge
A pair of locals are making their way up the receiver depth chart early in camp.
Senior Donovan McWilson, a Cardinal Mooney graduate, and sophomore Jake Coates, a Warren JFK graduate, have been getting reps with the second-team offense.
McWilson and Coates both were key players on special teams last year. McWilson recorded four tackles on the kickoff and punt coverage units while Coates led the Penguins with 19 punt returns for 90 yards.
"We only travel 60 guys a game, so we're only gonna take seven or eight wideouts each game," Marlowe said. "These guys gotta earn it on special teams, too."
More like this from vindy.com