Youngstown to target dumping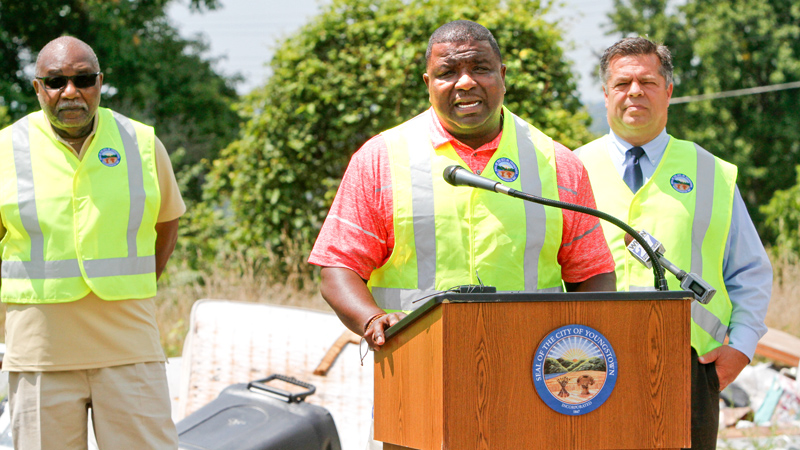 ---
By JOE GORMAN
jgorman@vindy.com
YOUNGSTOWN
Standing Monday amid mounds of debris and trash dumped in the parking lot of a former North Side club, Mayor Jamael Tito Brown said enough is enough.
Just before city crews began knocking down the decrepit Moose Club building at 1007 Glenmont Ave., Brown said the city is ramping up its efforts to catch illegal dumpers and the cleanup of the Glenmont Avenue property, one of the most notorious in the city for dumping, is a first step.
"No longer will we accept dumping in city neighborhoods where people live in the city of Youngstown," Brown said.
Brown said he has instructed Law Director Jeff Limbian to go after tough sentences for anyone caught dumping, including community service terms where they have to clean the mess they make or actually go to jail.
"We want to make sure they pay the price, not just a big fine, but physically," Brown said.
The city has been using cameras at sites that attract people who dump material like roofing materials, tires, construction debris and just plain trash to try and catch people dumping. The cameras have helped bring several people to court.
When asked if the city has a list or an idea of properties that attract dumping, Brown and other city officials at the press conference laughed. Jennifer Jones, head of Litter Control for the city, said there are several sites that attract dumping.
"There's one on every side of town," Jones said.
Jones, too, lauded the cameras, saying they helped to catch people who were responsible for some of the dumping on Glenmont Avenue.
"There's 30 to 40 areas in the city we would love to put a camera up," Jones said.
Councilman Nate Pinkard, D-3rd, said he was very pleased to see the eyesore on Glenmont Avenue cleaned up, not just for residents, but for businesses and community groups that are in the area.
"It's an eyesore to our neighbors as well as our stakeholders in this area," Pinkard said.
Brown said what makes the dumping even sadder is that a lot of times the people who are responsible turn out to be city residents.
"It's sad because we know some of these individuals," Brown said.
Brown said the properties targeted by the city will be cleaned up and landscaped. On Glenmont, access will also be cut off to the property there so people can't dump things anymore.
The next area may be off of Waverly Avenue on the West Side where large amounts of material are illegally dumped, Brown said.
"I'm excited about this happening," Brown said.
More like this from vindy.com