Avenatti talks about GM Lordstown at Mahoning Dems dinner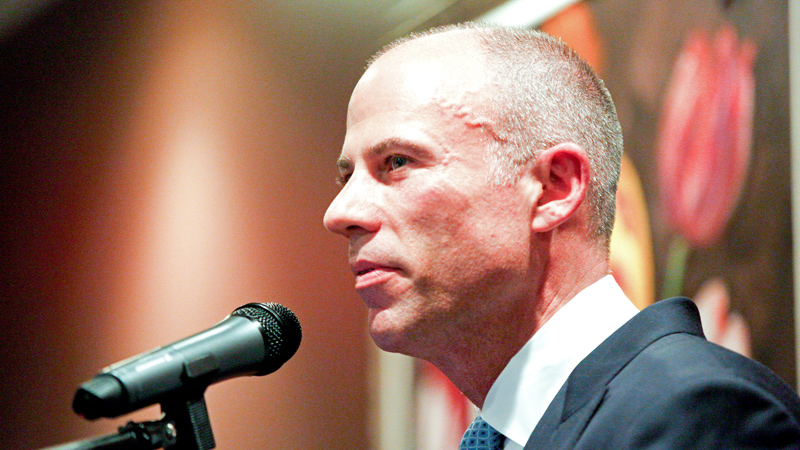 ---
By AMANDA TONOLI
atonoli@vindy.com
AUSTINTOWN
Nationally known lawyer Michael Avenatti discussed during a Democratic fundraiser Monday night the president's disregard for promises to bring back good-paying jobs to the Mahoning Valley.
Avenatti, an attorney best known for representing adult film actress Stormy Daniels in litigation over an alleged affair in 2006 with President Donald Trump, was the keynote speaker at the Mahoning County Democratic Party Chairman's Dinner at the Upstairs Restaurant.
"Trump promised good-paying jobs to hard-working people and we haven't seen that yet," he said. "It's a disgrace this president hasn't even bothered to place a phone call to General Motors ... about the state of the Lordstown [GM] plant." The plant, which produces the Chevrolet Cruze, is down to one shift from what had been three as car sales slump while buyers are choosing trucks and SUVs.
It is critically important to meet people in the Youngstown area to hear what they have to say, Avenatti added.
"Where are the steel mills and the jobs promised to local people?" he asked. "And what about that wall Donald Trump promised the Mexicans would pay for? The check must be in the mail."
State Rep. Michele Lepore-Hagan of Youngstown, D-58th, said the truth is what interests her.
"I'm glad he's keeping the pressure on and really getting to the truth," she said. "He [Avenatti] caught him [Trump] with his pants down."
"He fights fire with fire," said local Democratic Party chairman David Betras. "For as many times as he's been on 60 minutes he's [like] a kid that grew up in Struthers, Ohio."
Avenatti was the first college graduate of his family ­­— a middle class family in which his father lost his job during his childhood.
But he fought his way to the top.
"It's not the size of the dog, but the size of the fight in the dog," Betras said. "This is a man who has succeeded because he real — he's talented. He's a fighter not a faker."
And fight is what Avenatti intends to do.
"We cannot be the party any longer that turns the other cheek," Avenatti said. "We need to bring those who hit that cheek to justice. When they go low we hit harder ... If we want a more inclusive, tolerant, compassionate, open, welcoming and gracious and merciful America then we must be willing to engage in battle to achieve it."
To achieve it, Mahoning County Commissioner Carol Rimedio-Righetti said it's important to stand together.
"We are a team that works to make it right for all of us," she said.
State Sen. Joe Schiavoni of Boardman, D-33rd, echoed Rimedio-Righetti's sentiment on behalf of Richard Cordray, the Democratic gubernatorial candidate.
"We all have to come together for the better good of this state," he said.
But not everybody felt positive about Avenatti's presence or message.
"The Democratic Party has gone down in the area when they have to bring a porn star's attorney to be their keynote speaker," said a protester, Ron Skowron of Youngstown. "He has aspirations for president, but that's a big laugh for that — but he thinks it's possible."
"If he's [Avenatti] going to be the star of the party, that's what we're going to complain about," added Ron's brother Don Skowron, also of Youngstown.
Signs protesting against the Democratic Party and Avenatti sat across the street from the dinner.
"The Democrats started this when they put the duck up at the Lincoln Dinner turnabout, so this is fair play," said Amber Waves of New York.
She was referring to the Democratic Party sponsoring a 15-foot inflatable duck that John Dyce of Hanoverton, the Democratic candidate for the 5th Ohio House District in Columbiana County, stood in front of to call out the statewide Republican candidates for "ducking accountability on their party's culture of corruption in Columbus."
More like this from vindy.com