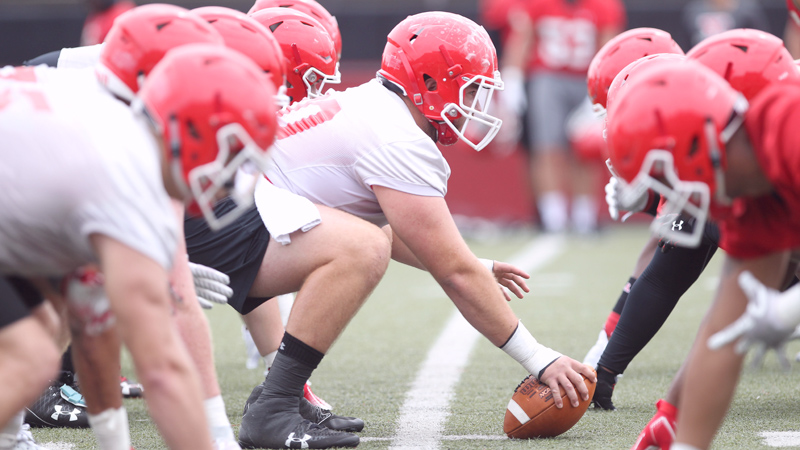 ---
By BRIAN DZENIS
bdzenis@vindy.com
YOUNGSTOWN
Vitas Hrynkiewicz has grown a goatee and Gavin Wiggins cut his long hair. Together, the senior offensive linemen with new looks are ushering in a new era for the offensive line.
"I saw [quarterback Montgomery VanGorder] with a little mustache. I couldn't let him to be the only one having any fun," said Hrynkiewicz, the team's starting center said. "I used up half the razors in my closet to give myself a nice goatee. I'm hoping to start a trend.
"Not everybody on the O-line can grow great facial hair, but maybe we can get something going," he said. "Maybe we can get [O-line coach Carmen Bricillo) to rock a soul patch or something."
The 36 sacks the Penguins conceded in 2017 were among the worst marks in the Football Championship Subdivision. While each sack is unique and not all of them were the offensive line's fault, it was a subject that's come up in the offseason.
"We had a lot of sacks last year. Most of them were our fault, but coming out this year, we've already set a lot of goals in the meeting room," Wiggins said. "We want to lead the league in rushing. We only want to give up one or fewer sacks in a game. We have things like that as unit goals to have in mind throughout camp and the season."
Despite last year's setbacks, Wiggins and Hrynkiewicz are well-regarded around the Missouri Valley Football Conference. Both are first-teamers on the league's all-preseason team.
Wiggins has started 31-straight games for the Penguins going back to the end of his freshman year and Hrynkiewicz has started every game since he arrived on campus as a sophomore community college transfer.
"The sky is the limit for both of them. The challenge is to go from good to great. They're good players that have to be great players," Bricillo said. "Gavin didn't play spring ball and we're seeing some rust on him and we got to get him back to midseason form versus the second day of training camp."
Wiggins is in his first camp without All-American Justin Spencer beside him. Spencer served as a mentor to him and now the roles are reversed with redshirt-freshman Dan Becker serving that left tackle role for the time being.
"I played all of my games next to him. Our chemistry was unbelievable," Wiggins said. "With Becker, I'm teaching him all the little things, little tips and tricks to get to that same level of cohesiveness."
Bricillo has four tackles in the mix for two starting spots: Becker and sophomore Henry Yoboue on the left and junior Devon Robinson and Charles Baldwin on the right. The criteria to earn a first-team role is the same.
"The standards are that you're always going to be physical. That's always been first and foremost since I've been the offensive line coach," Bricillo said. "Next, we're going to know what my assignment is and be able to block movement. It's nice and easy when they line up straight, but you have to block when they're moving.
"When you're physical and you know what you're doing, everything will figure itself out."
Add returning senior guard Connor Sharp to the mix and YSU is solid in the middle of its line and has enough pieces to engineer a rebound.
Bricillo thinks Hrynkiewicz may need to adjust the facial hair.
"I think he looks like Joe Dirt. I told him people don't hire people with goatees," Bricillo said. "He wants to work on Wall Street and I told him there's a stigma against people with goatees.
"If he grows a mullet, that increases his street cred."
More like this from vindy.com