Olde Car Club raises $3,500 for young cancer patient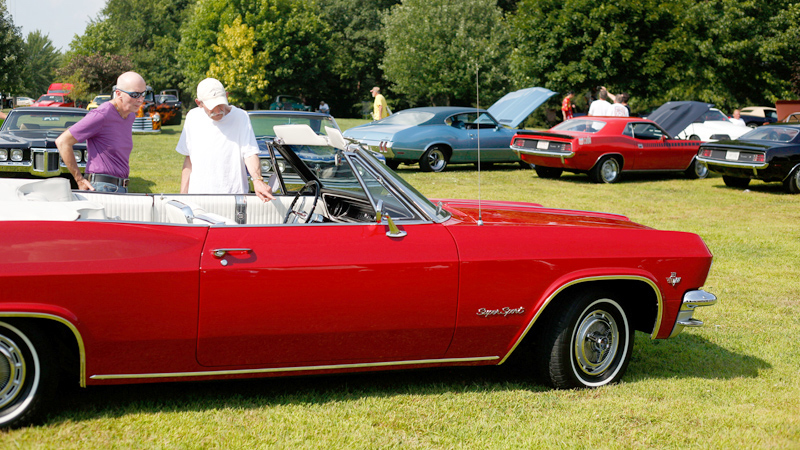 ---
By WILLIAM K. ALCORN
alcorn@vindy.com
BOARDMAN
Members of the family of 4-year-old Nora Savella of Poland, who is fighting stage 4 high-risk neuroblastoma cancer, say they are grateful to the people of the Mahoning Valley for their support.
Speaking at the 20th annual Mahoning Valley Olde Car Club's "Cars in the Park" show and flea market Sunday, the proceeds of which benefit young children and Hospice of the Valley, Nora's uncle, Tom Ventresco of Boardman, said the "generosity and kindness of people of the Valley are overwhelming."
The Olde Car Club, which is celebrating its 40th anniversary, presented a check for $3,500 to help defray some of Nora's medical bills, said MOVCC treasue, Bill Smith of Liberty.
Nora, who refers to her cancer as "the bad guy '' inside of her, is the daughter of Amy and Jeff Savella, and sister of Nina, all of Struthers.
Amy and Jeff were at Akron Children's Hospital in Akron Sunday with Nora whose previously harvested stem cells were being re-transplanted, a process that "wipe's out her immune system," said Ventresco, who was at the car show with his wife, Kim, and other family members.
Because of that, Nora is not permitted to come home and instead stays with her parents in the Ronald McDonald House of Akron, which is about a block from Akron Children's main campus.
Nora's grandmother, Mary Ventresco Held, described her granddaughter, who loves all things "Paw Patrol," as a "precocious, smart little girl. "That little girl is fighting for her life," said Rich Posivak, a MVOCC member who organizes 19 cruises per summer at the Austintown Senior Center.
Over the past 10 years, the MVOCC, which has about 220 members, has donated more than $100,000 to area children and Hospice of the Valley, their primary charities.
About 250 cars were on display at Sunday's show, including Posivak's 1940 Packard business coupe and 1937 Model A Ford, that competed in 29 classes.
Because of the high temperatures Sunday, many of the competitors found places in the shade waiting to see how their entries fared in the judging.
"We came here for the little girl," said Donald Keck and Carol Moore of Youngstown, who entered their purple 1930 5-window Model A Ford coupe, converted to a street rod, in the competition. They said they go to numerous car shows each year.
There were several Model A Fords entered in Sunday's show, including one owned by Bob and Marcella Simpson of Chester, W.Va.
They were accompanied by Bob's sister, Debbie Simpson of East Liverpool.
Though the 1931 four-door Model A Ford that Bob restored did not win its class, he may still have been the biggest winner of the day.
He found a buyer for his antique car. The only problem he said, is that he wasn't certain how they were going to get back to Chester.
Besides classic cars, Sunday's show featured, among other things, food vendors, a 50/50 drawing, an auction, music by the Canfield Community Band, face painting and games.
For information about the Mahoning Valley Olde Car Club, visit MVOCC.com.
More like this from vindy.com