Youngstown company showcases products at White House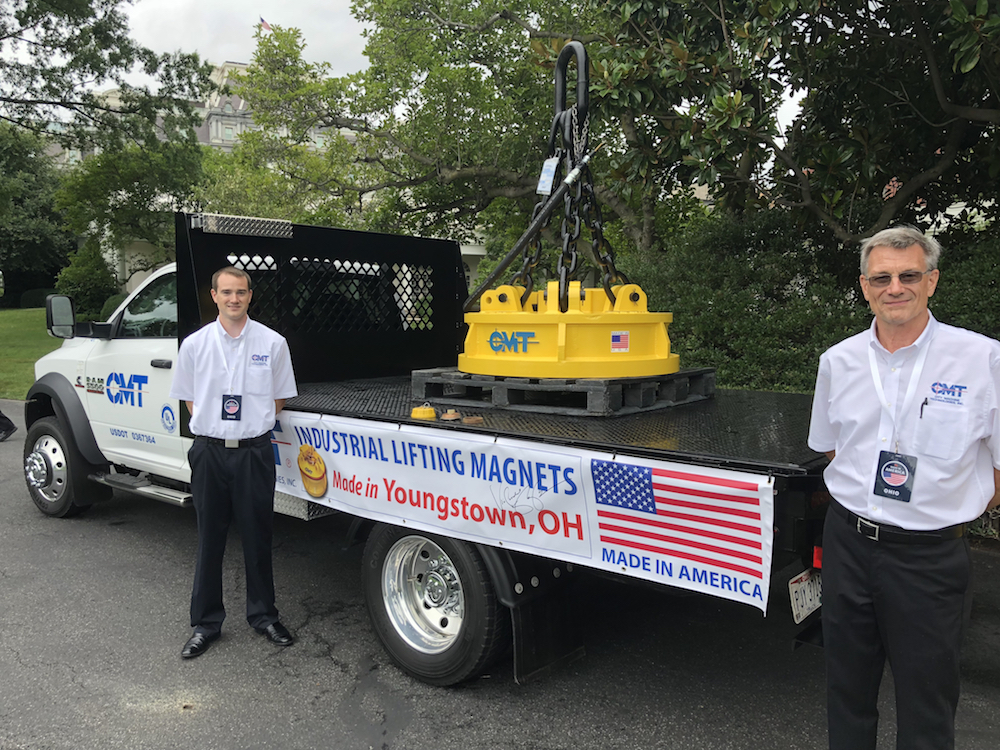 ---
YOUNGSTOWN
When Mike Kovach started City Machine Technologies Inc. 33 years ago, he never dreamed his business would one day take him to the White House.
But that's exactly where he found himself July 23 for the Made in America Product Showcase, for which CMT was selected to represent Ohio with its line of lifting and separating magnets.
The event, attended by President Donald J. Trump and Vice President Mike Pence, highlighted American-made products from each state.
"Never when you take out all your savings and start a business do you expect to one day meet the president," said Claudia Kovach, CMT corporate secretary/vice president of marketing and Mike's daughter.
Mike and his late wife, Joan, invested everything they had to start CMT in 1985. Mike had been working for a large company in the same industry, but found that to move up the ladder there he'd have to move his young family out of state.
Instead, he decided to make a go of it in Youngstown.
"He mortgaged his house. He had five liens on his house," Claudia said.
The business began as an industrial-service company with two employees. Today, CMT employs about 60 people and has expanded to be both an industrial-service provider and an electromagnet manufacturer serving a variety of sectors.
"When we started, companies like this were very specific in one industry or one facet of the business," Mike said.
He opted to do it all, turning CMT into "a one-stop shop."
"That's been our success," he said.
CMT sells its magnets across the U.S. and in other countries, including Egypt, Indonesia, Canada and Mexico. On the service end, CMT provides electrical, mechanical, machining and field services to industrial and commercial companies in the U.S., primarily in this region.
"You can't ride in an elevator within city limits we haven't touched," Mike said.
He sees growth potential for CMT, which he envisions remaining an independent, family-owned business.
"We see growth in the future for us, as long as manufacturing and industry remain strong," he said.
When CMT got the call about the Made in America event, Mike said he was shocked.
They had 48 hours to confirm, then had to go through an approval process for the materials they planned to bring and the representatives they were sending.
Mike attended with his son, Chip, who runs the business with him.
The event took place on the South Lawn of the White House, and showcased products of all kinds, from baked goods to aircraft.
"It was amazing," Mike said. "It was like the Fourth of July and Labor Day all in one. It was very pro-American, pro-ingenuity and pro-American worker."
The Kovachs had the chance to meet representatives from the U.S. treasury and state departments, and to talk to Trump and Pence about CMT's products.
"Both the vice president and president were very cordial and very interested in our business," Mike said.
It wasn't Kovach's first trip to the White House. He was invited there in 2003 when President George W. Bush signed new tax cuts into law, he said.
It was just as much of an honor to be invited again, and Kovach said it has nothing to do with politics for him – if the president invites you to the White House, you go, he believes.
"It was a privilege," he said, overcome by emotion. "It was America showcased."
More like this from vindy.com