YSU returns bigger, deeper roster this fall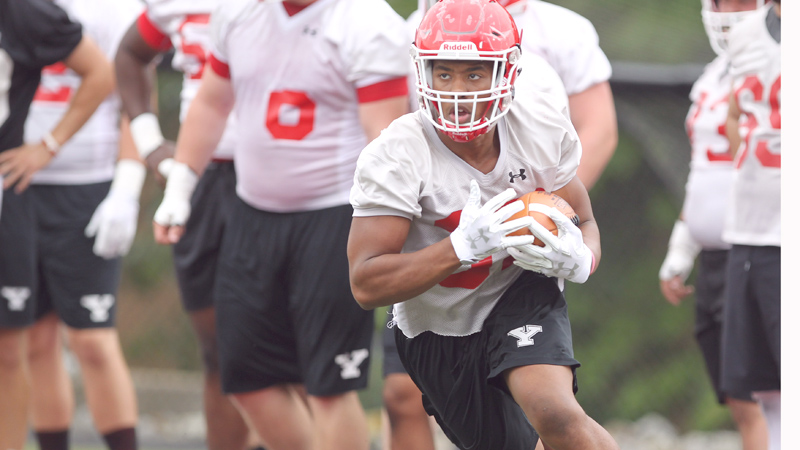 ---
YSU returns bigger, deeper roster this fall
By Brian Dzenis
YOUNGSTOWN
Visitors to Stambaugh Stadium wouldn't be incorrect if they thought they were seeing double or triple as Youngstown State kicked off its fall camp on Friday.
Seeing six quarterbacks, three kickers and two punters working out were some of the more noticeable increases in the Penguins' numbers. That's not an optical illusion, YSU is a bigger team in 2018. With 109 players to last year's 95, more depth makes for a merrier Bo Pelini.
"I thought that was huge. You're able to give guys breaks here and there," Pelini said of the increased numbers. "It takes stress off of some guys and when you have all those guys, it's hard to give them quality reps. For different skill positions and special teams, you get a lot of flexibility."
Combine the increased depth with the NCAA's new redshirt rules where players can play in up to four games without burning a redshirt, YSU has time and options to solve all sorts of quandaries.
Some of those include figuring out who's filling the tackle spots on the offensive line, finding the right replacement for injured defensive end Justus Reed and establishing a hierarchy at quarterback.
Incumbent Nathan Mays was the first-team QB on day one, with Notre Dame transfer Montgomery VanGorder with the twos and true freshman Jayden Cunningham and redshirt freshman Joe Craycraft filling out the reps.
There wasn't a major drop-off in quality between the four, and the newcomers impressed. Cunningham earned shouts "good ball!" from the coaching staff as he completed passes to reserve receivers.
The newer guys on the team going beyond the quarterbacks still have some hurdles to clear.
"Across the board, we have some new faces. We'll evaluate them as we go. I think there are some guys who can help our team, but they need to bring a level of consistency in their level of understanding," Pelini said. "I told the guys last night that if you want to play, we have to trust you. We have to trust that you know what to do and you're going to handle things the right way.
"We have a chance to be a good football team. I really believe that. We have good ingredients, but we have to figure out how to move those ingredients around to make them better."
One of those new ingredients — Pitt transfer Charles Reeves — has to wait a little bit before getting the chance to show his stuff. He attended practice, but wasn't a full participant as he still has "red tape" to navigate, Pelini said. Reeves should be ready to go Monday.
The prospect of two four-star tight ends in Reeves and Ohio State transfer Kierre Hawkins adding to the offense is exciting for running back Tevin McCaster.
"They block good and they catch good. They've got dual dimensions," McCaster said. "It's great. It's what we need as a team. We have to be versatile."
Another trait Pelini likes seeing more of with his team in 2018 is leadership, the growing of which was a summer project for the head coach.
"We'll see how they apply those lessons now that the bullets are flying," Pelini said.
Mainstays from the 2016 national championship run, linebacker Armand Dellovade, center Vitas Hrynkiewicz, defensive lineman Savon Smith and McCaster are some of the guys who can fill the leadership need.
"[We're] guys who have seen things, been through close games and been through tough games," Dellovade said. "We've been through the close games and hopefully that will carry us this season."
More like this from vindy.com