Unbeaten Canfield captures crown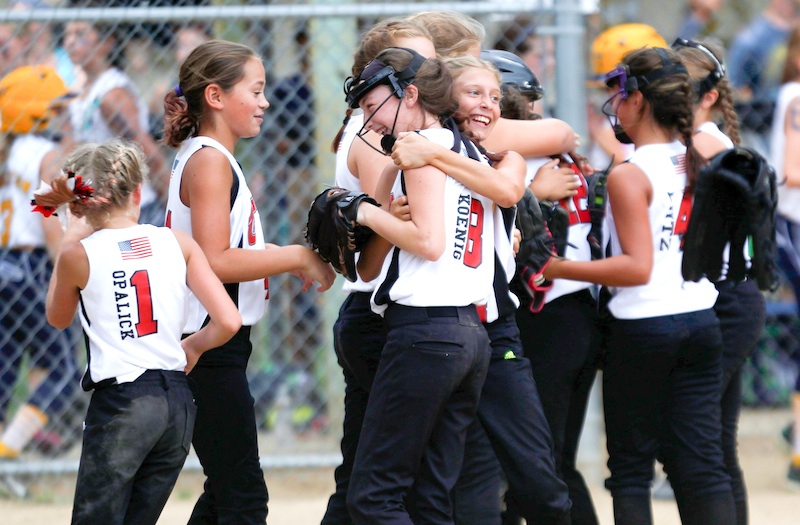 ---
10U Softball Championship Game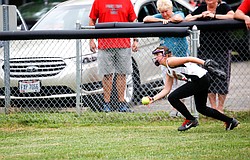 Gallery
By BRIAN DZENIS
bdzenis@vindy.com
TALLMADGE
Canfield made all that time practicing odd double plays worth it.
Outfielder Kyleigh Golden, third baseman Sam Economous and catcher Sofia Castronova combined to convert such a play, one of a handful of great defensive stands in Canfield's 5-2 victory against Tallmadge to win the Little League Softball 9-10 state championship.
"We never know when we're really going to have one, but when we do have one, we try our best," Economous said.
Canfield's lead was as high as five runs in Thursday's contest, but Tallmadge did its part to make the Mahoning Valley side sweat out six innings.
In the fifth inning with one out, Tallmadge had runners at second and third. Tallmadge's Danielle Charton hit the ball to left field, where Golden was after just being pulled from the pitcher's circle.
Golden hit cutoff man Economous, who threw out the first runner at home, Castronova threw the ball back to Economous to get the second runner out just as she slid into third.
It was a close call and Tallmadge's coach argued that his player was safe, but the 7-5-2-5 double play stood.
"We're always practicing tagging and throwing it back and forth," Castronova said. "It really helps with our games."
Canfield had similar tricky situations in the second and third innings, which featured Tallmadge runners in scoring positions. Those ended the way most at-bats against Golden went on the Indian Hills Drive field, with a strikeout.
Golden, who said she wasn't feeling 100 percent with a headache, made her opponents feel the same way. In four and a third innings, she gave up just one hit, five walks and struck out 10 batters.
"She's been consistent throughout every game," Canfield coach John Millich said. "Our plan was to have her pitch five innings and get as far as we can with her."
On the offensive side, Sydney Lutz got the game going with an RBI double the hit the center-field fence in the first inning.
Paris Lindgren added an RBI single in the second. With her father and former Canfield High School baseball coach Matt Koenig watching in the dugout, Marina Koenig provided what became the winning hit, a two-run double in the fourth inning to center field, scoring Alexis Johnson and Leah Figueroa.
Koenig then scored off an error.
Tallmadge got its only runs in the fifth before the double play when Charton hit a two-run single.
Thursday's win was this generation of Canfield softball players' first state title. It came with no trips to the consolation bracket.
Last year, the team took second in the state tournament, but Castronova still fondly recalls that run.
"Poland was our biggest rival and we beat them to get to the semifinal. It was really big for Canfield because they beat us in districts, and we wanted to get them back," Castronova said. "[Winning state] is better."
More like this from vindy.com