Students learn ASL at Poland library camp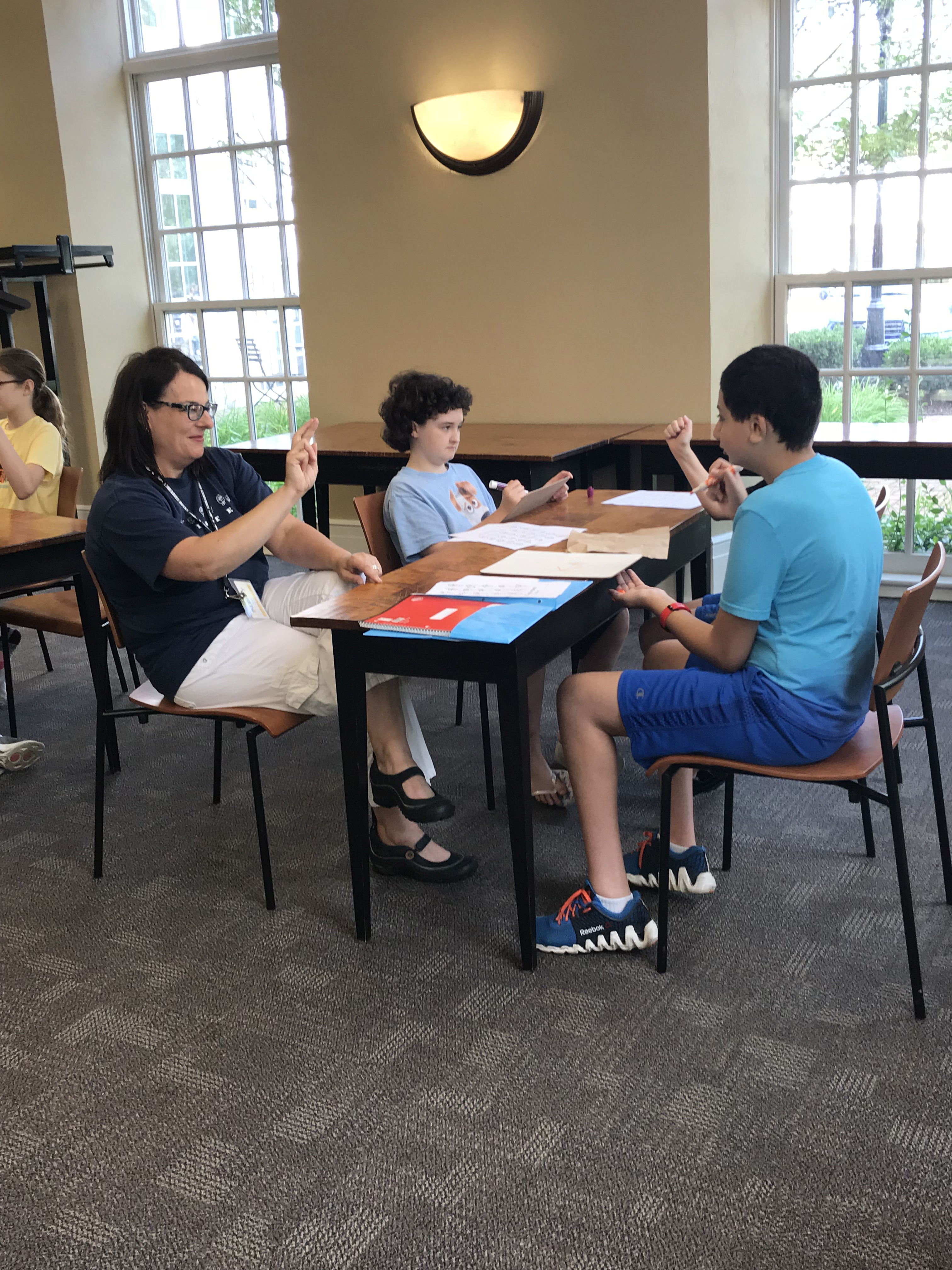 ---
By JESSICA HARKER
The Poland library offered a free American Sign Language camp for fourth- to eighth-graders on July 25-26.
Librarian Karen Steed ran the camp. Steed is a certified teacher of the deaf, having taught sign language classes for elementary through high school students and at the college level.
"This is right up my ally," Steed said. "This is just a natural step for me."
She studied deaf education at Kent State University and is a licensed American Sign language interpreter.
"I think its very important because ... they are more likely to meet a deaf person in their school, or future jobs, than meeting a person speaking another language perhaps," Steed said. "The chances of them meeting somebody and interacting with somebody who is deaf is very high."
Steed said she was personally inspired to learn more about sign language and deaf culture at the age of 10 when she learned her first signs at vacation bible school.
"I remember saying 'I can not wait until I can sign words without thinking,' I had my little alphabet card in front of me and I would just practice spelling," Steed said, "The passion was really instilled at 10 and that's why I wanted to open these up."
This was the first time a two-day signing camp event took place at the library, Steed said, but it does offer other signing programs that showed her there was a lot of interest.
These events include a Snack and Sign event for fifth- through eighth-graders where children arrive, eat and casually learn a few related signs in a social setting.
"I heard a lot of kids who are younger and want to come, so I opened it up to fourth." Steed said. "But now I am thinking I might even do two age groups."
Though this is the first time an event like this has occurred, Steed said she had to open a waiting list after already adding five extra students than she had originally planned.
"There's such an interest so I am just trying to open it up to as many people as possible," Steed said.
She continued to say that her hope was that this class gave children an understanding and appreciation for the deaf community and their language.
"To get tweens and teens in the library in the summer, I am very pleased," Steed said.
During the event children were taught their names, colors, emotions and food, as well as other simple vocabulary to spark an interest in ASL.
Steed used handouts, as well as videos, games and group activities to make learning a new language fun.
She encouraged anyone who was interested to come to the library and check out any of the books they have available about ASL and deaf culture.
More like this from vindy.com