Summary of recent criminal activity in Poland and Boardman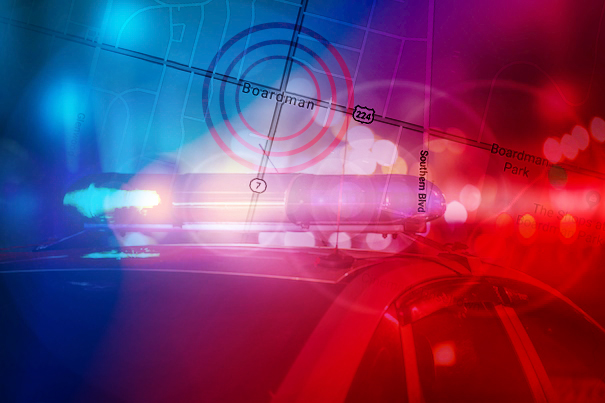 ---
A summary of recent criminal activity in Poland and Boardman townships:
POLAND
July 28
Theft: A woman reported a $700 masonry saw missing from her Bedford Road residence.
July 30
Identity fraud: A Kennedy Road man discovered his personal information had been compromised.
BOARDMAN
July 27
Criminal damaging: A South Avenue man saw that a brick had been tossed through a glass window, resulting in a $150 damage estimate.
Child endangerment: After responding to a report that a small child was wandering around a Lealand Avenue neighborhood in diapers, officers filed a misdemeanor endangering-children charge against Brandie L. Naples, 39, of Lealand, Boardman, after saying the 3-year-old had been missing for about five minutes while Naples was asleep in the home. The charge also was related to the fact that two prior such situations had occurred, a report showed.
Stolen property: Authorities in the 5200 block of Market Street charged Justin M. Lamp of Summitville, Ohio, with receiving stolen property after conducting vehicle checks at a nearby motel and alleging the 2003 Dodge Ram pickup truck he drove had been stolen in Carroll County, Ohio. Lamp, 39, also was wanted on a Columbiana County warrant charging failure to appear in court.
Theft: Gloria J. Samuels, 58, of North Main Street, Poland, was charged in the theft of a $17 tube of lipstick from Kohl's, 383 Boardman-Poland Road.
Theft: A Brookfield Avenue man realized someone had rummaged through and removed a firearm from his vehicle's glove compartment.
Theft by deception: An Edenridge Drive man told police a caller claiming to represent DirecTV said he was eligible for a special promotion offering lower monthly payments and four premium channels, but that the accuser first needed to make an up-front payment with a $250 Amazon gift card. Instead, the victim got a bill with an outstanding balance, he further reported.
Theft: A man reportedly fled in a red van after having stolen two air fryers from Ollie's Bargain Outlet, 385 Boardman-Canfield Road.
Theft: Edward F. Pittman, 35, of Granite Street, Salem, was charged with taking a $50 Bluetooth speaker from Kohl's.
Theft: Police charged Jacob T. Graham, 32, with theft and possessing criminal tools after alleging he had stolen $248 worth of clothing and other property from Kohl's. Graham, of Fifth Street, Beloit, also used a pair of pliers to cut price tags, a report stated.
July 28
Arrest: While dealing with a two-car crash near West Western Reserve Road, officers charged Lucy G. McCarty, 28, of Ridgewood Drive, Boardman, with operating a vehicle impaired and endangering children after saying McCarty registered a 0.201 blood-alcohol content, which is more than double Ohio's 0.08 legal intoxication limit. In addition, two children were in the vehicle, a report showed.
Burglary: To a residence in the 7100 block of Sheldon Avenue through an unlocked patio door. Missing was a $1,500 men's bicycle.
Theft: Kimberly A. Skaleris, 39, of Peters Circle, Campbell, was charged with taking $144 worth of clothing, cleaning supplies and makeup from Walmart, 1300 Doral Drive.
Drugs: A traffic stop in the 900 block of Boardman-Poland Road resulted in a minor-misdemeanor citation charging Dannetello D.G. Welch, 29, of Tacoma, Wash., with having a small quantity of suspected marijuana in a box for an iPhone.
Theft: A woman reportedly stole a stick of deodorant from Walgreens Pharmacy, 7295 Market St.
Weapon: Police received information about a man with a gun walking near businesses in the 1400 block of Boardman-Canfield Road, where they reportedly found him with a loaded firearm the man said he carried because he feared it might be stolen from his motorcycle nearby. The man, however, had a valid concealed-carry permit, no one was injured and he was not charged, a report showed.
Theft: Megan R. McCauley of Potomac Avenue, Youngstown, faced a theft charge. McCauley, 32, was accused of intentionally failing to scan about $33 worth of merchandise while in Walmart.
Burglary: A man alleged three people he had hired to clean his recently deceased father's Terrace Drive home instead stole about $8,700 that had been hidden in various denominations around the home, as well as a handgun.
Theft: A man and a woman in their mid-30s reportedly stole about $146 worth of merchandise, including a camera, from Walmart.
Identity fraud: A Jeffersonville, Ind., man discovered someone pretending to be him signed off on the accuser's $55 bar tab at a Boardman-Canfield Road restaurant, then took a credit card from him.
Theft: A woman alleged her soon-to-be former boyfriend stole her $500 iPhone in a Market Street apartment, evidently after she refused to provide him the password.
Theft: A worker with a Boardman-Canfield Road Chinese restaurant discovered her wallet had been removed from her purse as she worked.
Theft: Authorities charged Nia N. Benson, 32, after alleging Benson, of Duke Avenue, Warren, had taken from Kohl's $243 worth of items, including two women's baseball hats and a pair of women's shoes.
July 29
Citation: Officers answered a call about a possibly inebriated man in the 700 block of Presidential Drive, where they wrote a minor-misdemeanor citation charging Brett A. Irwin, 22, of Eisenhower Drive, Boardman, with disorderly conduct while intoxicated.
Harassment: A township man alleged his stepfather had sent him threatening text messages while the accuser was at a Tiffany Boulevard restaurant.
Menacing: A Zander Drive woman alleged a neighbor with whom she's had apparent ongoing issues made a derogatory statement as the victim trimmed her hedges, then threatened to break the accuser's husband's arm.
Theft: Jeffrey T. Benko, 49, of Pearson Circle, Boardman, was charged, accused of stealing two cans of a spray for electronic devices from Target, 417 Boardman-Poland Road.
Theft: A woman reportedly failed to self-scan 12 items that included clothing while in Walmart.
July 30
Attempted burglary: Someone reportedly tried to enter an apartment in the 80 block of Lemans Drive via a sliding-glass door, but was unsuccessful.
Arrest: Officers took Jarmylin D. White-Galbreath, 25, into custody at his Cook Avenue apartment upon discovering the Boardman man was wanted on a Youngstown warrant charging domestic violence.
Citation: Police responded to a report of a suspicious man on a rear porch before issuing a minor-misdemeanor citation charging Paul J. Brock, 34, of Market Street, Boardman, with public intoxication.
Criminal damaging: A Risher Road woman reported someone had used a key to damage her vehicle's finish, which included a derogatory word that was scratched into the hood.
Drug paraphernalia: After pulling him over on Market Street, officers charged John L. Fleet III, 18, with possessing drug paraphernalia after alleging Fleet, of Clifton Drive, Boardman, had a jar with suspected marijuana cigarettes, a suspected marijuana pipe and a device commonly used to grind marijuana.
Unauthorized use of a vehicle: A woman reportedly rented a 2017 Ford Fiesta in mid-June for one week from Enterprise Rent-a-Car, 7880 Market St., but has failed to return the vehicle.
Criminal damaging: A car in the 5000 block of Aravesta Avenue was found with three slashed tires. Damage came to $750.
Theft: A Youngstown man in the 800 block of Boardman-Canfield Road saw that a $700 bicycle had been removed from the bed of his vehicle.
Theft: Catherine M. Dasco, 36, of Church Hill Road, Girard, was charged with theft and possessing criminal tools after $226 worth of clothing and other property was stolen from Kohl's. Dasco also had cut a security sensor from a pair of jeans, a report said.
Stolen property: Michael Ruffin, 57, of Cohasset Drive, Youngstown, surrendered on a misdemeanor receiving-stolen-property charge after a June 11 situation in which a Youngstown man reported having tracked his stolen cellphone to a Doral Drive big-box store, where another person was reportedly using the device.
Theft: Clemale Pinkston, 48, faced a theft charge. Pinkston, of Banks Street, Youngstown, was accused of stealing about $312 worth of groceries from Giant Eagle, 476 Boardman-Canfield Road.
July 31
Arrest: Authorities at the Mahoning County jail picked up Angelle M. Schneider, 21, of Manchester Avenue, Youngstown, on an inducing-panic charge, related to a July 22 incident in which a woman was reportedly found unconscious and with shallow breathing in an apartment in the 1800 block of Oles Avenue. Later, Schneider admitted having snorted heroin, police alleged.
Theft: A man and a woman reportedly took four iron candles from Hobby Lobby, 1136 Boardman-Poland Road.
Trespassing: Someone rummaged through a vehicle in the 6900 block of Trenholm Road, though it appeared nothing was missing.
Theft: A township landlord discovered two checkbooks missing from his vehicle as he prepared to show an apartment in the 1900 block of Wolosyn Circle.
Employee theft: The owner of Coaches Burger Bar Boardman, 708 Boardman-Canfield Road, alleged a worker has been stealing an undisclosed amount of the business's nightly deposits.
Drugs: Cody L. Hartman, 24, of Oregon Trail, Boardman, surrendered on a felony drug-possession charge and on a warrant charging inducing panic, related to an Aug. 27, 2017, arrest in which he was reportedly found with a bindle containing a crushed substance for which he admitted having traded an over-the-counter pill.
Theft: A Youngstown woman noticed her wallet missing while shopping at a Doral Drive big-box store.
Stolen property: After receiving information that a van had been stolen from a Youngstown-Poland Road counseling center, authorities charged three Youngstown boys, one age 13 and two age 17, with several counts of receiving stolen property. After the teens' arrests on Lynn Avenue, police also found bicycles they rode that had been stolen, along with a stolen gun, a report stated.
More like this from vindy.com