Flexible park dedicated at site of former decaying multiplex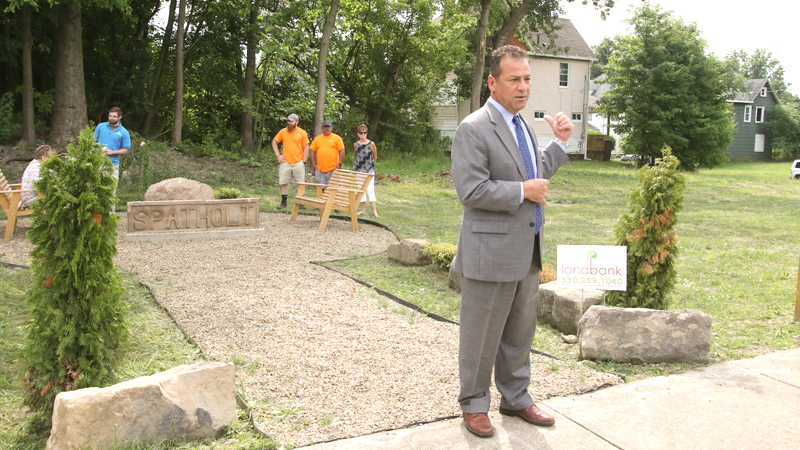 ---
YOUNGSTOWN
About four months ago, a dilapidated multi-family Youngstown Metropolitan Housing Authority building stood on Thorn Street between Parkwood and Lakewood avenues on the city's South Side.
The grass was overgrown and litter was all over the property.
"I was getting concerned about the building," said Demetrius Cunningham, a deacon at the Greater Friendship Baptist Church, located on Lakewood, just a short distance from the structure. "It was getting worse and worse."
But things have changed.
The Mahoning County Land Bank had the structure demolished in April. On Thursday, it helped dedicate the Peace Park at the location of the former building.
"I'm glad to see the building taken down," Cunningham said. "It was vacant for a couple of years. This park helps restore pride and makes it safer for the community. People now have a place to sit and relax. An area that was rundown has been restored. An eyesore is now a useful property."
The location is called a "flexible park" because it can be used for a variety of purposes such as picnics, places to gather, a safe place for children to play or for events including flea markets and block parties.
Elnora Sipp of Lakewood Avenue, president of the Four Square Block Watch, said the new park is a blessing for the community.
"We want to restore the neighborhood and get everything back to the way it was," Sipp said. "It was an old building and now it's a quiet, beautiful place. I will use it. Some neighbors have already used it. It will be used for a lot of good things. The block watch will do a lot of things here."
Also Thursday, the land bank broke ground at the Erie-Judson Garden, where Erie Street and East Judson Avenue meet, also on the South Side. By late spring 2019, it will be a flexible park.
"These flexible parks have taken the place of longstanding eyesores and we expect them to change the character of these neighborhoods," said Dan Yemma, Mahoning County treasurer and chairman of the land bank.
"They're showpieces for what can happen when the land bank's ability to acquire abandoned parcels is coordinated with the efforts of other community-minded partners."