---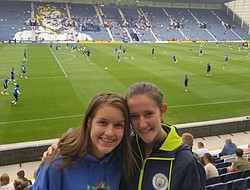 Photo
Neighbors | Submitted.Local soccer players McKenzie Avery of Austintown and Ashley Harding of Boardman recently traveled to London, England for a unique training opportunity.
Recently, two talented athletes from the Mahoning Valley, Ashley Harding from Boardman and Mackenzie Avery from Austintown, enjoyed a once in a lifetime opportunity when they traveled to London, England for a week-long soccer experience with teammates from their Tri-State Elite Soccer Club out of Morgantown, W.Va., and other talented players from across the U.S. and the Cayman Islands.
Their first experience was enjoying a World Cup Final watch party at the Kingston Lodge Hotel. Most of their stay was in the Bolton Whites Hotel, which is conveniently attached to Macron Stadium in Greater Manchester.
They toured, trained and played at the Fulham AC Academy, Macron Stadium and the famous St George's Park, home to the England National Team and where soccer greats Beckham, Messi, Renaldo, Kane and Alex Morgan have played and trained. They won all three of their games against Bury, Bolton Wanderers and Denbigh with both girls contributing to multiple goals.
Before they departed on July 22, they were able to experience a professional soccer match between Preston and West Ham United.
Harding and Avery have played together for Soccer Vision Academy based in Niles since 2014 under the direction of Greg Mitchell, head girls coach. Through an alliance SVA has with Tri-State Elite, the girls have been afforded the advantage of playing for two club teams in two different states. This keeps the girls traveling nearly every weekend, sometimes playing in multiple places in one weekend.
Harding and Avery are back-to-back West Virginia US Youth Soccer State Champions with Tri-State Elite for 2017 and 2018 and have had the opportunity to compete in Fredericksburg, Va., in back-to-back Regional Championships. They are also registered as Global Premier players, which afforded them an opportunity to compete in San Diego in 2017.
The players are looking forward to competing against each other this coming soccer season for their respective high schools.
Avery is going into her sophomore year at Cardinal Mooney High School in the honors program. She not only lettered as a freshman but was the only freshman to start every game and started every half.
Harding is an incoming freshman at Boardman High School and will make an immediate impact to their soccer program, bringing with her the skills she has attained through her experiences.