Austintown finishes third in 9-10 state tournament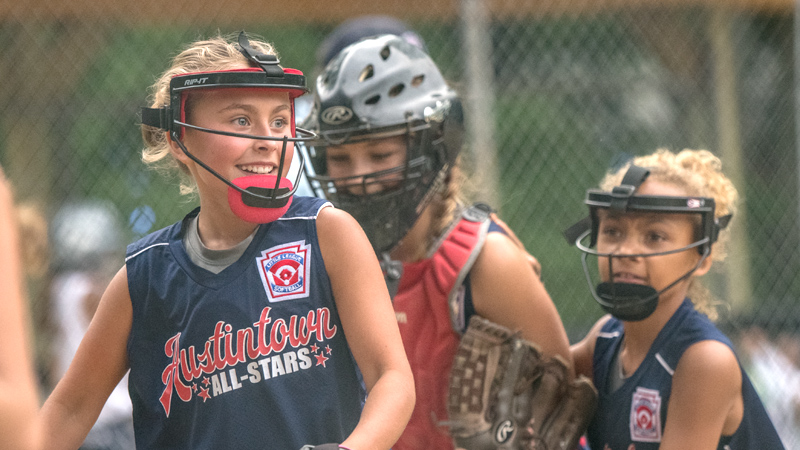 ---
By tom williams
TALLMADGE
Austintown catcher Kylie Folkwein is living proof you never stop learning, even when it's summer.
The catcher for the Austintown 9-10 Little League Softball team said this week's state tournament taught her geography lessons.
"I had never heard of some of these teams," Folkwein said, smiling. "It was pretty fun." Austintown finished third in the eight-team tournament after losing to Tallmadge, 7-3, on Wednesday in the losers bracket final.
It was the second time in four days that Austintown and Tallmadge played. On Sunday, Austintown knocked Tallmadge to the losers bracket with an 8-3 win.
Tallmadge advances to today's championship game in the double-elimination tournament. Canfield will be the opponent in the 4 p.m. game at Indian Hills Field.
If Tallmadge wins, a second game will follow.
"We had to fight our way through the losers bracket," Tallmadge manager Bob Charton said. "[Canfield] is very good, a solid team all the way around. They have great pitching."
Trailing 5-1 in the fifth inning, Austintown scored twice to close the gap. Alyssa Rodgers triggered the rally with a lead-off single. One out and one stolen base later, Rodgers scored on Kali Ray's single. With two outs, Ray scored on Rachel Spalding's base hit.
Strong defense kept Austintown in the game. At second base, Rodgers made several key plays. She ended Tallmadge's four-run second inning by fielding a hard smash off Larissa Taylor's bat and throwing to Morgan Roby at first base.
An inning later, Rodgers caught a fly ball by Addison Braun while stumbling.
"I was pretty busy today," Rodgers said. "I caught one, almost fell over."
She also had Tallmadge's attention as a baserunner when she challenged catcher Danielle Charton with long leads off first base.
"I'd rather dance down the line," she said.
Austintown manager Rich Oswald called Rodgers "a feisty little girl. She plays hard, she's got a great sense of humor. She's always got a great attitude,
Folkwein was involved in two putouts at the plate. With two outs in the fourth inning, Tallmadge led 5-1 with Madison Birch at third base.
Birch raced home on a wild pitch and Folkwein retrieved the ball and flipped it to Ray covering at home.
"I was like, 'oh my God, what if I don't get it in time?'" Folkwein said, adding she heard her teammates shout warnings that Birch was running. "I hurried up and tossed it."
The other defensive gem came in the fifth inning when Braun singled to center field with Gabriella Harp at second base. Shortstop Sam Severn took the relay from Alyson Oswald and fired a strike to Folkwein who applied the tag on Harp at the plate.
"They've [made plays] like that all year," Oswald said. "When we're on, we're really on.
"We had a great season, we made it to the championship of every tournament we were in, except this one," Oswald said. "We won the Girard tournament — that was fun.
"Just making it to state, that was a good time."
Folkwein scored Austintown's first run thanks to a two-out single by Roby.
Ray's two hits included a double.
"I felt pretty confident," she said of batting.
"It's nice to [see] how other teams play," Ray said of playing teams from outside Northeast Ohio. "When you play them, it's something new you can work on. If you mess up during a game, then you can fix it."
More like this from vindy.com