Mientkiewicz elected Niles mayor in 6-5 Democratic Party vote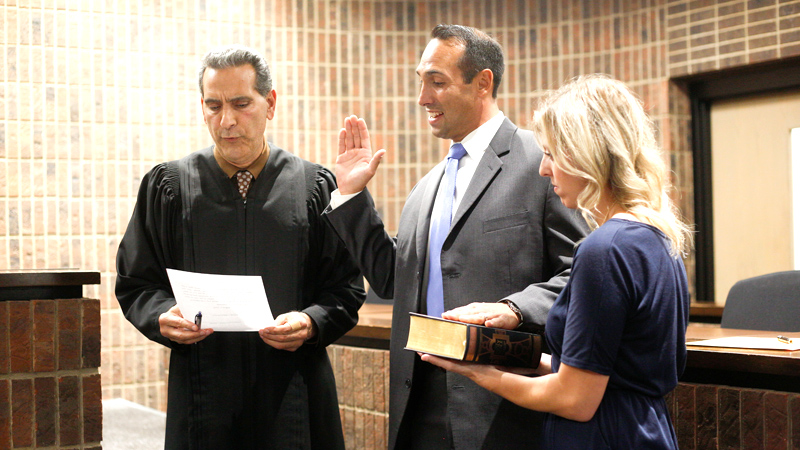 ---
By Ed Runyan
NILES
Councilman Steve Mientkiewicz, 34, said being part of "the younger generation," experienced, educated and having a "common-sense approach" made him the right person to serve as Niles mayor.
After two sets of ballots, the 11 Niles Trumbull County Democratic Party precinct committee members agreed Wednesday he was the best of 10 candidates available to serve as mayor until Dec. 31, 2019.
Mientkiewicz received six votes, while Niles Police Capt. Jim Villeco, who was nominated from the floor without having asked the Trumbull County Democratic party to be considered, received the other five. The winner had to get at least six votes.
Mientkiewicz was among several people who said the selection was an opportunity for the city to move in a younger direction to replace Thomas Scarnecchia, 76, who retired for medical reasons June 18 after serving as mayor 30 months.
Mientkiewicz, a teacher at the Rich Center for Autism at Youngstown State University, said he'd be ready to begin work today, though he will need until Monday to take the reins of Niles government full time.
He took the oath of office after the vote with his wife, Tessa, standing beside him.
Mientkiewicz has been 2nd Ward councilman since 2015.
"We will focus on infrastructure and aggressively seek matching grant dollars to provide safe streets, upgrade our [information technology] systems, upgrade our supply systems, our parks, etcetera."
Also important to him is economic development and "the planning process, something that has been absent for quite some time," he said.
In a surprise move, candidate Linda Marchese, 3rd Ward council member, withdrew and cast her vote as a Niles central committee member.
Among the other candidates, Councilman Barry Profato, who ran as a write-in against Scarnecchia in the 2015 general election, said he was the only candidate who had ever run a government office before, having been clerk of courts in Niles.
Barry Steffey, council president, who served as acting mayor six weeks after Scarnecchia retired, said he understands people's frustration with the "pace of progress" of Niles getting out of the state-mandated fiscal emergency, which has been in effect since late 2014.
He added, however, "We are coming back. We should be proud."
The other candidates were George Kaniclides, James Julian, John Madigan, Stephen Hrosar, Robert Violette and George Kuriatnyk.
After the vote, Niles resident Tony Flarey, 72, said he's happy to see "young blood" moving into leadership positions in the city. "We've had the same 'good old boys' in government," he said.
Before Scarnecchia, Ralph Infante served 24 years as mayor. He was sent to prison in May after being convicted of engaging in a pattern of corrupt activity and other offenses while mayor.
More like this from vindy.com