DOYO live event draws professionals to downtown Youngstown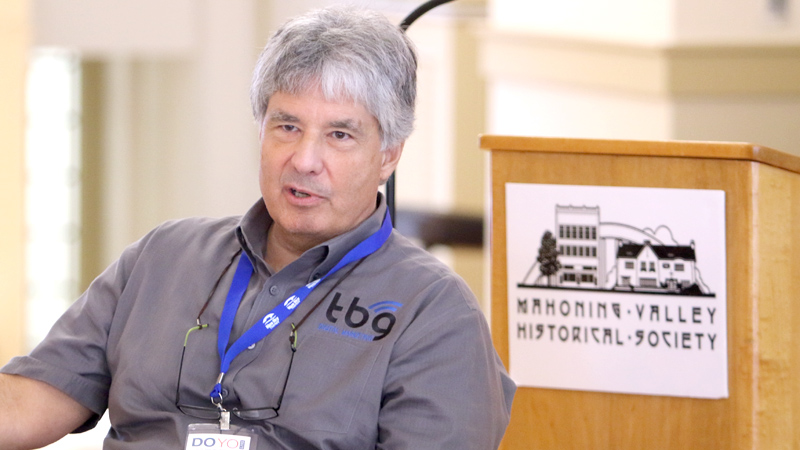 ---
By JORDYN GRZELEWSKI
jgrzelewski@vindy.com
YOUNGSTOWN
DOYO Live is doing even more of Youngstown this year.
The digital marketing and interactive design conference, now in its third year, has expanded to show attendees even more of what the city has to offer.
The conference, which kicked off Wednesday afternoon and continues today, moved this year from Youngstown State University's Williamson College of Business Administration to the DeYor Center for the Performing Arts on West Federal Street, with some sessions taking place there and others at the Youngstown Business Incubator and Tyler History Center.
"I thought it would present an interesting element to do something new," said Dennis Schiraldi, founder of DOYO Live and CYO Marketing in Youngstown. "I always knew, going back over three years ago, that we needed to have this conference downtown and live this mantra of 'Do Youngstown.'"
The event brings together about 300 marketing and design professionals, which Schiraldi said marks the third year of attendance growth, another reason the conference opted to change venues. The event feature keynote speakers, breakout sessions on a wide variety of marketing topics and networking opportunities.
This year's keynote speech, at 9 a.m. today, will be delivered by Allen Gannett, CEO of marketing technology firm TrackMaven.
Schiraldi said he is proud of DOYO Live's record of bringing nationally- and globally-known industry leaders such as Gannett to Youngstown.
Gannett's talk will be based on two years of research for his book, "The Creative Curve."
"Here's a person on national news coming to Youngstown, Ohio to give a keynote presentation," Schiraldi said. "We've punched way above our weight in the quality of speakers."
On Wednesday, DOYO hosted two sold-out, deep-dive workshops: one on marketing for manufacturers, the other on leveraging social media marketing to grow a business.
Afterward, DOYO hosted a kickoff party featuring live music and drinks at the Soap Gallery downtown, another new feature this year. Donations raised at the event will benefit the Rich Center for Autism and the Hearing Missions Foundation.
As for the breakout sessions, Schiraldi said the conference pared down its speaking tracks this year, opting to divide the program into two tracks.
Some of the sessions include one on social media strategy led by Dhariana Lozano, cofounder of Supremacy Marketing; one on how to develop influence with your personal brand led by Carmella Williams, an entrepreneur and director of diversity and inclusion at YBI; and one on brand messaging by Jeff Hedrich, president of Boardman-based branding agency The Prodigal Co.
Schiraldi said DOYO Live received submissions from all over the country from people wanting to present at the conference.
"We've got great local talent, but we've also started to attract the eyes of some of the most well-respected marketing technology companies in the country," he said.
The conference received about a dozen submissions for a new element meant to highlight the creative side of marketing. A showcase will feature creative content submitted by design professionals.
DOYO Live also brings content to participants throughout the year, but Schiraldi said the in-person event brings it all together.
"If you are in marketing, if you are in business, if you have digital marketing in your title, if your business is on Facebook – you need to be here," he said.
More like this from vindy.com