Southside Fine Arts Academy summer program enriches youth at Villa Maria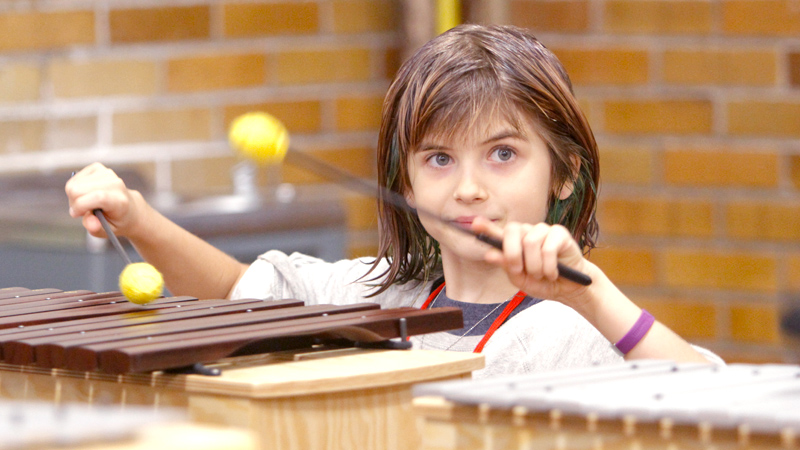 ---
By Sean Barron
VILLA MARIA, PA.
Mark Anthony envisions positioning himself to be an engineer one day, but for now, the 11-year-old is content to study the seven chromatic slide positions on his trombone.
"I want to be a musician as a second option, maybe," the Girard Intermediate School sixth-grader said. "My band teacher had [the instrument] and I said, 'I want to try it.'"
Regardless of how much forward motion Mark's musical acumen sees, he likely is in the process of building a stronger artistic foundation, thanks to being part of the Southside Fine Arts Academy in Youngstown.
Mark also was among the estimated 55 academy members age 5 to 12 from across the Mahoning Valley who took part in the group's seventh Summer Arts at the Villa session Tuesday at the Villa Maria Educational and Spirituality Center, 2067 Evergreen Road.
The children were preparing for a multifaceted performance they will give Thursday on the grounds.
The 45-minute program Thursday will consist of an art show, martial-arts poses, ukuleles, dancing with scarves, playing instruments named after Carl Orff, a German composer, and speaking French, noted Kris Harper, executive director.
"It's a great way for kids to learn music through the Orff instrument concept," Harper said.
The Fine Arts Academy aims to transform, inspire and empower young lives via the arts, its mission statement says. To that end, the after-school program offers dance and movement, visual and theatrical arts, creative writing and poetry and yoga and meditation, along with drum circles, singing and Orff instruments.
A primary academy goal is to encourage the children to more freely express themselves, develop a deeper appreciation for the arts and share that passion with others, noted Sierra McCorvey, program director.
In one setting Tuesday, children such as Sarah Clouser, 8, of Poland, learned basic rhythmic patterns on the xylophone, metallophone and Glockenspiel, all of which are Orff instruments, as Alex Kluchar, a student at Youngstown State University's Dana School of Music, led them.
At the same time, other youngsters were polishing their moves while rehearsing a jazz combo dance they will perform Thursday.
Helping them add fluidity and natural ease to their spins, kicks, arm and leg movements, poses and twists was Leah Tekac, a YSU junior and musical-theater major.
"They actually learned this in two sessions. They've done a wonderful job," Tekac said, referring to the children's ability to grasp movements to the song "How Far I'll Go," from the Disney fantasy/action film "Moana."
Harper noted the academy's next major undertaking will be publishing a book that will contain members' jokes, limericks, artwork and other offerings. He also thanked Sister Joanne Gardner, who works with the group on creative writing and poetry, and Sister Elaine Schindler, a volunteer, for their assistance.
Harper also expressed gratitude for the series of grants that have enhanced the academy's work, including $5,000 for the Orff instruments and $10,000 for the book project.
More like this from vindy.com