Kobly stepping down as Youngstown Municipal Court judge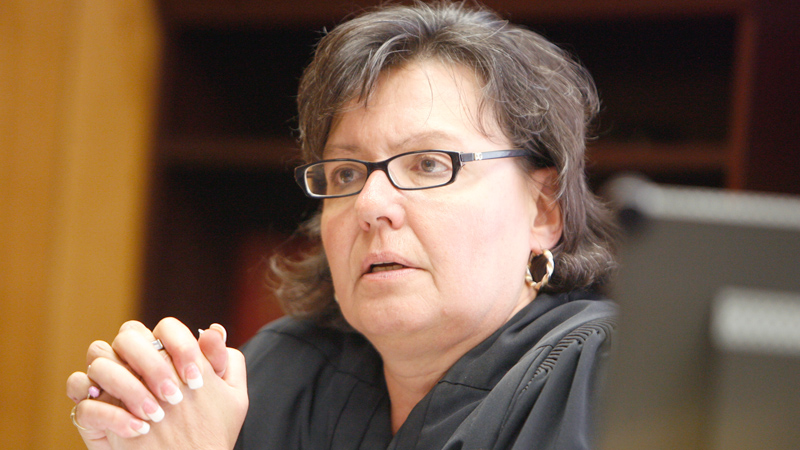 ---
By JOE GORMAN
and DAVID SKOLNICK
news@vindy.com
YOUNGSTOWN
Municipal Court Judge Elizabeth Kobly says she wants no fanfare for her retirement at the end of August.
However, the judge is going out on a bit of a bang thanks to the recent move by the court into its new facility at 9 W. Front St., the former home of the U.S. Bankruptcy Court, U.S. Post Office and City Hall Annex.
In her chambers overlooking the site where the proposed city amphitheater is supposed to go, Judge Kobly said Tuesday it is simply time to leave following the move to the new building.
"It's time," Judge Kobly said. "Very few of us have accomplished just about everything we set out to accomplish."
Her last day on the bench will be Aug. 30.
Judge Kobly was first appointed to the bench by former Gov. Bob Taft in 2000 to replace former Judge Andrew Polovischak Jr., who had to resign because he pleaded guilty to federal corruption charges.
Judge Kobly was the first woman judge on the court. She was also a longtime assistant prosecutor for Mahoning County before being appointed to the court.
Judge Kobly said her greatest achievement is the new court building, which she and former Judges Robert Douglas and Robert Milich fought for before former Mayor John A. McNally agreed to have the annex renovated to accommodate the court.
"I can't retire on a happier note than that," Judge Kobly said.
Judge Kobly's replacement would be selected by Gov. John Kasich, a Republican.
The appointment would be for the rest of the judge's term, which expires Jan. 1, 2020. An election for a full six-year term would be in 2019.
City Law Director Jeff Limbian, who also serves as prosecutor, and former city Law Director Martin Hume, who is currently an assistant Mahoning County prosecutor, said they are going to apply for the position.
Renee DiSalvo, who recently purchased a home in Youngstown, where she lived for most of her life, said she is also going to seek the appointment. DiSalvo – a registered Republican, unlike the other potential applicants – works in private practice and is a former assistant city prosecutor.
Anthony Farris, a former city law director and ex-chief assistant prosecutor, said he is interested in the appointment, but hasn't decided if he will apply. He currently works as a senior assistant Ohio attorney general in the downtown Youngstown office.
City Magistrate Anthony Sertick, who unsuccessfully ran last year in the Democratic primary for municipal court judge, is expected to seek the appointment. He couldn't be reached Tuesday for comment by The Vindicator.
County Republican Party Chairman Mark Munroe said he will contact Kasich's office about Judge Kobly's impending retirement.
The governor's office, Munroe said, will have him establish a screening committee which will seek applicants and interview candidates.
Each applicant must submit a resume, references, fill out the standard state judicial questionnaire and sign an authorization for a background check.
The screening committee would interview applicants and recommend up to three candidates to Kasich for the appointment, Munroe said.
More like this from vindy.com