INFANTE TRIAL | Witness says Niles council bypassed on utility pact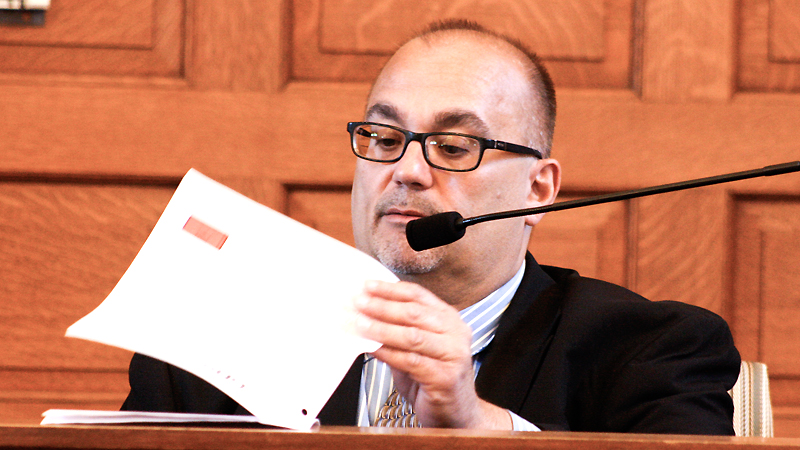 ---
By ED RUNYAN
runyan@vindy.com
WARREN
Special prosecutors presented two witnesses Monday in the Ralph Infante corruption trial about a city utility bill printing contract that prosecutors say unfairly steered business to an Infante friend.
But the testimony also implied Monday there is a connection between the contract and the bailiff's job that Infante's brother-in-law, Billy Allen, got from the friend's wife, Trumbull County Family Court Judge Sandra Stabile Harwood.
As with much of the testimony so far on the sixth day of the trial in Trumbull County Common Pleas Court for the former Niles mayor, the exact point prosecutors are trying to make has not been explicitly clear, and prosecutors are banned from discussing the case outside court.
Prosecutors frequently explain the reasons for certain testimony in closing arguments, which could come as soon as Wednesday.
Infante, 63, faces 41 criminal charges accusing him of engaging in a pattern of corrupt activity during his 24 years as mayor ending in 2015. Among his charges are bribery, illegal gambling and tampering with records. The trial resumes today.
Monday's testimony sometimes bordered on the bizarre, as former Trumbull County Engineer David DeChristofaro testified about scores of emails between he and Infante relating to DeChristofaro's campaign for county engineer in 2007. The specific crime the testimony was intended to describe remains unclear.
Prosecutors questioned DeChristofaro for about an hour about the constant emailing back and forth. The scores of emails were being exchanged on Infante's city email account for about six months before the March 2008 election, according to testimony. The exchanges dealt with campaign events.
In many cases, it was clear that Infante's personal assistant, Bonnie Marchionte, was handling the correspondence. Under cross-
examination, DeChristofaro agreed he had never once seen Infante use a computer.
The first witness Monday was Steve Papalas, who was a Niles councilman from 1980 to 2017.
Papalas raised questions about the city's finances to the state auditor's office, which triggered an investigation that led to Niles employee Phyllis Wilson being convicted in 2015 of stealing $142,000 from her job and the investigation that led to charges against Infante and others.
Papalas testified that the city administration bypassed Niles City Council in 2012 when it decided to have a private company handle the billing for the city's utilities – water, sewer and electricity.
The city administration picked Pegasus Printing of Youngstown to print the bills, but Papalas said the city's board of control – consisting of Infante and his safety and service directors at the time – selected Pegasus without allowing council to vote on it.
Papalas said he never saw the proposal of another company that bid on the contract, GBS Corp. of Meridian Road in Youngstown.
When Papalas was asked whether it is typical for a contract to be awarded to a company without council's approval, Papalas said: "No, but it had happened in the past."
Special Prosecutor Dan Kasaris, an assistant Ohio attorney general, said in opening statements in the trial that a minority owner of Pegasus, Tom Harwood, is a "buddy" of Infante's.
Harwood is married to Sandra Stabile Harwood, Trumbull County Family Court judge. Infante's brother-in-law, Billy Allen, became Judge Stabile Harwood's bailiff a few weeks after Pegasus Printing got the billing contract, Papalas testified.
Allen is husband of Karen Infante Allen, Trumbull County clerk of courts. She is Ralph Infante's sister. Allen retired from his bailiff position in late 2016, according to Vindictor files.
There was no further testimony from Papalas on Monday regarding Allen or his connection to the contract, but the next witness testified that the company's bid was altered on a document associated with the contract.
Joe Calabria, vice president of the other bidder, GBS, said GBS was apparently the low bidder despite not getting the contract.
Under questioning by Kasaris, Calabria said he found several irregularities in the process.
Usually, cities requesting proposals alert the bidders of a pre-bid meeting to discuss what the city wants. There was no pre-bid meeting, and the advertisement for the contract was "pretty vague," he said.
He was never able to see Pegasus' bid, which is unusual, and there was no public bid opening for this contract, he said.
Kasaris asked Calabria to look at a copy of a document related to the contract called a "bid summary" showing the two competing bids. Calabria was asked whether it accurately reflected his company's bid, and Calabria said it did not.
"It does not because the price they are saying we proposed includes an option," Calabria said. GBS' price without the optional service was lower than the price Pegasus offered, Calabria said.
Calabria said he worked through Tom Telego, the Niles Billing Department director on the contract. During cross-examination by Infante's attorney, John Juhasz, Calabria acknowledged that GBS never sued the city over the issue.
More like this from vindy.com