Bishop George Murry gets treatment for acute leukemia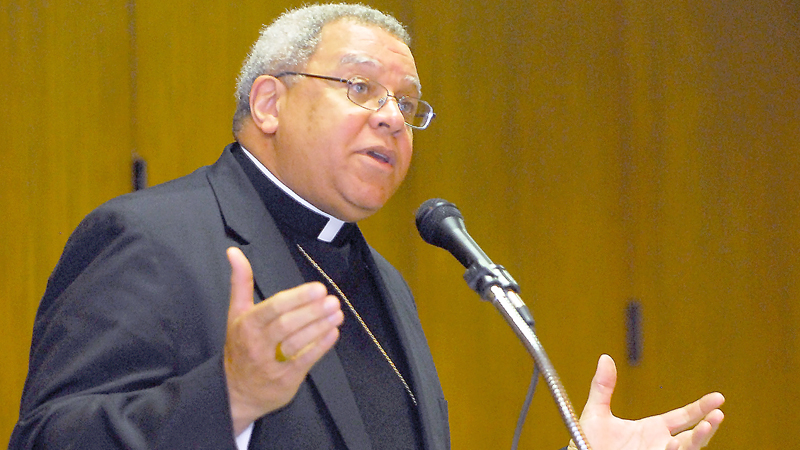 ---
By GRAIG GRAZIOSI
ggraziosi@vindy.com
YOUNGSTOWN
The Most Rev. George V. Murry, S.J., bishop of the Roman Catholic Diocese of Youngstown, has been diagnosed with a form of acute leukemia, diocese officials announced.
He was admitted to the Cleveland Clinic on Sunday, where he is scheduled to undergo intensive chemotherapy for the next four weeks.
The bishop will not be allowed any visitors at his doctors' request. Bishop Murry became head of the diocese in 2007.
The chancellor of the diocese, Monsignor John Zuraw, said Monsignor Robert Siffrin, the Vicar General, will handle Bishop Murry's affairs while he undergoes treatment.
"He will work closely with Bishop Murry, but ultimately the bishop is still in charge. The Vicar General will ensure information reaches the Bishop and that the Bishop's decisions reach the diocese," Msgr. Zuraw said Monday.
The diocese will periodically issue updates regarding the bishop's health to the media.
"The mood at the diocese today is one of prayer, of hope and of faith. As people of faith we turn to God not only in times of joy or crisis but in times of sickness as well," Msgr. Zuraw said.
Bishop Murry was recently named chairman of the Ad Hoc Committee Against Racism by Cardinal Daniel DiNardo of the Archdiocese of Galveston-Houston last August and was set to begin working alongside elder Rose Carter, the executive director of the Alliance for Congregational Transformation In Our Neighborhoods, to host conversations on racism locally.
"We were just so upset when we heard the news," Carter said. "He was just our guest speaker at our banquet. We're praying for a complete healing for his whole body. We're offering any assistance or support during this time that may be required."
ACTION works with and receives some funding from the diocese to undertake a community engagement projects that address societal ills, such as racism and poverty.
Msgr. Siffrin was the former president of ACTION.
More like this from vindy.com