Teen drivers sharpen road-survival skills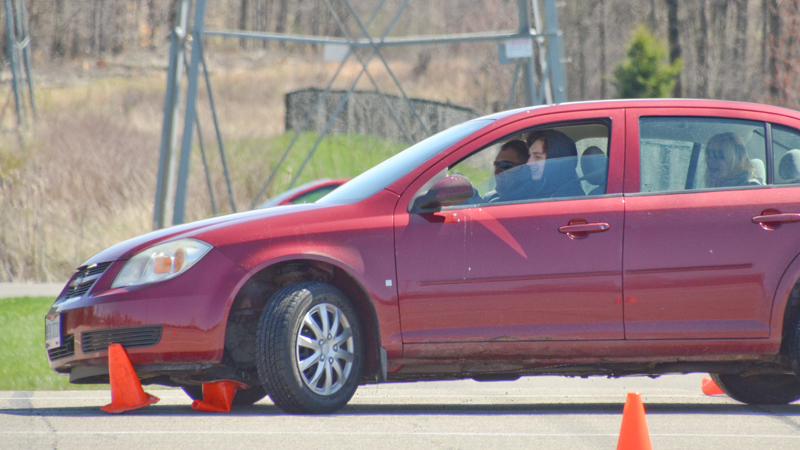 ---
BOARDMAN — By GRAIG GRAZIOSI
ggraziosi@vindy.com
Hayley Ward, 17, slammed on her car's gas pedal and cranked her steering wheel right as she entered a turn. The pavement was slick and wet, and just as she hit the turn, Colton Kasik her driving instructor, gave her an order.
TireRack.com Street Survival School at Boardman Park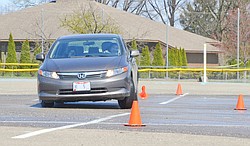 Gallery
A TireRack.com Street Survival School event was held at Boardman Park on Sunday, April 29, 2018. Eight students from all over Ohio and Pennsylvania took the course. Photos by Scott Williams - The Vindicator
"Get aggressive," he said.
Ward complied and accelerated. Her vehicle began to skid, but she maintained control, narrowly avoiding the orange traffic cones that marked out the course and completing her turn.
"Excellent turn, that was perfect," Kasik said. "Great way to end the day."
The unconventional driving lesson took place during the TireRack.com Street Survival Teen Driving School at Boardman Park on Sunday.
Nine students from around the region — some coming from as far as Columbus — gathered at Boardman Park's western-most parking lot to spend eight hours practicing road maneuvers like skid control, emergency-lane changes and proper use of emergency brakes with volunteers from Sports Car Club of America.
Brian Vondran, regional executive of the Mahoning Valley chapter of the SCCA and overseer of the event, said the biannual driving school is in its sixth year and is meant to help drivers between age 15 and 21 understand the limitations and capabilities of their vehicles.
"We have car enthusiasts who volunteer to get together with students to teach them skills that they won't learn in a traditional driving school," Vondran said. "These aren't maneuvers we want the students to be doing every day, but occasionally they're going to need to use them. Understanding what their vehicles is capable of will help them out of tough situations they'll encounter while driving."
Vondran gave a practical and all too-familiar example; while driving down an interstate, if a student were to see a large pothole ahead, they'd have a short window of time to decide whether to hit the pot hole and risk damaging the car or quick switch lanes. The Street Survival course provides a venue for students to practice that scenario and others while learning the limits of their personal vehicles.

Kasik, the volunteer instructor riding with Ward and a pit crew worker for Kryderacing driver David Pintaric of the Trans Am Pro series, was a student of the Street Survival course before returning to help pass on his knowledge to young drivers.
Vondran said Kasik and the other dozen volunteers working with the school were all safety certified and trained to minimize the risk for the students.
In addition to teaching the students practical road skills, the volunteers also show the students how to maintain basic maintenance checks on their vehicles, such as checking oil levels, tire pressure and brake fluid. Between the driving portions of the course, students were also given safety lessons through traditional classroom instruction.
Sean Ward, Hayley's father, said he became aware of the school while reading Car and Driver magazine. When he saw a course was taking place in Boardman, he pitched the idea to his daughter who was receptive.
"I thought the training she had from her driver's education class was lacking, so I took some time to train her myself, and I thought this would be a good way for her to practice handling emergency situations," he said.
Hayley Ward said she enjoyed the school and as the day went on became more confident in her abilities behind the wheel.
"Honestly I love it," she said. "It was a lot easier than I thought for my car to lose control, but now I know how to correct it. It's really just a lot of fun."
The Street Survival Teen Driving School is a nationwide event. The school costs $95, and the next course at Boardman Park will be offered in October.
More like this from vindy.com