'Simpsons' makes TV history with episode 636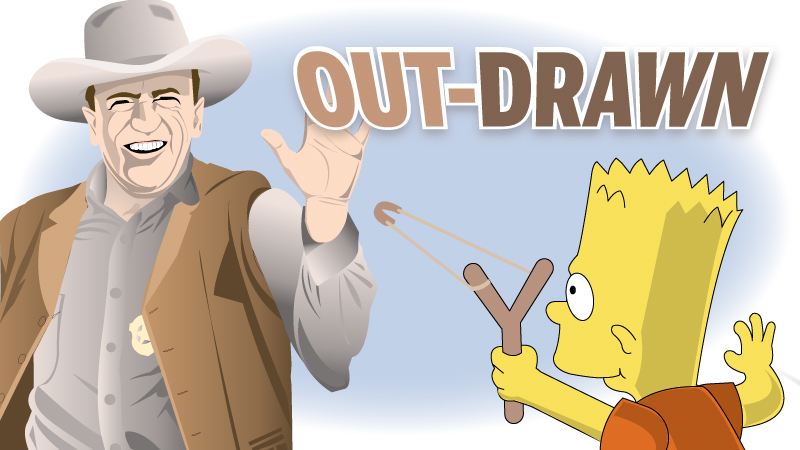 ---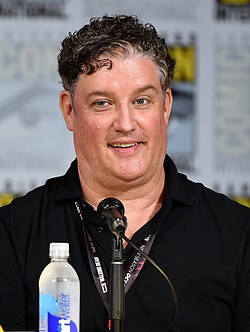 Photo
FOX FANFARE AT SAN DIEGO COMIC-CON © 2017: THE SIMPSONS Executive Producer Al Jean during THE SIMPSONS panel on Saturday, July 22 at the FOX FANFARE AT SAN DIEGO COMIC-CON © 2017. CR: Frank Micelotta/FOX © 2017 FOX BROADCASTING
'The Simpsons' showrunner discusses milestone, future:
The subtitle of "Planet Simpson" – the 2004 book by Chris Turner – is "The cartoon masterpiece that defined a generation."
That's quite a compliment for "The Simpsons," Fox's animated prime-time TV show.
But even if it overstates the series' impact, don't have a cow, man. It can't be disputed that the groundbreaking series has been a pop-culture phenomenon – and for more than one generation.
Beginning today, it can make another claim: the longest-running scripted show in television history.
"The Simpsons" will air its 636th episode tonight, breaking the record set by "Gunsmoke," which aired its 635th and final episode in 1975.
"The Simpsons" took 29 years to set the mark, compared with just 20 years for the CBS Western drama.
But the subversive sitcom about a warm but wacky family raised the bar for its genre in the process. The Simpson family – Homer, Marge, Bart, Lisa and baby Maggie – and the zany characters in their orbit became tools for skewering the endless parade of celebrity and modern culture moments.
With the exception of four years in the mid-1990s, Al Jean has been at the center of "The Simpsons" creative team.
The long-time executive producer and showrunner started as one of the original writers of the show started by cartoonist Matt Groening and producer James L. Brooks.
In a recent phone interview with The Vindicator, Jean discussed the show that he helped create and still steers, and its record-setting longevity that likely will never be repeated.
Tonight's record-setting episode is "a sweet memory from Homer's past," said Jean. "Glenn Close is back to play Homer's mother. It's not earth-shattering, but it's just something we thought would be a good commemoration, and it's something we're really proud of."
As for whether he thought the show would ever make television history, the Michigan native and California resident said no – or at least, not at first.
"We would joke about it as late as 2001, still thinking it would be impossible," said Jean. "Maybe around 2011 we started to think we could do it. But I have a lot of respect for 'Gunsmoke' because they [reached 635 episodes] in 20 years."
Asked which he thinks is harder to do – animation or working with actors, Jean leans toward animation. "There is more content to put in a frame," he said.
It can be painstaking work, and "The Simpsons" still does 22 episodes a year. That's more than most shows nowadays, including the animated series "South Park" and "Family Guy."
The show also spawned a movie in 2007. Is another "The Simpsons Movie" in the works?
"We talked about it," said Jean, "and it's in the very, very, very, very, and I'll add one more very, early stages. We want to do another movie but it must have a great script."
Even after 29 years, the animated series has a lot of steam, and Jean and Co. will continue on with season 30 after this one ends with the May 20 episode.
"There is no end in sight," he said when asked to estimate how long the show might run. "The ratings are still strong. We're the highest-rated show on Fox on Sunday nights."
On April 15, "The Simpsons" was up against the Academy of Country Music awards show and a tell-all interview with former FBI Director James Comey, and still won its time slot.
The show's reruns are also holding up well, said Jean, adding it also does well overseas.
One possible effect on the future is Walt Disney Co.'s pending acquisition of Fox's film and TV studios, which will be completed in 2019.
"The Disney merger is a question mark but we are pretty sure that getting 'The Simpsons' is one of the things they wanted," said Jean.
For the record, the only Fox series that garners higher ratings than "The Simpson" is music-industry drama "Empire."
One thing is certain – "The Simpsons" will never run out of fodder for its writers.
"The show is family at its core, and they always have problems," said Jean. "And there are always new problems that we've never had before." He cited President Trump's alleged affair with a porn star scandal as an example.
"Things that are going on in the world keep it fresh," Jean continued. "Plus the universe of characters is so rich. If you're old, you can relate to Grandpa ... If you're grouchy, you can relate to Moe."
Jean remains deeply involved in mining the satire, and he keeps his hand in each episode. "I am in the writer's room every day, Monday through Friday," he said.
Before it was a series, the earliest appearance of "The Simpsons" was a brief and simplistic recurring segment on "The Tracey Ullman Show" that had no character development and one-joke plots.
Groening, who was known for his "Life In Hell" cartoon, created "The Simpsons" for high-powered producer James L. Brooks, who loved it. It became an early hit for the then-upstart Fox network.
As part of the original writing staff, Jean had a role in the show's immediate success.
"We had so much ability to expand the characters in their numbers and in their qualities as we fleshed it out into a series," he recalled. "It was amazing to create this universe that was the vision of Groening and Brooks."
Confirming its role as a cultural signpost is the analysis it has garnered in academic circles. There are college courses about "The Simpsons," said Jean, and scores of books have been written about it – many taking a professorial approach.
But for Jean, some of the most rewarding attention has come from the legions of "The Simpsons" fans.
"I hear really wonderful things from them, and I am grateful for it," he said. "Some have said that the show helped them through tough times in their lives. I know I have reached a lot of people with this show."
More like this from vindy.com