---
RELATED EDITORIAL: Cordray is obvious choice in Dem race for governor
RELATED EDITORIAL: GOP candidates for governor fail to earn our endorsement
YOUNGSTOWN
Ohio Gubernatorial Candidates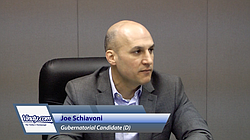 Video Set
The Democratic primary for governor features a crowded field of six candidates while the Republican race has just two: Attorney General Mike DeWine and Lt. Gov. Mary Taylor.
The winners of the May 8 primaries will face each other in the November general election.
On the Democratic side, the candidates are Richard Cordray of Grove City, a former state treasurer and attorney general; state Sen. Joe Schiavoni of Boardman; ex-U.S. Rep. Dennis Kucinich of Cleveland; former Ohio Supreme Court Justice Bill O'Neill of Chagrin Falls; Larry Ealy of Trotwood; and Paul Ray of Alliance.
Cordray, 58, is the only Democratic candidate to have won partisan statewide races – O'Neill won a Supreme Court race without party affiliation – and has served 15 years in the executive branch of government on the local, state and federal levels.
Cordray said his top priorities are improving health care, education and economic opportunity that will bring more and better jobs.
"We must stop diverting money from our public schools to failing for-profit charter schools that do not serve Ohio well," he said. "We must protect the Medicaid expansion and make health care more accessible and affordable for all Ohioans."
Schiavoni, 38, said he has "the most relevant experience and the most recent experience" of the Democratic candidates.
"Everywhere I go all over the state, people are worried about the same basic things," he said. "It doesn't matter who they are, who they voted for in the past; they just want a fair shot in life. People are willing and eager to work hard for what they earn. We just have to give them opportunities."
Schiavoni said his campaign is focused on issues that matter to Ohioans such as a good jobs, quality schools, access to quality health care, and broadband internet access.
Kucinich, 71, said he supports a focus on reviving manufacturing, banning assault weapons, legalizing recreational marijuana, banning fracking, restoring Local Government Fund money from the state and increasing the minimum wage to $15 an hour for state employees and for workers of companies with state contracts.
"Existing politics structures and party policies have produced inertia and despair," he said.
"This is the moment to transform political systems through a dynamic, high-energy, spirited approach, which carries with it powerful elements of economic, social and political reform, which catches the evolutionary impulse of people yearning to have a government which they can call their own," Kucinich, a former Cleveland mayor, added.
The top priority for O'Neill, 70, is to legalize marijuana and release nonviolent marijuana offenders. With the $500 million he estimates the state would collect annually on sales tax, and savings of $100 million a year on incarceration, he would use those dollars to open a mental health network to treat heroin addicts and the mentally ill.
O'Neill also wants to establish a $15-an-hour minimum wage in Ohio by the year 2020, place solar panels made in the state on all government buildings, give a state income-tax credit to every business and homeowner that installs solar panels made in the state, and reduce the cost of state university tuition, room and board to no more than $15,000 annually within four years.
All four support the continuation of the Medicaid expansion that covers an additional 700,000 poor people in the state.
REPUBLICAN CANDIDATES
On the Republican side, Taylor wants to eliminate the expansion and DeWine wants to ask the Donald Trump administration for a waiver to design a system that's sustainable at the state level.
The race between DeWine and Taylor has been a bitter one with each accusing the other of not really being conservative.
"We think it's important for voters to be informed and so we are reminding voters of Mike DeWine's liberal record," Taylor said.
DeWine said he went negative only because Taylor did so first and to label him "as a liberal is ridiculous."
DeWine said he's running for governor "because I can make a difference. We have kids growing up in this state who are simply not living up to their God-given potential. We have an opportunity to change that, to change lives, and we must seize that opportunity. However, we will not move forward as a state until we address some very serious challenges that are holding us back including the opioid crisis and skills/education gap."
DeWine has a 12-point plan for fighting the opioid epidemic that includes implementing K-12 drug- prevention education in every school, getting legislation passed to give the governor the ability to declare a public health emergency, and creating a special position in his administration that would report directly to the governor to work on fighting the problem.
Taylor said she wants to end Common Core curriculum standards, shut down sanctuary cities, and she opposes any additional gun-control laws saying the ones already on the book need to be followed.
"I'm not a conservative because it's convenient," Taylor said. "I'm a conservative because I am a conservative and my record is pretty clear on that."
Early voting in this and other races and issues has begun at county boards of election in Youngstown, Warren and Lisbon.
Polls will be open May 8 throughout Ohio from 6:30 a.m. to 7:30 p.m.