Crowd braves chilly weather to take part in kite event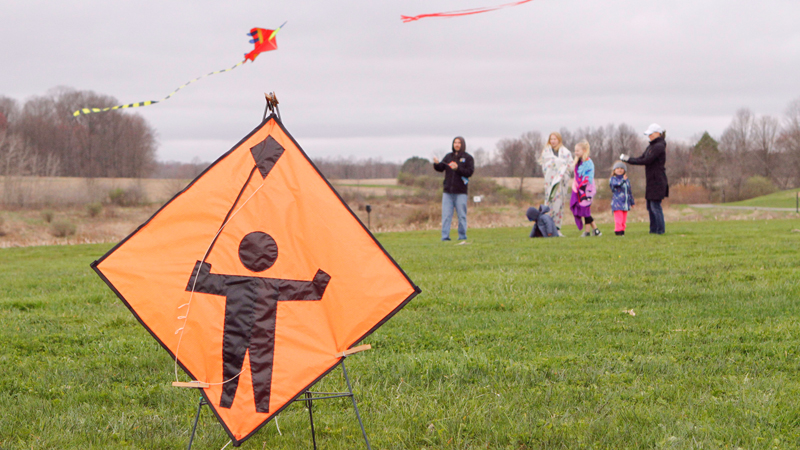 ---
CANFIELD
Kite enthusiasts braved Saturday's cold and wicked wind to take part in Mill Creek MetroParks' kite festival.
The MetroParks teams up with the Ohio Society for the Elevation of Kites for the event, which takes place at the MetroParks Farm every other year.
The main attraction, of course, was kite flying. Colorful lizards, sharks and other kite animals could be seen soaring from down the road.
Carol Vigorito, MetroParks recreation and education director, said the festival has been hosted by the park for decades.
"It's just a fun way to provide entertainment and show people a pastime that most people aren't acquainted with as much anymore," she said.
Children built and decorated their own kite or glider at one of the workshops inside, with kits provided by OSEK.
Some put their skills to the test with wind sprints and high-flying contests.
Cheri Pyles of Lordstown said she has been coming to the festival for the past several years.
"I'm really glad they do it; it's a great way to bring families together," she said.
Like many participants, Bill Robinson of Pittsburgh builds and flies kites as a hobby. He has done so for several years, ever since he saw Lee Sedgwick compete in an Erie, Pa., national kite-flying competition.
Robinson is a member of Fly Pittsburgh. His custom-made kite was tied on a stake, and he adjusted it as the gusts changed, noting the weather wasn't optimal, but the wind was great for flying.
"Flying kites doesn't seem to appeal to people anymore," he said. "I would love to see more people turn out for kite flying festivals for it to make a comeback."
OSEK members Henry Gregory of Streetsboro is an avid kite enthusiast and has a collection of about 400 kites. Some are for flying, some are simply collectibles.
"This is a wonderful event," he said.
In addition to flying and collecting kites as a hobby, he's interested in the history of balloons used as defensive weapons in the military.
As a child, Vigorito remembers crafting kites with her dad every summer.
She said many visitors share the same sense of nostalgia, but for kids, the festival is an introduction to a fresh new activity.
More like this from vindy.com