Witness testifies bribing Infante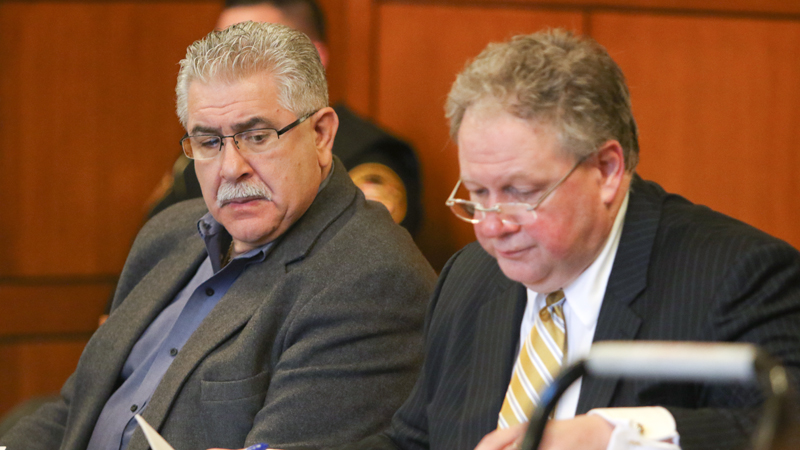 ---
By Jordan Cohen
WARREN
A prosecution witness in the corruption trial of former Niles Mayor Ralph Infante testified Friday that he gave Infante "between $500 and $1,000" in cash on two separate occasions as payment for the mayor putting his two sons on the city payroll.
Infante is charged on 41 criminal counts, including bribery, unlawful interest in a public contract, falsification of records and theft in office.
"I pulled out [the cash] and said I'd appreciate it if he gave my son a job," testified Gabriel Marchionte of McDonald, referring to the first payment he said he made to Infante in 1993. By that time, Marchionte said his son Byron, also known as Bo, had already been hired.
"I pulled out the big bills ... and he took the money," the witness said in response to questioning by the special prosecutor, Atty. Dan Kasaris of the Ohio Attorney General's office.
Marchionte said he gave the mayor a second payment from $500 to $1,000 in 1997 to secure a job for his other son Nick, whom, he said, had already been placed on the payroll by the time the payment was made.
In both instances, Marchionte said he handed over the cash in the kitchen of the ITAM No. 39 Bar in McKinley Heights, which Infante then owned. Marchionte said he and Infante were alone in the kitchen at the time.
Marchionte said that he first brought up the subject of jobs when Infante ran for mayor in 1991. At that time, he said, he wrote Infante a check for $500 out of an equity account. Asked why by Kasaris, Marchionte made it clear it was an investment for a job for his son Bo.
"If he won the election,[I hoped] he would consider my son for a job," Marchionte said, adding that he would spend several hundred dollars a year on tickets for an annual chicken roast that Infante sponsored for the same reasons.
The witness, a Delphi Packard retiree, never used the word "bribe" when discussing the payments and there was no indication in his testimony that Infante had asked for one. But Infante did not refuse the cash, Marchionte told Atty. John Juhasz, Infante's legal counsel.
After agents raided Infante's home on North Rhodes Avenue in Niles in February 2016, Marchionte said he was contacted by Infante and told to tell investigators he had only given $100 to $200. Marchionte said Infante told him something else he should not disclose:
"Just don't tell them I gave money to give my sons a job," Marchionte testified.
Kasaris said the prosecution "agreed not to charge [Marchionte] with offenses if he truthfully cooperates and truthfully testifies."
In other testimony, Terry Clay, a former tree trimmer for Niles, testified on video played to the jury that he cut down "three or four pine trees" on private property owned by Infante in exchange for a job for a friend. He said he did not use city equipment.
The testimony was recorded in March with attorneys for both sides and Judge Patricia Cosgrove present because Clay, 71, was terminally ill with cancer.
"They gave me a death penalty," said Clay, who admitted to having memory problems because the cancer, he said, had spread to his brain.
"I never quoted [Infante] a price," testified Clay. The friend, he said, was eventually hired by the city.
Clay also testified that he was told to take scrap to a location in Warren, but "they screwed up and gave me an [envelope] full of money," he said. Clay said he gave the envelope to the head of the street department and never discussed the incident with Infante.
Clay died April 21.
Mark Hess, the retired Niles Engineering Grant and Development Coordinator, testified he had "some concern at some point" when told to sell tickets for Infante's chicken roast, which he had been doing for 12 years.
"I understood this has to be outside the parameter of my job," Hess said, which brought a response from Juhasz during cross-examination.
"The mayor never said if you don't sell tickets, I won't rehire you," said the defense attorney. "No," Hess replied.
In other testimony, Anthony Vigorito, Niles building and zoning inspector, was questioned at length about the number of fees that were waived on behalf of the Cafaro Co. for its Eastwood Mall expansion project that included a banquet center, hotel and relocation of the corporate offices from Youngstown. Vigorito testified that in 2012, more than $12,800 in inspection, building and other fees were waived out of $61,000 in fees that would normally have been collected by the city.
The prosecution alleges Infante illegally waived the fees without authorization from city council. Vigorito declined to respond when asked if council's action had been required and dismissed it as "a legal question."
Also under scrutiny is a city contract with Pegasus Printing for Niles utility bills and whether that was drawn up improperly and illegally by Infante.
"To the best of my knowledge, there was no ordinance permitting the administration to enter into contract," testified Robert Marino, former council president. When asked why "Pegasus was fired," Marino said there were "ongoing issues" with the company's handling of billing. Asked by Juhasz if he had ever seen a document in which the mayor terminated the contract with Pegasus, Marino said he had not.
Kasaris said after Friday's testimony that he expects to complete the prosecution's case next Wednesday. The trial resumes Monday morning.
More like this from vindy.com