Joe Maxx Coffee to reopen downtown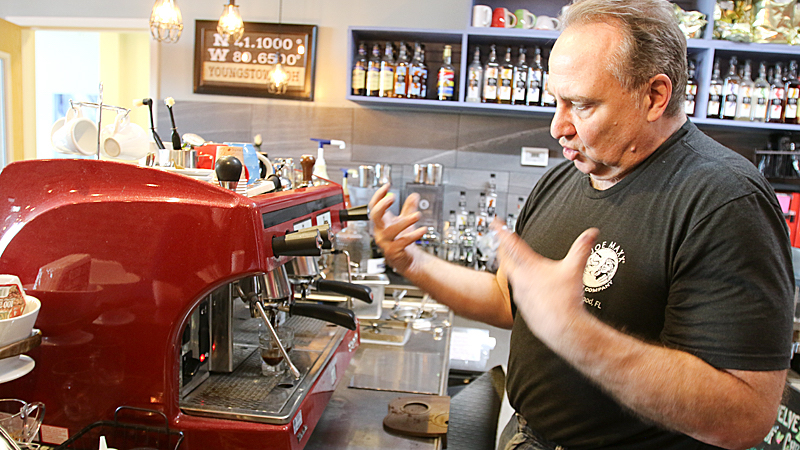 ---
YOUNGSTOWN
In 2011, Mike Avey took a chance by opening Joe Maxx Coffee shop in downtown Youngstown.
This was before the city's downtown renaissance had blossomed, before many of the restaurants and bars now in business had opened.
"When we came in, a lot of people questioned, 'Why downtown?'" Avey said.
But his original goal when he started in the coffee business was to serve underserved populations.
"The goal was to put coffee where it wasn't," he said.
Now, nearly seven years since Joe Maxx opened on East Federal Street, Avey is continuing his commitment to downtown Youngstown. Early next week, Joe Maxx will open its new location on West Federal – in the Youngstown Business Incubator's Semple Building.
Joe Maxx now also has locations in Cleveland, Florida, Las Vegas, Colorado and Pennsylvania.
"We're real excited about the opportunity at the west end of town," Avey said.
The East Federal location closed in March after the landlord didn't renew Joe Maxx's lease. Avey is optimistic about the move to a spot at which he had originally looked when he was opening Joe Maxx.
"I always said this is the ideal spot to build a coffee shop – the brick-exposed walls, the high ceilings," he said.
The new location is designed to have a comfortable, welcoming atmosphere.
Walking in, customers will see exposed brick, warm, bright decor and soft lighting from Edison-style fixtures. Yellow, red and blue stools are placed at tables; cozy armchairs sit in a corner; and an accent wall painted ombre orange evokes a sunrise.
At the back of the shop, behind the counter, is where the magic happens. Avey demonstrates how to make a drink with a bright-red Italian espresso machine.
The shop's menu, which features coffee and tea drinks, baked goods and lunch items such as salads and wraps, will stay the same for now, with some new items planned in the coming months.
Another new feature is planned, as well: on-site coffee roasting, which will start in a few months.
Avey said he envisions the new location as what he calls the "third place," with home and work being the average person's first and second places.
"The cafe is your third place where you go and unwind, meet with friends, read a book," he said.
"I wanted to be a gathering place for people to drop in," he said. "We don't care how long people stay. We don't care what they buy."
Just come on in.
More like this from vindy.com