Boardman student's Eagle Scout project benefits veterans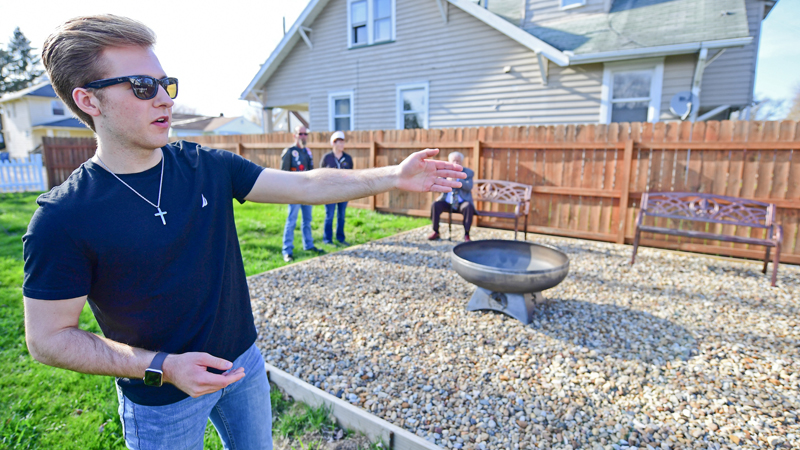 ---
By JORDYN GRZELEWSKI
jgrzelewski@vindy.com
STRUTHERS
Colin Russell, a junior at Boardman High School, has a long legacy of military service in his family.
That legacy inspired Russell to design an Eagle Scout project that paid homage to veterans.
"I was always hearing about veterans and taking care of veterans," Russell, a Troop 9060 member, said. "I was just thinking, 'Why not find a way to give back to the veterans?'"
That's what Russell did in designing and building a flag-retirement site at AMVETS Post 44 on Elm Street. American Veterans, or AMVETS, is a national volunteer-led organization that supports veterans.
Russell thought of the idea in December, got it approved in February, and finished building it earlier this month. The site features a fenced-in, stone-laid area, in the middle of which is a custom-built fire pit with logos paying tribute both to AMVETS and the Boy Scouts. Russell also added two benches and some landscaping to make the space a little more special.
"I always had an image in my head of what I wanted it to be, but I ended up scaling it out larger with plants and a fence," he said.
Russell accomplished the project with help from monetary and in-kind donations. The lumber and landscape fabric was donated by the AMVETS Post 44 Riders. Compco Industries, L. Calvin Jones & Co. and Home Depot also donated materials.
Post commander Jan Brown said the site will be useful to the post, which often receives flags people wish to retire.
"It's always, 'What are we going to do with them?'" she said. "I'm very happy to have this, and we'll make good use of it."
Members of the public are invited to drop off flags to the post, where retirement ceremonies are done a few times a year. The ashes from the flags are later buried in veterans' graves.
Colin, who is the son of John and Kimberly Russell, said he hopes his project creates a positive experience for veterans when they retire flags.
"As they burn the flags, they can enjoy it and know it's in a good place," he said.
More like this from vindy.com