Troop leader helps girls in Columbiana and Canfield take a stance against bullying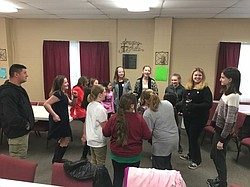 Photo
Neighors | Submitted .Sergeant Wade Boley of the Columbiana Police Department led members of Girl Scout Troops 80191 and 80777 in Columbiana and 80018 in Canfield in a Circle of Friends activity centered on character as it relates to standing up against bullying.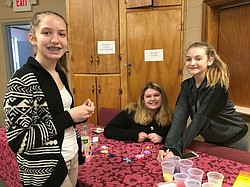 Photo
Neighbors | Submitted .Columbiana Scout Troop 80191 Cadettes Brileigh Kocanjer, Chelsee Chaffee and Alyson Smith volunteered to help lead small groups during Start With Hello Project anti-bullying exercises in which three area Girl Scout Troops took part.
Sergeant Wade Boley of the Columbiana Police Department asked questions, such as 'who likes sports' and 'who has a sibling' to local Girl Scouts gathered in a circle at the Columbiana Nazarene Church.
During the exercise for the Start With Hello Project, a youth violence prevention program, the Scouts who shared commonalities stepped inside the ring. Others, remaining in the outer circle, awaited their opportunities to meet peers with likenesses in the middle. Together, the Scouts discovered one another's similarities and differences. They recognized each other as individuals, each with a personal story line, each valuable as a human being.
The Circle of Friends exercise was one of a dozen activities Columbiana Girl Scout Troop 80191 leader Kathy Keaggy Brown organized for her 22 troop members and girl scouts from Troop 80777, also in Columbiana, and 80018 in Canfield. At the heart of the exercises, which took place during two days, the girls took part in anti-bullying lessons tied to Girl Scouts of Ohio's Heartland Peace it Together curriculum. They focused on courage, confidence, character and making the world a better place by participating in various activities funded by a $100 Sandy Hook Promise mini grant.
"The Start With Hello Program focuses on the growing epidemic of social isolation in our society. Excessive feelings of isolation can be associated with violent and suicidal behavior, and it can be a factor in tragedies like Sandy Hook," said Keaggy Brown, explaining how the sessions in which she engaged the Girl Scouts aimed to help the girls not only identify bullying, but to take action to prevent it. "Our goal is to teach girls that when you see something wrong, say something to the bully, the target, a trusted adult. Don't put yourself in danger, but do something, say something."
In an activity that centered on self-confidence, the girls stranded necklaces with star-shaped beads symbolic of their individual attributes. If a Girl Scout received a yellow bead from one of her peers, for instance, that particular bead represented her helpfulness to others. Other beads, such as purple for intelligent and red for funny, came together in pieces for the Girl Scouts to loop around their necks or string to their backpacks, to glance at now and then, to remind them of their self-worth and value to others.
"The beads reflect characteristics they can be proud of in themselves. It's about being confident. Everybody has something good they can do. I think that talking about our strengths gives us confidence to say that's not okay when something doesn't feel right," said Keaggy Brown, explaining the importance of children taking active roles when they or other children are mistreated or excluded.
While some children may feel comfortable pulling a peer away – from a situation in which he or she is treated unkindly – with an invitation to play or join them for lunch at a cafeteria table, others can take an equally significant role by engaging an adult.
"You should be nice to everyone, but you don't have to be friends with everyone. If someone is making poor choices, tell a teacher. Get that person help," Keaggy Brown, a CCESC Speech-Language Pathologist who works at McKinley Elementary School in Lisbon, advised her Girl Scouts. "The task of stopping school violence should not be the responsibly of children, but with programs like The Sandy Hook Promise, young people can be empowered to create a culture of inclusion and connectedness. It's a step in the right direction."
More like this from vindy.com