Summary of recent criminal activity in Poland and Boardman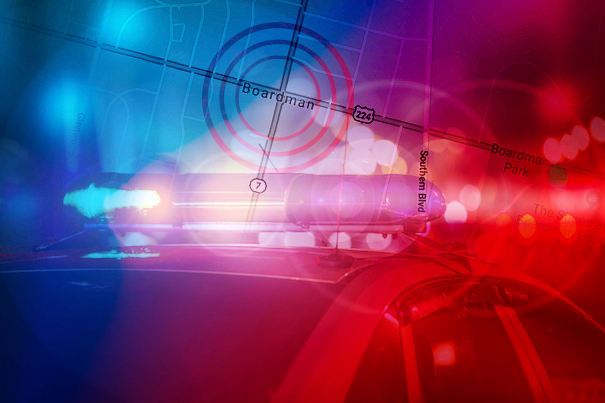 ---
A summary of recent criminal activity in Poland and Boardman:
POLAND
April 19
Identity fraud: An Eastbrooke Trail woman discovered her credit card had been used without authorization.
Theft: A Lowellville Road woman reported about $600,000 stolen.
April 20
Identity theft: A Moore Road man learned that someone without authorization had obtained his debit/credit-card number.
Identity fraud: A Hilltop Drive woman told police someone had used her personal information without consent.
April 24
Identity fraud: A Jennifer Drive man found out his credit-card number had been compromised.
BOARDMAN
April 21
Theft: Andrea L. Brimmer, 35, of Ohio Avenue, Youngstown, was charged with stealing about $67 worth of merchandise from Walmart, 1300 Doral Drive.
Thefts: Police charged Collette R. Gregory, 37, of Mercer Avenue, Farrell, Pa., with possessing criminal tools after having responded to a shoplifting situation at Burlington Coats, 529 Boardman-Canfield Road, and alleging she had a pair of wire cutters to remove security devices from a pair of children's shoes. Gregory, who also was wanted on warrants, faced a separate theft count, related to a June 26, 2017, situation in which $90 worth of clothing was taken from T.J. Maxx & More, 717 Boardman-Poland Road.
Assault: An employee with a South Avenue discount store told officers an irate woman threw and struck him with loose change after he had asked the customer to move her car that he said was parked in a fire lane.
Theft: A license plate was removed from a vehicle in the 8500 block of Ivy Hill Drive.
Citations: Police responded to a report of two men passed out on the ground in the 7300 block of South Avenue, where they issued minor-misdemeanor citations charging Kristopher J. Hopkinson, 29, of Wendemere Drive, Hubbard, and Brett A. Henry, 29, of West Salem, Ohio, with public intoxication and disorderly conduct.
Theft: A woman noticed her $700 cellphone missing while at work at a business in the 7100 block of Market Street.
Unauthorized use of a vehicle: A Canfield woman said she took her 2009 Volkswagen Jetta to an Indianola Road repair shop and that after a series of correspondence between her and the business, her car has yet to be returned in a timely manner.
Theft: A Dublin, Ohio, woman reported her $700 iPhone missing while in a Boardman-Poland Road big-box store.
April 22
Attempted breaking and entering: Someone apparently tried to break into KidsTown, a child-care center at 55 Stadium Drive, before a rear double-pane window was discovered to have been broken.
Breaking and entering: Police received word that several businesses and vacant suites in a Boardman-Poland Road building had been entered, though they found no signs of forced entry through an exterior door. An antique table, a fax machine and a small amount of change were missing.
Theft: A man reportedly stole four cartons of cigarettes from Walgreens Pharmacy, 7295 Market St.
Menacing: An Old Shay Lane woman alleged a neighbor's boyfriend who was armed had threatened to harm her, though he did not threaten her with the firearm. The man was found to have a concealed-carry permit, police said.
Citations: After stopping his vehicle near Southern Boulevard, officers cited Alanjuwon T. Daniels of Southern Boulevard, Boardman, after alleging Daniels, 20, had pieces of suspected marijuana, a used marijuana pipe and a small container with 35 to 40 additional pieces of suspected marijuana, papers commonly used to roll marijuana and a digital scale.
Criminal damaging: A Hillman Way woman noticed a window to her vehicle was broken, evidently when someone had tried to enter.
Felonious assault: Authorities responded to a possible vehicular crash near Hillman Way and West Midlothian Boulevard, where several witnesses reported seeing a woman drive her car into and strike a man, then drag the injured victim into her vehicle before fleeing north on nearby Market Street.
Theft: The Ohio State Highway Patrol handed to Boardman police Shatosha U. Jones, 40, who faced a felony-theft charge. The Cleveland woman was accused of stealing six security systems and a motorized scooter valued at a total of nearly $1,400 earlier this month from Walmart.
Theft: A man reportedly took a $20 rechargeable razor from Walmart.
April 23
Arrest: A traffic stop on Market Street led to the arrest of a 17-year-old Youngstown boy, who was wanted on Trumbull County warrants charging him with one count each of receiving stolen property, obstructing official business, possessing drug paraphernalia and a curfew violation.
Citation: Officers received a complaint about a possibly intoxicated man at a Boardman-Canfield Road fast-food restaurant, where they wrote a minor-misdemeanor citation charging Sean E. Cregan, 47, of St. Andrews Court, Canfield, with public intoxication.
Arrest: Marcy J. Fisher of Westlake Drive, Cortland, was taken into custody during a traffic stop at Southern Park Mall and charged with obstructing official business when, police alleged, she twice provided a phony date of birth. Fisher, 47, also was wanted on a theft warrant, related to an April 10 shoplifting situation at Ulta Beauty, 403 Boardman-Poland Road, in which cologne and other merchandise was stolen.
Assault: A Forest Park Place woman alleged her roommate shoved her during an argument related to past-due rent, though the accuser was uninjured.
Theft: Authorities at a Market Street motel arrested Odell Oakley III, 48, of Winona Drive, Youngstown, on theft charges after two pairs of socks were stolen Nov. 8, 2016, from Dollar General, 4996 Market St. Oakley also was accused in a theft later that month in which eight cans of disinfectant spray were taken from Family Dollar, 4030 Market.
Theft: A worker with a Sunset Drive group home noticed a tire and rim missing from her car while at the facility.
Aggravated menacing: Pharmacists with CVS Pharmacy, 7230 Market St., told officers a woman who was trying to get a prescription filled became angered when informed that it would not be ready until the next day, then swore at them and pointed her finger in a way that simulated having a gun.
Criminal damaging: A car in the 1800 block of Sequoya Drive was found with a broken rear window. Damage came to $600.
Identity fraud: A Prestwick Drive man reported his debit card missing, as well as three pending fraudulent charges that totaled $873.
Menacing: Two girls told officers someone in a vehicle had followed them as they drove on Market Street and into the police department parking lot.
April 24
Arrest: While responding to a possible domestic situation on Forest Park Place, authorities charged Caleb J.R. Carson, 34, with obstructing official business after alleging Carson, of Forest Park Place, Boardman, admitted having fabricated an allegation in which he accused his former girlfriend of scratching him during an altercation. Carson scratched himself and made up the story so as not to be evicted, a report showed.
Auto theft: Police were dispatched to Boardman Area Court to book Jasmine S.L. Dawkins, 24, of Maryland Street, Warren, on a charge of grand theft of a motor vehicle, related to an April 10 incident in which a New England Boulevard woman alleged Dawkins had taken her 2006 Chevrolet Impala without permission.
Theft: Jennifer L. Milligan, 32, who listed Youngstown addresses on Price Road and Neilson Avenue, was charged in the theft of eight articles of clothing valued at $225 from Kohl's, 383 Boardman-Poland Road.
Arrest: Police at Boardman Area Court on Market Street booked David P. Rowbotham, 41, on a charge of violating a protection order. Rowbotham, of Powers Way, Youngstown, violated the order that stated he was not to use alcohol or illegal drugs when he was issued a speeding ticket in late March and cited on a marijuana-possession charge, authorities alleged.
Vandalism: A woman reportedly moved into a vacant apartment in the 800 block of Cook Avenue before the property owner discovered damage to its door slabs, paint and walls that totaled about $11,000.
Theft: Two men reportedly fled after having stolen $26 worth of beef snacks from Family Dollar, 4030 Market St.
Identity fraud: A Lost Creek Drive woman found out a phony Facebook account had been opened in her name but without consent, and that it contained disturbing messages.
Theft by deception: A Simon Road woman discovered her $1,117 government-issued check had been cashed without permission.
Drugs: Police conducted a drug investigation and a welfare check at a South Avenue mobile-home park, where they reportedly found drug paraphernalia and suspected marijuana in one of the units, though no one was home.
Harassment: A Mathews Road woman said a former acquaintance continually makes and sends her such calls and text messages. At one point, she was receiving up to 50 unwanted daily calls, she further reported.
Auto theft: A 2009 Pontiac G6 was stolen in the 5200 block of Southern Boulevard.
April 25
Theft: Officers at the Trumbull County jail arrested Amber N. Digrino, 29, of North Olmstead on a theft charge after a $500 computer and other merchandise was stolen in June 2015 from Walmart.
Identity fraud: A Youngstown man found $460 worth of fraudulent activity, via five unauthorized withdrawals, as he visited a Market Street credit union.
Theft: A woman in her late 20s or early 30s reportedly stole $25 worth of socks and clothing from Gabe's, 850 Boardman-Poland Road.
Identity fraud: A Holbrooke Road man discovered someone had stolen his credit-card information and made several unauthorized charges.
Theft: A manager with Ultimate Protection Inc., 590 E. Western Reserve Road, reported a customer had leased but failed to return an ignition-interlock device.
Trespassing: A Melrose Avenue woman noticed items were moved and out of place in her garage after someone likely had entered.
Theft: Nicole L. Hester, 23, of Crandall Avenue, Youngstown, was charged with stealing $109 worth of property that included a tank top from Walmart.
Theft: Odell Oakley III, 48, of Winona Drive, Youngstown, was picked up while walking near U.S. Route 224 and charged with theft, receiving stolen property and possessing drug paraphernalia after police alleged he was carrying a box thought to contain a cologne set that had been stolen from Dillard's in Southern Park Mall. In addition, Oakley, who had a suspected crack-cocaine pipe, also was found with wristwatches, earrings and a bracelet set that had been taken from Sears, also in the mall, officers alleged.
More like this from vindy.com