Daffodil show launches spring season at Fellows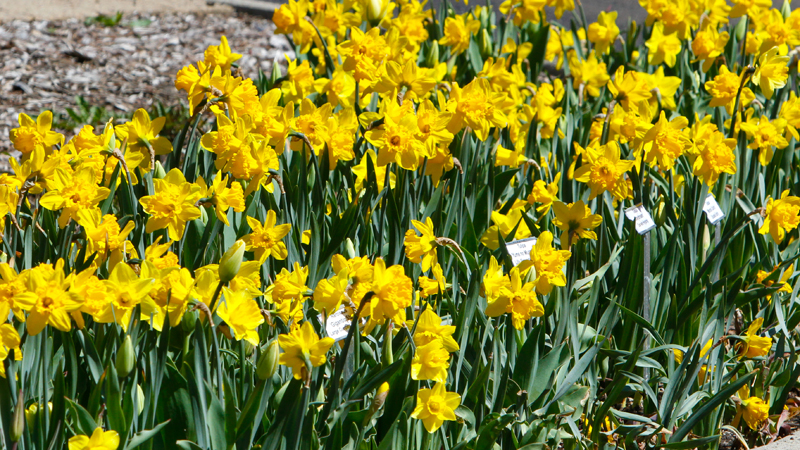 ---
By JORDYN GRZELEWSKI
jgrzelewski@vindy.com
YOUNGSTOWN
As springlike weather finally arrived this week, flowers were coaxed into bloom.
Across Fellows Riverside Gardens, gold- and lemon-hued daffodils, red tulips and deep-purple magnolias emerged and lifted their heads to the long-awaited sunlight.
The few days of nicer weather arrived just in time for Mill Creek MetroParks' Daffodil Show. Originally scheduled for last weekend and delayed due to weather, the show now will go on.
The annual event at the gardens will take place today, Saturday and Sunday. Participants will show daffodils in all their various cultivars and hues, and the public is invited to come out and enjoy the colorful blooms.
"It's very unique," MetroParks Gardens Director Andrew Pratt said of the show. "It's kind of like a best-of-show for daffodils, sort of like a rose show would be, but we do it with daffodils here at the Gardens."
The spring flower is known for its survival skills – it is poisonous and therefore deer-resistant – as well as its many varieties. The flowers are classified into 13 divisions, while other characteristics such as the petal and trumpet or cup colors further differentiate varieties.
"There are so many different variations. There's something for everyone," Pratt said.
Participants will enter their flowers today and Saturday morning, then judging will take place on Saturday. Entries will be accepted between 3 and 5 p.m. today and 8 to 10 a.m. Saturday. The show will be open to the public from 1 to 5 p.m. Saturday and from 10 a.m. to 5 p.m. Sunday.
Even if you are not participating, Pratt said the free event is enjoyable for those who simply want to look at the entries and the flowers on display in the gardens.
"We have so many types on display," he said. "People can walk through and go, 'Oh, that looks like one in my garden.'"
For more information, visit www.millcreekmetroparks.org.
More like this from vindy.com