Boardman Park hosts Disc Golf Open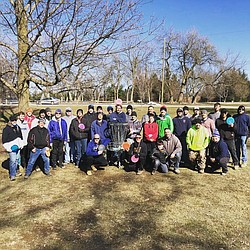 Photo
Neighbors | Submitted .On March 25, the Boardman Park hosted it's first annual Disc Golf Open to celebrate the Disc Golf course's expansion from nine to 18 holes.
Boardman Park hosted its first annual Boardman Park Disc Golf Open on March 25 celebrating the expansion of Boardman Park's Disc Golf Course from nine to 18 holes.
More than 50 players participated in the tournament that was sponsored by the Mahoning Valley Disc Golf Association (MVDGA).
The tournament attracted golfers from as far away as Cleveland. The first nine holes, opened in 2017, are located near the Maag Outdoor Theatre. The second nine holes, the Wooded 9, play through the wooded area of the park, located just East of the Tennis Courts, and provide a greater challenge than the family friendly front 9-Holes.
"We played two rounds of 18 holes with a total par of 120," Justin Edwards, designer of the Course and facilitator of Sundays Tournament, said. "The course played challenging yesterday with windy conditions and the cold weather. Our Player pool included over 50 competitors with three juniors and two female golfers."
Winners include, in Open Division, Luke Shelton (121) in first place and Kirk Gazdik (127) in second; in Intermediate, Kyle McClain (134) took first and Jeff Peck (138) took second; in Recreational Glenn Viccaro (126) placed first and Brian Bensinger and Patrick Durkin (130) took second. In Female Recreational Stephanie Ramb placed first.
Boardman Park thanks the sponsors of the Disc Golf Course for helping to make this game possible for the community: Justin Edwards, Shawn Golden, The Mahoning Valley Disc Golf Association, The Boardman Community Foundation, The Boardman Civic Association, Dick's Sporting Goods, Interior Innovations, The Muransky Companies, Creekside Fitness and Health Center, Kevin Willis, Deborah Liptak, Mark Luke and Joe Sylvester Jr.
More like this from vindy.com