---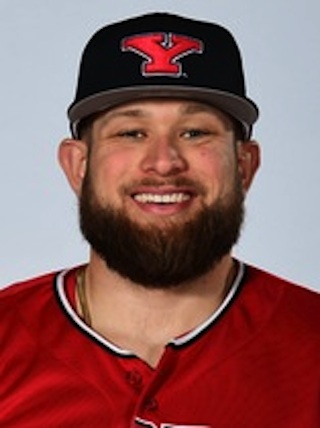 Photo
By Dan Hiner
dhiner@vindy.com
It's been a up-and-down season for Youngstown State infielder Andrew Kendrick.
Through 35 games, Kendrick is only hitting .162. But one of his hits was a big one.
On April 13 at Wright State, Kendrick broke the Penguins' career home run record. He hit is 28th career homer over the left-field wall in the second inning of the Penguins' 18-4 road loss.
"It was one of my goals at the beginning of the year," Kendrick said. "I would have wanted to get the win."
The senior has 19 hits this season, seven of which are home runs.
Kendrick set the YSU single-season record last season with 17 home runs. He was the only member of the roster to hit more than eight homers last year.
With the record in the books, YSU head coach Dan Bertolini hopes Kendrick can relax a little and break out of his hitting slump.
Bertolini said Kendrick was a little to eager to break the home run record and would swing at pitches outside of the strike zone.
Kendrick said he tried to force some at-bats. He said things like his "launch angel being a little higher" played a role in some of his at-bats. Kendrick said he's hit more fly balls, but recently he's focused on hitting more line drives and making contact.
Bertolini said Kendrick, one of only four seniors on the team, made an effort to become more of a leader this season.
The record-breaking hit came hours prior to the passing of former YSU pitcher Kevin Yarabinec. Kendrick played two season with the late Penguins pitcher.
He said Yarabinec's death meant he didn't just lose a former teammate. He lost one of his closest friends, and in the days following the accident, he almost forgot about the record.
"It puts things in perspective," Kendrick said.
Kendrick isn't the only power hitter walking around YSU.
Cali Mikovich, Kendrick's girlfriend, is tied for fourth on YSU's career home run record list after she hit her 25th home run on April 10.
"She actually broke the single-season home run record a year before me," Kendrick said. "I tell her she did it in four. I only did it in three. It definitely adds a little competition in the in the house."