Secrets revealed as Infante corruption trial gets under way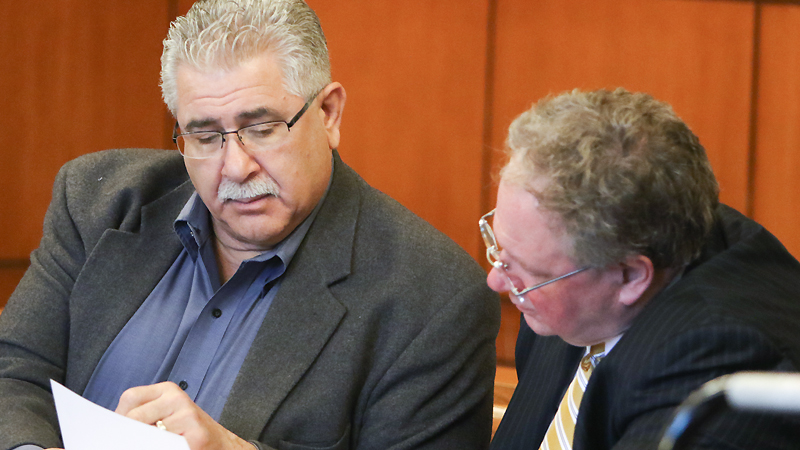 ---
By ED RUNYAN
runyan@vindy.com
WARREN
The first witness in the corruption trial of former Niles Mayor Ralph Infante, FBI agent Deane Hassman, arrived unannounced to Infante's office in Niles City Hall on May 19, 2009 – wearing a hidden recording device.
Hassman wanted to talk to Infante about Anthony Cafaro Sr., the then-president of The Cafaro Co. real estate development company that owns the Eastwood Mall complex in Niles.
Hassman had been told that Cafaro and his son, Anthony Cafaro Jr., had given Infante two free tickets worth $8,000 to the January 2007 NCAA National Championship football game in Arizona between Ohio State and Florida State, but he didn't ask about that directly.
He first asked whether Cafaro Sr. had given Infante political contributions in cash or "other gifts."
"No, not that I know of," Infante responded. During Wednesday's testimony, prosecutors played the recording of the conversation.
A minute later, Infante said, "No, I'm usually pretty good about taking gifts and stuff. I won't say positive but I'm sure I never would have taken anything."
When asked about flights on a Cafaro aircraft, Infante remembered one to Columbus to talk to the Ohio Racing Commission. He denied taking vacations with Cafaro.
"How about sporting events?" Hassman asked.
"Nope. Nope, none that I can remember," Infante said, not even to games at the baseball field at the Eastwood Mall.
Infante, 63, who was Niles mayor from 1992 to the end of 2015, is charged with 41 criminal counts alleging racketeering, numerous counts of bribery and tampering with records and fewer counts of gambling, falsification and theft. His trial is being conducted in Trumbull County Common Pleas Court by special prosecutors from the Ohio Attorney General's Office in front of Visiting Judge Patricia Cosgrove.
Hassman's testimony was the longest testimony on Wednesday. On the recording, he asked Infante about Ohio State football games.
"No, I go myself when I go to Columbus," Infante said.
"How about bowl games? Ohio State bowl games?" Hassman asked.
"No, I've been to one bowl game in all my life," Infante said. "When they played Florida, went down, my sister, my wife and I, another couple."
Hassman asked about the tickets to the game.
"I think we bought them out there," Infante said, adding that they went there without tickets because "We didn't care if we went to the game or not. We tailgate a lot."
Hassman said: "There's a story circulating around town that Tony Cafaro gave you tickets for that game."
After a long pause, Infante said: "You know what, that could be too. Yea, you might be right there. You're right. I don't know if it was Tony or his son."
Then Infante said he remembered talking to Cafaro Jr., telling him Infante and his wife were going to Arizona for the game and asking the younger Cafaro to let Infante know if he "came up with any tickets."
Cafaro Jr. called Infante while Infante was in Arizona and said he had two tickets for Infante in a loge. So, the Infantes went to the hotel where Phantom Fireworks owner Bruce Zoldan was staying and picked up the tickets from Cafaro Sr. and Cafaro Jr. – "one or the other" – the night before the game, Infante said.
The Infantes went to the game, but Ohio State was blown out 41-14, and Infante left around halftime and tailgated with other friends, Infante said.
The former mayor said he didn't know the value of the tickets or whether he paid for them.
Infante said he offered to pay for the tickets and was told: "Don't worry about it until we get back." But he said he doesn't think he paid for them.
Hassman then mentioned the financial disclosure form Infante filed with the Ohio Ethics Commission for 2007 and asked whether Infante reported the tickets as gifts for that year.
"I hope I did," Infante said.
Hassman showed Infante his disclosure form showing that Infante did not disclose the tickets as a gift, as required under Ohio law.
"I didn't," Infante told Hassman. He said maybe he forgot to list them, adding, "This surprises me."
Hassman was followed on the witness stand by Zoldan, who testified that he had bought a loge for the game, which includes about 20 tickets, and Anthony Cafaro Sr. and his family used about half of them. He said the Cafaros reimbursed him for the tickets.
Zoldan said he believes he saw Infante at a party the night before the game, but he doesn't know where Infante got his tickets to the game.
Paul Nick, executive director of the Ohio Ethics Commission, testified that Infante did not disclose any gifts on his disclosure forms for 2007 through 2014, nor did he list his business at the time, the ITAM Club No. 39 in McKinley Heights.
Under cross examination by Infante's attorney, John Juhasz, Nick said Infante would have been required to list on the disclosures the club as a business operated by Infante and his wife – even if it did not make any money, as Juhasz has suggested.
Nick also testified that even a gift given to Ralph Infante by an employee would have to be reported to the ethics commission, even if the gift was intended for a children's charity.
In Infante's final disclosure form for his final year as mayor in 2015, he listed gifts from co-workers and listed ITAM 39 as his business, Nick testified.
The trial is expected to last about one more week.
More like this from vindy.com