Two leading Republican candidates for U.S. Senate say they are the best choice to be the party's nominee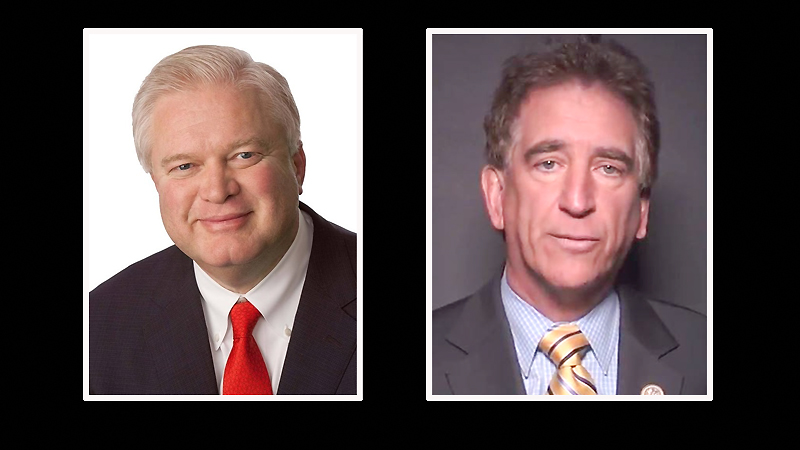 ---
YOUNGSTOWN
The two leading Republican candidates for U.S. Senate – U.S. Rep. Jim Renacci and investment banker Mike Gibbons – say they are the best choice to challenge and defeat incumbent Democrat Sherrod Brown in the November general election.
"I don't agree with much of what Sherrod Brown thinks," said Gibbons, 66, of Fairview Park.
Renacci, 59, of Wadsworth, said, "I'm not a career politician like Sherrod Brown, who was recruited out of college to run for office and has since become the epitome of a career politician."
This is Gibbons' first run for elected office.
"I have a real problem with career politicians," he said. "Their behavior changes and their votes change. I'm an alternative. Before a year and a half ago, I never even thought about running for office."
Gibbons also called Renacci a career politician.
Renacci has served in Congress since January 2011 and served as Wadsworth mayor for four years, but says he's not a career politician because he was a successful businessman before running for elected office.
Renacci said he spent the previous 30 years before becoming a congressman owning and operating more than 60 different businesses through which he created 1,500 jobs.
Gibbons has been in the Senate race for a long time, running against Ohio Treasurer Josh Mandel, who lost six years ago to Brown in the general election. But when his wife was diagnosed with an undisclosed medical condition in January, Mandel got out of the race.
A few days later, Renacci, who was running for governor, quit that race and opted to seek the Senate seat, he said, at the request of the Donald Trump administration and the president himself.
Both Renacci and Gibbons say they are strong Trump supporters, though Trump is endorsing Renacci in the race.
In a Tuesday tweet, Trump wrote Renacci "will be a fantastic senator for the great state of Ohio, and has my full endorsement."
Renacci said his top priorities, if elected, include working with the Trump White House to advance pro-growth economic policies that keep more money in the hands of Ohio businesses and families and which not only protect, but help produce good-paying American jobs; protecting the U.S.-Mexican border and holding sanctuary cities accountable for failing to cooperate with federal law enforcement; and to be a strong anti-abortion advocate.
Gibbons said his top priorities include cutting taxes and spending, getting government out of the way of job-creating businesses, ending earmarks, passing term limits – he plans to serve for only one six-year term, and dramatically changing how Washington does business, including a lobbying ban on former members of Congress.
There are three other Republicans running in the May 8 primary for the U.S. Senate: Melissa Ackison, 39, of Marysville, who is a small-business owner; Dan Kiley, 58, of Maineville, a former financial management business owner; and Don Elijah Eckhart, 68, of Galloway, a retired public administrator.
More like this from vindy.com