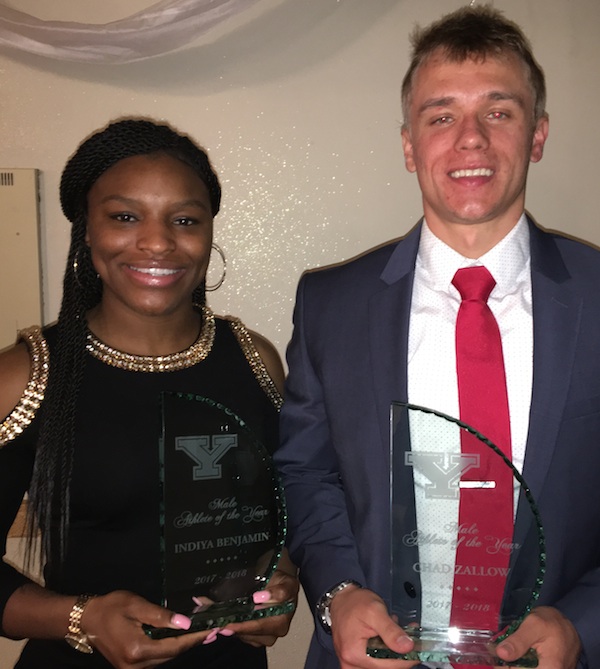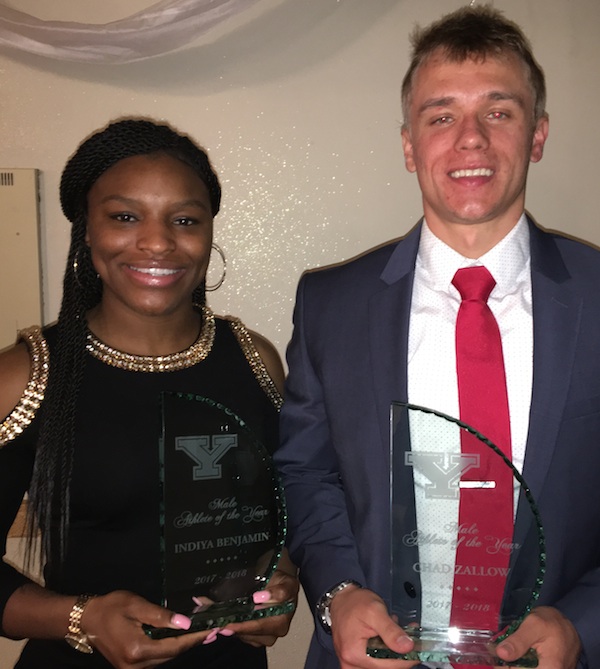 ---
By ED PUSKAS
epuskas@vindy.com
BOARDMAN
The history — specifically photos and records of former Youngstown State sports greats — caught the eyes then-freshmen Indiya Benjamin and Chad Zallow when they arrived on campus.
The goal for both? Join them before their YSU careers drew to a close.
Mission accomplished, with honors.
Benjamin (women's basketball) and Zallow (men's track and field) were recognized Wednesday as YSU's 2017-18 Vindicator Athletes of the Year during the university's 31st annual Scholar-Athlete Banquet at The Georgetown.
Benjamin, a senior from Lima, is YSU's all-time assists leader.
"When I first got here. I was eye-balling that assist record," said Benjamin, a Lima Senior graduate. "Going back to high school, passing the ball and getting assists was my thing."
That didn't change at all after a circuitous route ended with her switching one corner of Ohio for another after her original college plans didn't work out.
"I was originally committed to Binghamton, but the coach there got fired and I was able to get out of that commitment," Benjamin said.
"Then I picked YSU over Toledo. It was about loyalty. YSU was loyal to me throughout the process. They were the first to start recruiting me after [Binghamton]."
Benjamin has been the Penguins' starting point guard ever since. She finished her career with program records in assists (629), minutes (3,964), games (128) and starts (127). She is second to teammate Nikki Arbanas in career 3-pointers (204) and is 12th all-time in scoring (1,288 points).
It has been a while since YSU head coach John Barnes has had to worry about anyone but Benjamin running point for the Penguins. Even though her athletic career with the Penguins is complete, she plans to be around the program for another year as she completes a nursing degree.
"Then it's off to someplace warm — maybe Florida or California — to be an RN," Benjamin said. "I'm done with the cold."
But perhaps not with basketball.
"I'd like to maybe coach younger kids some day," she said.
Zallow, a junior from Warren JFK, is far from finished as one of the best track and field athletes in Penguins history. In fact, he's on his way to the Penn Relays today with his brother Carl — also a standout YSU track athlete — and Penguins head coach Brian Gorby.
Zallow, a multiple state champion in high school, is already a four-time NCAA All-America performer at YSU with the outdoor season still to complete this spring and his senior year to come.
Zallow most recently was a first-team All-American after finishing fifth in the 60-meter hurdles at the NCAA Indoor Track and Field Championships. He also set the school record (7.65 seconds) in the same event at the YSU Icebreaker meet in the Watson and Tressel Training Site.
That facility, Zallow said, was among the reasons he chose YSU despite offers from bigger programs including Ohio State, Michigan and Penn State.
On the day he announced his commitment to YSU in a classroom at Warren JFK, all four schools were represented by caps arranged in front of him. After Zallow chose the Penguins, his father said one last YSU visit — which included a meeting with President Jim Tressel — made the difference.
Chad confirmed that scenario Wednesday night.
"I just felt comfortable here," he said. "Jim Tressel convinced me that this community and school really cares about the athletes and the teams. I've never once thought about being anywhere else."
Zallow credited Gorby and Penguins assistant David Townsend — who specializes in sprints — for helping him reach his goals/
"One thing with them is that they believed in me from the start," Zallow said. "They told me from the beginning that I could be one of the best in the NCAA before I even ran a race here."
Zallow also thanked his older brother Carl for pushing him their entire lives on the track.
"I wouldn't be the athlete I am without him leading the way," Chad said.
Zallow's parents are Chuck and Colleen Zallow. He is a 2017-18 recipient of a Penguin Club Scholarship.
Benjamin's parents are William and Krishana. She is the recipient of the Helen R. Stambaugh Women's Basketball Scholarship.
The evening included the recognition of 119 YSU Scholar-Athletes and 161 athletic scholarships and recipients.
Sixty-three percent of the university's 410 student-athletes were recognized for compiling grade-point averages of 3.0 or higher. Mary Dunn (women's basketball), Imaan Hassim (women's tennis) and Erin Kalahar (volleyball) were recognized as 4.0 students.
More like this from vindy.com