Also known as false indigo, Baptisia is a showstopper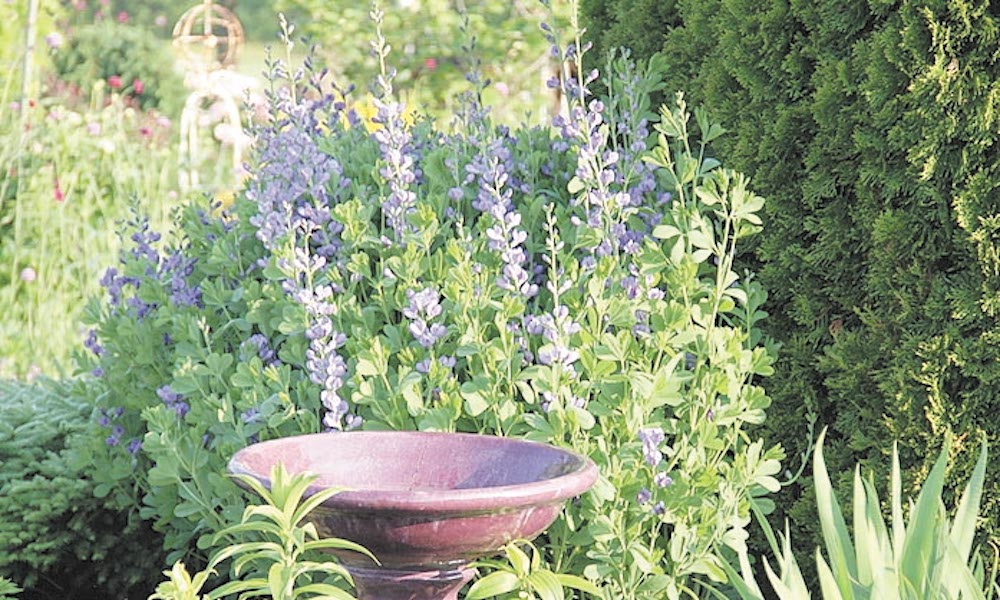 ---
By Merabeth Steffen
OSU Ext. master gardener volunteer
CANFIELD
Many years ago, on a spring garden tour, I saw a large, beautiful, blue-blooming perennial in the back of a garden. It grew in front of a white picket fence and was part of a perfect cottage garden.
The homeowner identified the perennial as false indigo (Baptisia australis), and I knew I just had to have one.
This plant is commonly called baptisia or false indigo. It is a long-lived native perennial. It is hardy in zones 3-9. There are close to 20 species of baptisia native to eastern or midwestern North America.
When mature, baptisia can grow 3 to 4 feet tall and wide. Flowers are on upright racemes or spikes 12 to 24 inches tall and resemble the blossoms of the pea. The leaves, also resembling a pea, are tri-foliate (composed of three leaflets). The similarity of the blossoms to the much fussier lupine make it a good substitute since it can tolerate heat and humidity, unlike the lupine.
Baptisias prefer deep, moist, well-drained soil. As they become established, they develop a very deep root system, making them drought tolerant. They grow best in full sun but can tolerate light shade, although they may become too leggy with more shade.
The deep root system makes transplanting difficult, so plan for the ultimate size of the plant and leave them in place once planted in the garden.
Due to their size, baptisia plants can be used as herbaceous shrubs in the garden. After blooming, they form seed-holding, bean-like pods that will darken and rattle when dry. Wait to cut back until late winter or early spring. The seed pods will add winter interest to the garden.
In addition to the blue, there are also white, cream and yellow native species. Due to their popularity, breeding programs have produced some excellent hybrids showing new bloom color combinations, the result of crossing different natives. One is the stunning B. australis, which was the Perennial Plant of the Year in 2010.
The Prarieblues series has been popular due to its Midwestern hardiness and vigorous growth. The Decadence series cultivars are suitable to a slightly smaller space. "Purple Smoke," "Chocolate Chip," and "Wayne's World" are other available cultivars. When making a selection, be sure to check the tag for cold hardiness; some cultivars are hardier than others.
I now have six varieties of baptisia in my gardens. I wish I could let the homeowner of that long-ago tour know what an impression she made on me.
For information on native species and various cultivars go to http://go.osu.edu/baptisia.