Infante corruption trial begins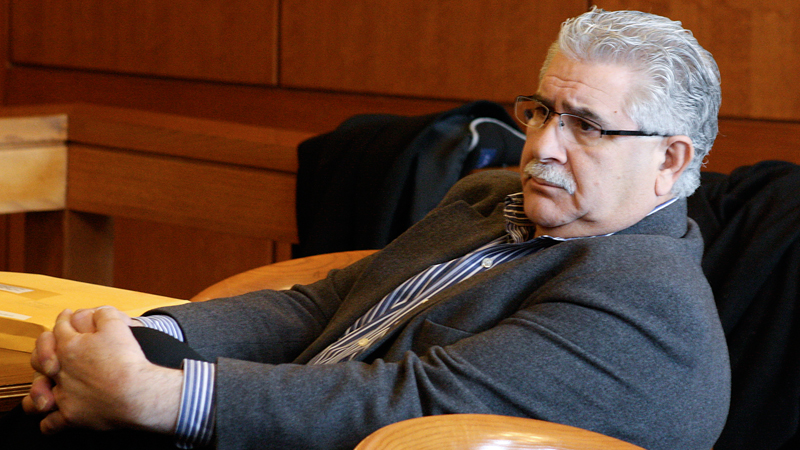 ---
By ED RUNYAN
WARREN
Special prosecutor Dan Kasaris named names Tuesday during his opening statement in the public corruption trial of former Niles mayor Ralph Infante, revealing the identity of alleged accomplices to crimes, including bribery, theft and racketeering.
Kasaris said 30 to 35 people will testify in Trumbull County Common Pleas Court, many of them Niles employees or Niles officials. Some are witnesses to events leading to the 41 criminal charges in Infante's indictment. Some are the people who purportedly bribed Infante to get jobs or to get a promotion, Kasaris said.
Either Anthony Cafaro Sr., the former president of the Cafaro Co. real-estate development company, or Anthony Cafaro Jr., a current company co-president, gave Infante free tickets to the 2007 NCAA football national championship game in Arizona, Kasaris said. Infante, who was Niles mayor 24 years from 1992 until late 2015, committed a crime called falsification for the explanations he gave to investigators for where he got the $8,000 worth of tickets, Kasaris said.
Niles employee Scott Shaffer, who was indicted but agreed to testify against Infante in exchange for charges being dismissed, paid Infante $3,000 at Infante's former bar, the ITAM No. 39 in McKinley Heights, in exchange for a job, Kasaris said.
Shaffer also gave Infante $3,000 to provide Shaffer's girlfriend a job with the city in May 2012. Later in 2012, Shaffer provided Infante's bar with an air-conditioning unit and big-screen television to get Shaffer's girlfriend a promotion in the building department, Kasaris said.
Shaffer, who cannot read, also paid Infante $1,500 in 2015 to get Shaffer's friend a job with the city, Kasaris said. That friend also cannot read, Kasaris said.
Some of the tampering-with-records charges relate to Infante and his wife, Judy, failing to report about $100,000 of cash deposits on his taxes and to disclose it to the Ohio Ethics Commission, Kasaris said. Infante also failed to report thousands of dollars' worth of gifts.
Terry Clay bought a job for a friend by cutting trees at Infante's house in Niles in 1995, and Gabe Marchionte paid Infante between $500 and $1,000 two times – in 1993 and 1997 – to buy jobs for his two sons, Kasaris said.
If Infante, 63, is convicted on all charges, he could get about 90 years in prison.
His charges are 16 counts of tampering with records, eight of bribery, one of engaging in a pattern of corrupt activity, two of theft in office, one of having an unlawful interest in a public contract, one of possessing criminal tools, seven of soliciting improper compensation, one of falsification and four of gambling.
Kasaris said the case against Infante is about "greed, power and deception" from nearly the beginning of his time as Niles mayor in 1992. He said Infante had a nickname – "The Boss," displayed on a sign at Infante's bar, which Infante no longer owns.
Kasaris said the investigation by the Ohio Auditor's Office began with a call from former longtime Niles councilman Steve Papalas, who asked for a performance audit after finding accounting numbers that did not add up. Auditor's investigator Chris Rudy discovered $142,000 worth of theft from former Niles treasurer's employee Phyllis Wilson and dug deeper, taking the computers of Infante and his secretary and finding a "treasure trove" of records at Infante's home.
"News of the search warrants hit, and people started to talk," Kasaris said of people who came forward to investigators, especially about "buying jobs."
Infante's attorney, John Juhasz, described Kasaris' opening statement as a "hair-raising story of corruption and greed and power." But he said it's impossible to account for money the way prosecutors are suggesting they have done.
"Is he going to be able to account for every penny he spent 10 years ago? Probably not," Juhasz said.
"All the stuff the prosecutor has said over the past 45 minutes or so sounds pretty bad until you remember it's not evidence," Juhasz said. "You're going to hear stuff about 'I made thousand-dollar homage payments.' Well, maybe not; maybe those were Christmas gifts for children."
Juhasz said allegations that someone made "homage payments" to Infante never came about until Infante already had been accused of criminal activity.
Juhasz said a key to the testimony will be whether witnesses are believable. "All I'm asking you to do today is keep an open mind and see if things fit together and see if you can rely on this evidence," Juhasz told jurors.
More like this from vindy.com