UPDATE | Youngstown school board member asks CEO Mohip to resign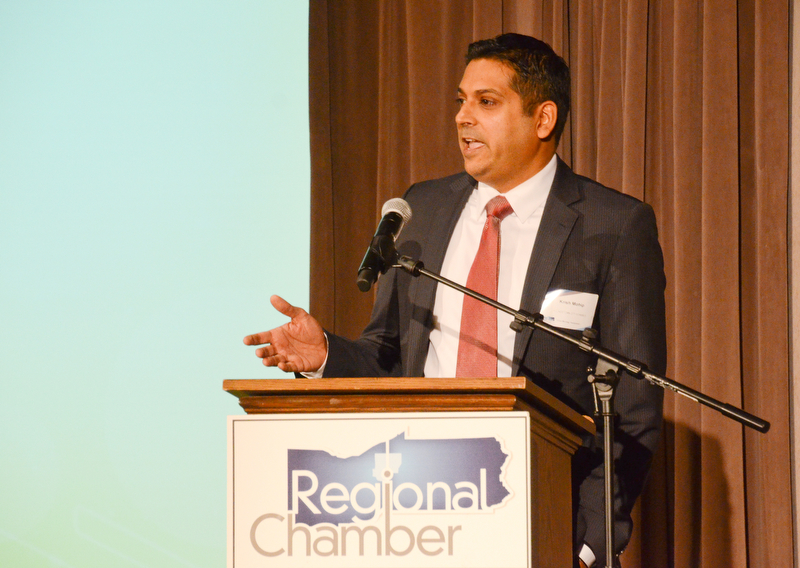 Photo
Krish Mohip, Youngstown City Schools CEO, addresses guests at the Youngstown/Warren Regional Chamber of Commerce's "Good Morning, Youngstown" breakfast at Stambaugh Auditorium on Friday, April 6, 2018. Photo by Scott Williams - The Vindicator
YOUNGSTOWN
Youngstown City Schools Board of Education member Corrine Sanderson has asked CEO Krish Mohip to resign.
She made the request during Tuesday evening's school board meeting. Mohip was not present at the meeting.
It follows The Vindicator reporting April 19 that the Ohio Department of Education is investigating Mohip. The former chairman of the Youngstown City Schools Academic Distress Commission made allegations of "inappropriate conduct with a female attorney and/or job applicant," according to ODE records.
Sanderson wrote to Mohip on Tuesday: "This email is concerning the recent accusations that were made against you on behalf of two women, one applying for a position and the second female is contracted with the School District. I found the new investigation by ODE very disturbing and I'm concerned about the integrity and liability of the school district.
"The "Me Too" Movement has shed a light on an ongoing problem in the workplace. Despite, the validity of the allegations, your reputation has been stained. I'm asking for you to consider the future of our young people and your family by immediately surrendering your letter of resignation to the Academic Distress Commission.
"I wish you well with your future endeavors and a speedy reunification with your family. "
A school district spokeswoman said there would be no comment at this time about Sanderson's request.
City school board member Jackie Adair wants to know who paid for the ODE investigation, conducted by Baker and Hostetler, a firm employed by Youngstown City Schools.
"We should not pay for an investigation into allegations of Mohip's improper personal dealings with an attorney," she said. "They are his personal legal issues."
More like this from vindy.com