Kitchen Post opening in downtown Youngstown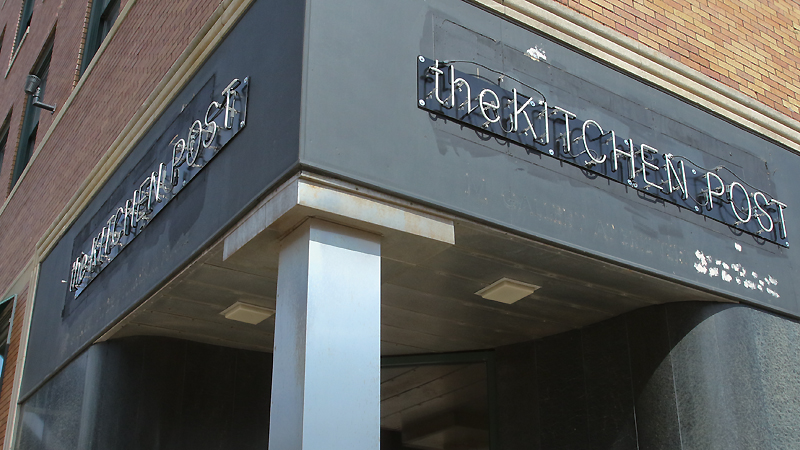 ---
By KALEA HALL
khall@vindy.com
YOUNGSTOWN
A long wait for the arrival of the downtown Kitchen Post restaurant inside Erie Terminal Place will end soon.
The restaurant, located at the corner of Commerce and Phelps streets, will open at 4 p.m. Friday with some of its well-known dishes and new ones, as well as a bar with a list of craft cocktails.
Ross Fowler, co-owner and chef; his mother, Linda Fowler, co-owner; father, Tom Fowler; and sister, Jade Fowler; all of Poland, worked to bring the downtown location to life for the past year.
"There's a huge amount of buzz [around it]," Ross said. "It blows my mind."
The buzz about the Kitchen Post started our years ago when Ross, a culinary school graduate, had a pop-up restaurant inside a former coffee shop downtown. He went on to open his own restaurant in Struthers in May 2015 and it quickly rose in popularity for its food and personality. It closed earlier this year as plans were made to open in downtown.
"People can sense the personality," Ross said. "The brand and character is truly unique to anywhere."
The brand is one that's clean and simple with some fun added. The new Kitchen Post has a large image of David Bowie during his Ziggy Stardust phase, and school bus seats for booths.
"Creativity is huge in this whole thing," Ross said.
The menu is Ross's creation. He's worked in kitchens for more than a decade and always knew he wanted to open his own restaurant.
His dishes are "technique oriented."
"It's simple," he said. "We are taking a minimal amount of ingredients and making them the best they can be."
The Kitchen Post will maintain its Taco Tuesdays and Ramen Thursdays and weekend brunch at the downtown location.
"The experience and presentation has been elevated tenfold," Ross said.
The restaurant will have breakfast, lunch and dinner and on the weekends, late-night offerings.
New to the Kitchen Post are shared dishes including the porterhouse steak for two — a 32-ounce seared porterhouse with butter, mashed potatoes and gravy and collard greens.
For dessert, there's pie made from Ross's great-grandmother's recipes.
In addition to the craft cocktails, the Kitchen Post bar will feature brews from Columbiana's Birdfish Brewery and a full list of wines.
"This is fun for us," Ross said. "To conceptualize the whole thing has been a lot of fun. We want to keep going. We want to keep opening other concepts."
Ross and Linda both wanted the restaurant to be a part of the new, exciting downtown happenings.
"We needed to be a part of that," Linda said.
The Kitchen Post will have a soft opening for its first weekend. It will be open from 4 to midnight Friday and Saturday. and 9 a.m. to 3 p.m. Sunday for brunch. The restaurant will operate on a limited schedule next week.
A grand opening is scheduled for the week of May 14 and the restaurant will begin operating on its normal schedule.
For more information on the Kitchen Post go to: https://kpthekitchenpost.com/.
More like this from vindy.com