Ryan pledges to keep up fight for TJX
SEE ALSO THE VINDICATOR EDITORIAL: There may still be a way to keep HomeGoods here
By Joe Gorman
CANFIELD
Tim Ryan and TJX Issue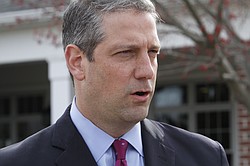 Video
Talks are continuing after TJX announced Friday that it was pulling out of building a distribution center in Lordstown after some community opposition to a zoning change, U.S. Tim Ryan said at a press conference Saturday. "I just want everyone to know this is not over," Ryan said. Ryan said talks have continued through the weekend to try and find another site for the company to build their distribution and bring an estimated 1,000 jobs.
The effort to land a TJX distribution center for the Mahoning Valley is still ongoing despite TJX Companies Inc.'s announcement Friday that it was no longer interested in a site it considered in Lordstown, U.S. Rep. Tim Ryan said Saturday.
Ryan of Howland, D-13th, said he had been on the phone with officials from the company and the state to try to keep the planned center and its 1,000 jobs in the area.
He said he wanted to assure residents that the effort to have the company locate its center in the region is not over.
"I want the community to know we are not letting this go," Ryan said.
HomeGoods, a subsidary of TJX, withdrew its zoning application Friday for seven parcels of residential land to be rezoned to industrial for a 1.2-million-square-foot HomeGoods distribution center. Some area residents opposed locating the center at that site, expressing concerns about increased traffic and noise as well as the use of residential land for the project when industrial land is available nearby.
Ryan said he's been discussing other sites in the area but would not divulge where they are. He declined to answer when asked if any are in Mahoning County.
"They're interested in exploring every option," Ryan said.
In his 16 years in office, Ryan said Friday's announcement is one that jarred the community.
"It was exasperating when we heard they were pulling out," Ryan said.
He added, though, that the community needs to act fast because the opportunity provided by TJX does not happen very often.
"This is one hell of an opportunity," Ryan said.
As for a timetable, Ryan said there's no date set in stone, but a decision needs to be made soon.
"There's been no timetable other than urgent," Ryan said.
More like this from vindy.com