Scouts pitch in with Earth Day cleanup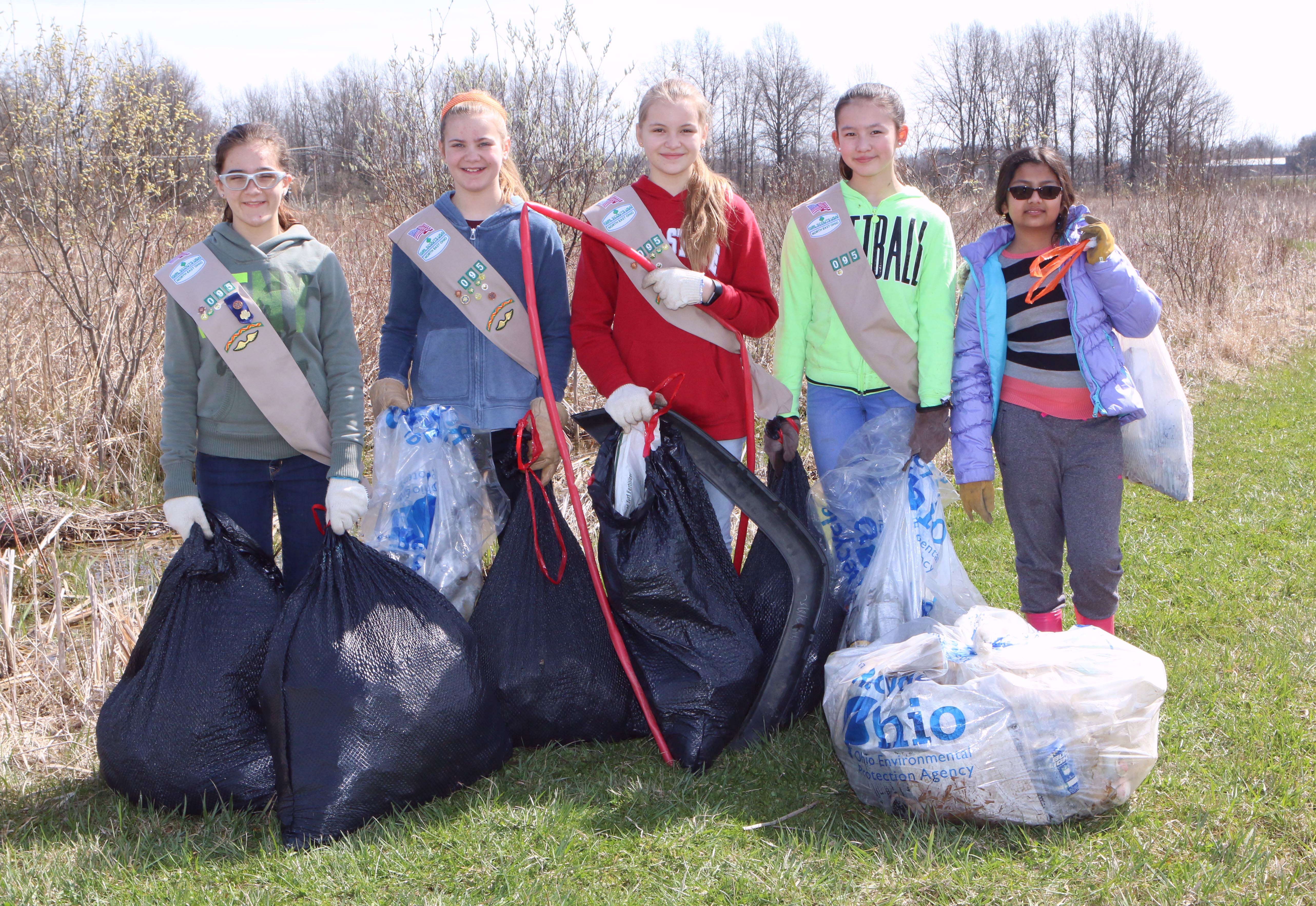 ---
By Sean Barron
BOARDMAN
Eleven-year-old Charley Masters hopes one day to become a veterinarian, though she didn't wait until adulthood to do something to help animals – and the environment.
"There were a lot of bottles we found, and there was a pillow and cups and bags," said Charley, a Canfield Middle School sixth-grader and a member of Canfield-based Girl Scout Cadet Troop 80095, referring to some of the trash and recyclable materials that filled her large plastic bag. "I like helping the community and the animals, and if the animals eat trash, they could die."
Wildlife roaming the Mill Creek Preserve, a 300-acre section of Mill Creek MetroParks with wetland habitats and numerous trails off Western Reserve Road, will encounter a far smaller quantity of harmful matter, however, thanks to Saturday morning's 36th annual Earth Day cleanup, which took place throughout the park system.
The Whispering Pines District of the Great Trail Council Boy Scouts of America and Mill Creek MetroParks sponsored the event.
Earth Day, which is today, began April 22, 1970, when an estimated 20 million Americans who had been fighting against pollution, toxic dumps, pesticides, deforestation and other environmental hazards demonstrated for a healthier, cleaner environment. The effort received bipartisan support, led to the creation of the U.S. Environmental Protection Agency and resulted in the passage of the Clean Air, Clean Water and Endangered Species acts.
Mill Creek Preserve was among the 27 sites that more than 25 Cub Scout Packs as well as Boy and Girl Scout Troops and service units cleaned and preserved during the three-hour effort, noted Mike Kupec, Whispering Pines' Earth Day cleanup chairman. Locations included Yellow Creek Park in Struthers and Mill Creek MetroParks Farm in Canfield.
Also not afraid to get her hands dirty was 12-year-old fellow Troop 80095 member Katie Padgett, who's been in Scouting since first grade.
"I just wanted to help clean the wetlands and save wildlife," explained the Canfield Middle sixth-grader, who collected nearly a full bag of plastics, paper, cigarette boxes and even a few discarded license plates and thank-you notes.
Like Charley, Katie made the connection between an abundance of litter and its ability to harm wild animals and damage delicate natural wetlands.
Other Troop 80095 members who took part in the cleanup were Emily Heino and Anna Kerns, both 12, and Sofia Sharif, 11. Accompanying Sofia was younger sister, Bella, 5, and the girls' mother, Bonita Sharif.
The gathering also allowed the girls to move closer to receiving Silver Awards, which they can earn via a series of activities and community-service projects, noted Suzanne Heino, Troop 80095's adviser and Emily's mother.
"The Girl Scouts go through a journey, and part of that journey is an action project," she said.
A similar story played out in a 1-square-mile area of Hitchcock Woods off Hitchcock Road, where members of Boy Scout Troop 9002 of Poland United Methodist Church bagged everything from beer bottles and cans to plastics to a rusted piece of steel.
"We have far more recyclables than in previous years," said Tony Di Tommaso, Troop 9002's Scoutmaster, who added that the bulk of items was found next to the road and along nearby Sawmill Run Creek.
When the cleanup began in the early 1980s, participants worked on a single hilly area near Ford Nature Center on Youngstown's South Side.
"We pulled four dump truck loads of trash off the hill the first year," he said.
Kupec thanked Boardman-based Casal's De Spa & Salon and Drund Ltd., a technology business, for assisting with the effort.
More like this from vindy.com